On Thursday October 22nd, all L'Oréal employees around the world participated in the 12th edition of Ethics Day. Since its very first edition in 2009, Ethics Day has become a key moment in the year of all L'Oréal employees, reflecting the Group's philosophy of engagement and collaboration. It is the opportunity for employees to ask all their questions related to Ethics to our CEO and Chairman Jean-Paul Agon.
This year, Ethics Day marks our gathering as one L'Oréal community virtually for the first time in the COVID-19 context, making it even more relevant to take part in an open exchange around our 4 Ethical Principles: Integrity, Respect, Courage and Transparency.
A new format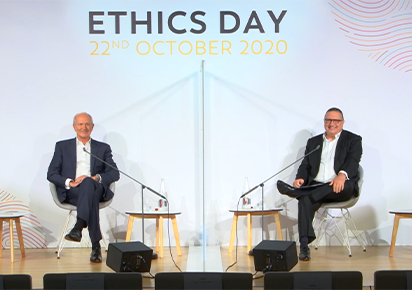 Previously organised in a webchat format, L'Oréal has decided to go further and put our Ethical Principle of Transparency into practice. For the very first time, Jean-Paul Agon answered employees' most-voted questions in live streaming video worldwide!
While the conversation between Jean-Paul Agon and Emmanuel Lulin, SVP Chief Ethics Officer, was held in French – simultaneous translations in English, Chinese and Spanish were available worldwide to allow as many L'Oréal employees possible to follow the sessions.
An unprecedent success
This unprecedented edition of Ethics Day was a real success and continued to be one of the most popular events within the Group – with a global participation rate of 66% which represents almost 56,000 employees.
L'Oréal employees also had a lot to share with over 8,600 questions sent worldwide (compared to 7,000 in 2019 and 6,800 in 2018) – a record since the very first edition of Ethics Day!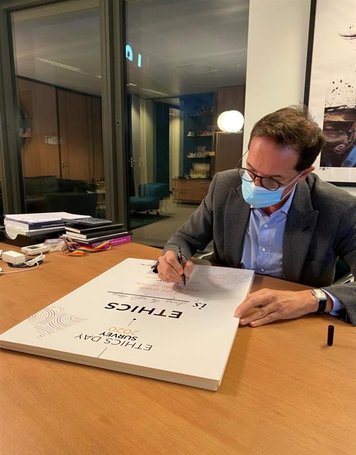 What does Ethics mean to you?
This year, more than ever, is the time to focus on what we are made of and we wanted to know what Ethics means to our employees and Leaders.
Over 6,000 of our employees and Leaders filled the Ethics and some Leaders including Nicolas Hieronimus, Emmanuel Lulin, Christophe Babule, Stephane Rinderknech and Jochen Zaumseil even shared their responses on their own social media.
The interest in Ethics is not limited to L'Oréal Employees and generated a record level of engagement and positive comments on our LinkedIn post. It is also proof that Ethics is still a very important commitment to our consumers and stakeholders.
Back on Top