Ethics Day, an example of dialogue at every level of the organization
Every day, L'Oréal makes sure that ethics is at the very heart of its activities and its future development. Ethics Day, a key moment for L'Oréal, reflects the Group's philosophy of commitment and working together. And the 2018 event was no exception.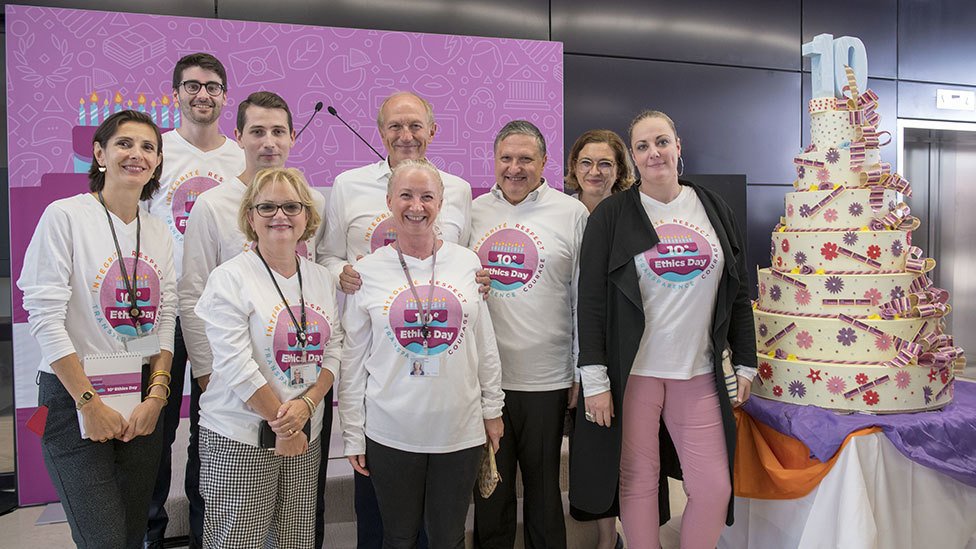 The 4 Ethical Principles of L'Oréal
Emmanuel Lulin, L'Oréal's Senior Vice-President & Chief Ethics Officer, is forthright in the way he explains the company's ambition in terms of ethics: "L'Oréal takes a conviction-based, proactive approach – we do not merely react to problems when they occur." The Group's approach is based on 4 essential principles: integrity, respect, courage and transparency. These strongly-held principles act as a guide to L'Oréal's activities in the areas of respect for the environment, responsible innovation, social responsibility, respect for human rights, compliance and philantropy.
Ethics Day, an event for showing commitment
Ethics Day is a perfect illustration of this pioneering approach. The aim? To bring employees together and inspire them to start positive initiatives. All of L'Oréal's staff around the world are invited to put their questions, via a live webchat, either to Chairman and Chief Executive Officer Jean-Paul Agon or to the senior country management for more local issues. In 2018, more than 60% of L'Oréal's employees in 70 countries took part in the 10th anniversary edition of this day devoted to discussion, which provided an opportunity not only to answer their questions, but also to encourage people to think about ethics.
Promoting a culture of ethics
At a broader level, the Group's approach is based on a range of internal resources, all designed to promote a culture of ethics at every level of the organization. These include ethics correspondents, who act as a first point of contact for managers and other employees in every country. Information campaigns, dedicated events, a mandatory e-learning program, and a secured "Speak Up" whistleblowing website. The aim is to encourage employees to express their views and to signal inappropriate behavior.
Since 2017, L'Oréal has also been communicating about its Human Rights Policy and the consideration given to those rights in its value chain. In 2018, these initiatives led to the Group being recognized for the 9th time by the Ethisphere Institute as one of the 'World's Most Ethical Companies®' and as a Global Compact Lead company by the United Nations. In addition, Emmanuel Lulin, Chief Ethics Officer, was recognized as a Sustainable Development Goal Pioneer for Advancing Business Ethics by the United Nations.
To find out more about the L'Oréal approach to ethics:
Read our special report "Ethics" and our article "Brainstorming to build a more ethical company."(Source: 2017 Annual Report)
Back on Top