YSL Rouge Sur Mesure: A Beauty Tech Innovation Powered By Perso
Personalized lipstick paves the way to a new beauty tech era
The iconic lip colors of Yves Saint-Laurent Beauté (YSL) are entering the Beauty Tech era with Perso, a new device from L'Oréal. Find out how artificial intelligence and the Internet of Things are helping to create thousands of personalized bespoke shades.

In 2020, we unveiled Perso, the new product from Beauty Tech Innovation that heralds the future of beauty. One year on, L'Oréal has announced the first consumer launch for this innovative technology: Yves Saint Laurent Rouge Sur Mesure Powered by Perso, a smart at-home device that allows consumers to create their own personalized lip colors.
Discover YSL Rouge Sur Mesure by Perso
Brands
YSL Rouge sur Mesure by Perso: Discover The Device
Brands
YSL Rouge Sur Mesure Powered By Perso
Create at-home personalized lipstick shades of the YSL Velvet Cream Matte Finish
Perso takes the best of Beauty Tech and harnesses it to deliver personalized beauty. With this smart device, home consumers can create their very own versions of the iconic YSL's iconic Velvet Cream Matte Finish lipstick.
Created by our L'Oréal Technology Incubator, Perso utilizes color cartridge sets from YSL's iconic universes of red, nude, orange, or fuchsia. With this innovation, home users can create thousands of bespoke lipstick shades with a single touch. The lid of the device functions as a compact luxury case, so you can take your personalized product along with you when you go out. Yves Saint Laurent Rouge Sur Mesure Powered by Perso is available this fall in Europe and Asia - starting with France and China.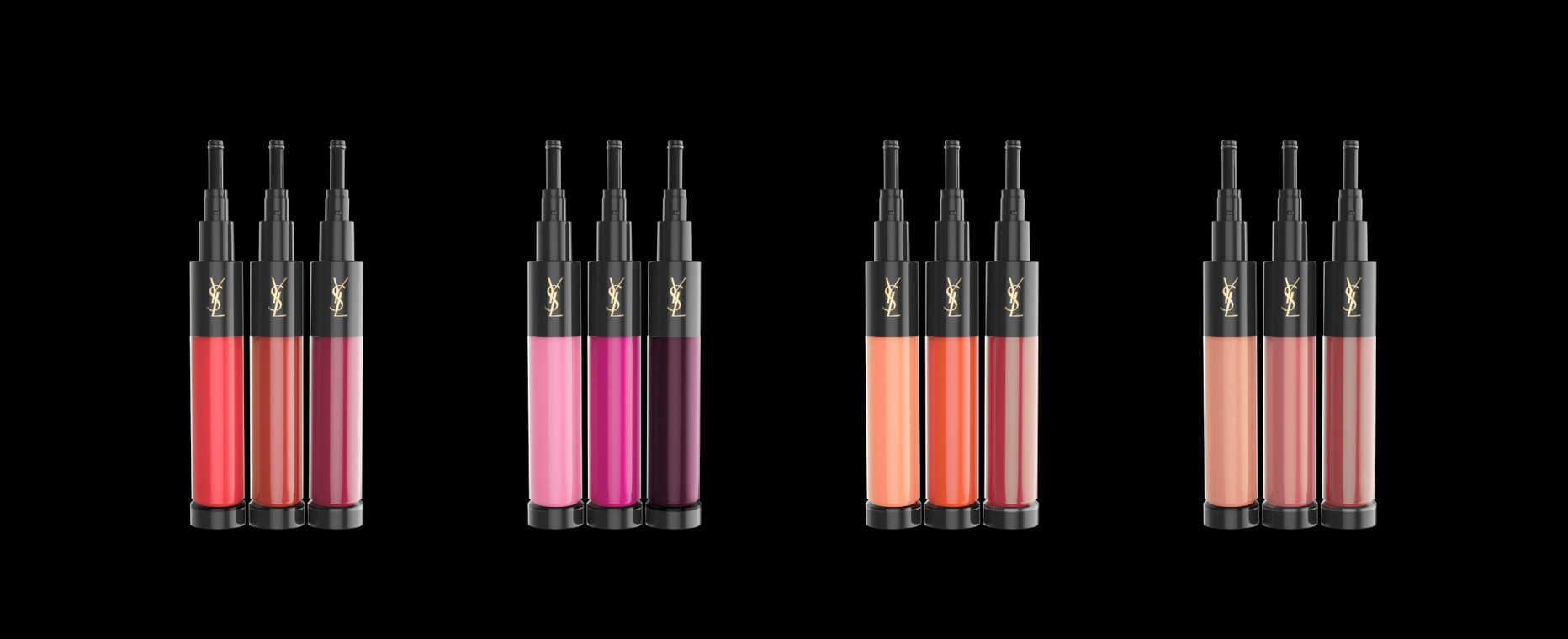 Using artificial intelligence to offer ultra-personalized beauty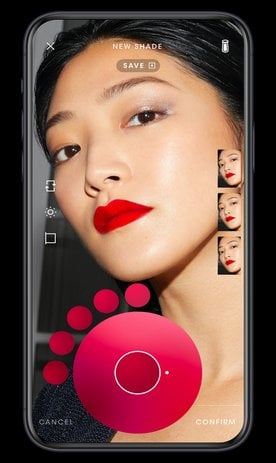 Thanks to an app that can be installed on a phone or tablet, and by tapping into the endless potential of AI, users can explore and try on looks.

Three ways to create the desired shade:
Shade wheel: to select an everyday shade and then easily dial it up for an evening look.


Shade match: to match or clash a standout outfit or favorite accessory with a simple photo capture.


Shade stylist: a proprietary algorithm infused with YSL's color expertise, designed to recommend coordinating lip shades with any outfit.
Discover More About Yves Saint Laurent Rouge Sur Mesure by Perso
A personalized shade in just 3 steps

1. Press to dispense the shade selected and apply with the accompanying brush. The lip color is dispensed in a perfectly portioned, single dose for an easy and clean application.
2. Remove the compact for on an on-the-go re-touch of the selected shade.

3. Enjoy a tailored feed on the app to showcase personalized creations and interact with what others are proud to showcase.
Since providing advice is a fundamental aspect of the beauty expertise offered by YSL, users will also have access to a dynamic Discovery page, which shows trending shades within the Rouge Sur Mesure community, seasonally suggested shades, and exclusive beauty content.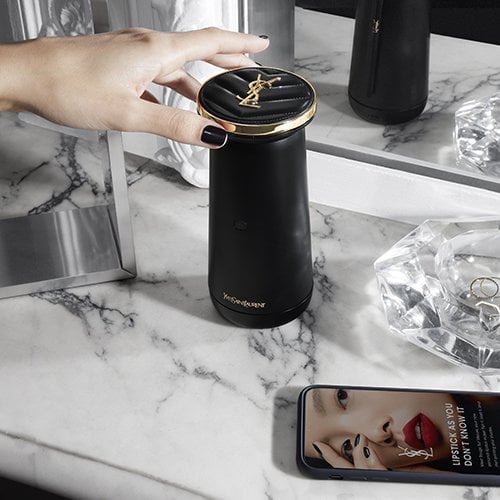 A new era for beauty
Yves Saint Laurent Rouge Sur Mesure Powered by Perso is an innovation that marks the start of a new era in which beauty is perfectly tailored to each individual's expectations, complexion, or outfit.
Moreover, through the app, at-home users can access this beauty whilst at the same time benefitting from the expertise and advice that are the hallmarks of the YSL Beauty brand.
Discover more about YSL Beauty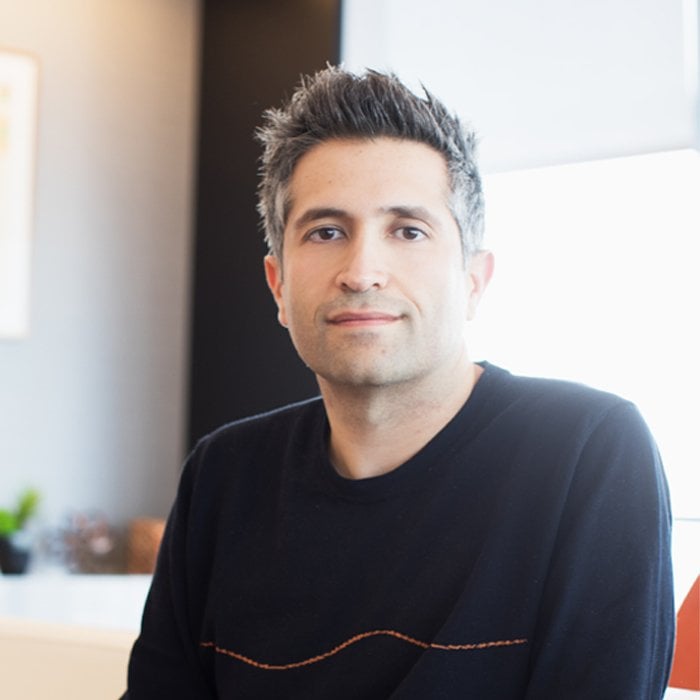 Behind the scenes of the creation of Rouge Sur Mesure Powered by Perso
Interview with Guive Balooch, Global Vice President of L'Oréal's Technology Incubator
1. What was the starting point of Rouge Sur Mesure?  
The development of Rouge Sur Mesure was informed by the L'Oréal Technology Incubator's successful launches of award-winning products. From this previous work, we knew consumers needed a higher level of personalization with products – especially in the last several years – and we worked tirelessly to perfect the Perso system. Rouge Sur Mesure allows users, for the first time, to have personalized beauty experiences at home.
2. There have been many attempts to personalize beauty products - what makes this invention the real deal?
Rouge Sur Mesure took more than five years to develop, with the work and input from dozens of beauty, technological and innovation experts, and features various technological feats, including a patented motor system, of which I'm particularly proud. This system is located at the top of the device, which moves and compresses the formula from the cartridges at the base of the machine in an upward motion [versus other devices which push it down] to the dispensing tray above for a clean application. It's a totally unique feature. 3. As a part of your creative process, you started by looking at the needs of the consumer - the YSL woman. How have these needs changed over time? 
The beauty industry is rapidly evolving, and we constantly have to be thinking ahead. With Rouge Sur Mesure specifically, a huge challenge was inclusivity and ensuring the device could produce enough shades to meet the myriad skin tones & cultural preferences of consumers. Another challenge was making the experience the most consumer-centric as possible for lipstick lovers that are not necessarily used to using technology. The third challenge was technological: accommodating all types of phones, creating smart packaging that was safe and hygienic, as well as creating a connected system, which dispensed formula up versus down. We successfully worked through these challenges and created a product and system that was truly inclusive with excellent performance.
Back on Top