When created in 1924 by a pharmacy doctor, Mixa was the combination of a cream and a powder to fight against redness. Today, the brand is the expert in caring for all types of sensitive skin.

From infancy to adulthood, Mixa cares for all women on a daily basis and in all stages of their life thanks to affordable skincare products sold in supermarkets.
Mixa sensitive skin expert are formulated under medical supervision and comply with a strict formulation charter combining effectiveness and tolerance, using dermatological active ingredients produced by pharmacists with clinically proven effectiveness, hypoallergenic formulae, and tested on more than 7,000 sensitive skins.

Mixa, Sensitive Skin Expert
Help as many people with sensitive skins as possible…
Today, the skin is becoming more and more sensitive. 1 people out of 2 declare to have a sensitive skin* and with climate and environment diseases, this number will unfortunately continue to increase. Sensitive skin can affect the day-to-day life. Our expertise is therefore more than needed today to better prepare tomorrow.

For more than 100 years, Mixa has been committed to offering simple, safe & effective solutions for body and face that are specifically adapted to the most sensitive skins and effective for all.

Formulated for the whole family from baby to adult & for all skin types. Always at an affordable price, making them accessible to all.

Because our mission is to help as many people with sensitive skins as possible to feel better with their skin, therefore in their mind and in their life, every day.

*L'Oréal Beauty Track & Ipsos, Europe 5, 2020
Jamel Boutiba
General Manager Next Big Brands
All you want to know about our ingredients

Questions about the composition of our products? Discover all our answers about our ingredients (quality, safety) and our glossary.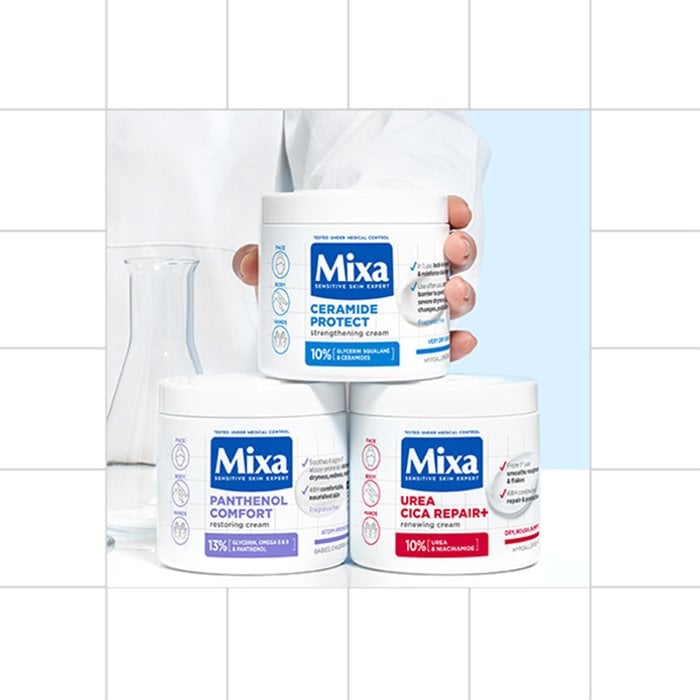 Formulated for sensitive skin, efficient for all.
Mixa innovates with a new range of advanced care. High concentrations of dermatological ingredients in indulgent hypoallergenic formulas, tailored for specific sensitive skin concerns; severe dryness, atopy-prone skin, rough & bumpy skin.
3 multi-use hydration creams expertly formulated to repair, protect and comfort skins. Clinically proven results, tested on 100% sensitive skins.
Back on Top