Discover
L'Oréal Group
L'Oréal has set itself the mission of offering all women and men worldwide the best of cosmetics innovation in terms of quality, efficacy and safety. Here is a close-up on the Group's latest stories.
For a World Without Animal Testing
For a World Without Animal Testing
For The Planet
Inside Our Products
Our Strategy & Model
Our Response To Covid-19
L'Oréal USA leads the #1 beauty market in the world with its portfolio of more than 30 iconic beauty brands that reach consumers in every category and distribution channel.
We have been devoted to the business of beauty for 110 years and achieved our leading position in the United States through a balance of organic growth and strategic acquisitions over the last 60 years. Headquartered in New York City, we employ more than 12,000 people working in facilities across 14 states.
We are proud that more than 2/3 of products sold in the U.S. are manufactured in the U.S. Generating more than $7 billion in sales annually, L'Oréal USA is committed to growth through sustainable innovation, driven by the company's Sharing Beauty With All program for sustainable development across the Group's value chain.
1953
the year L'Oréal was established in the U.S.
35+
brands sold in the U.S.
70%
of the products sold in the U.S. are produced in the U.S.
$7.5b
U.S. revenue in 2019
12k+
Employees in the U.S.
470+
U.S. researchers and scientists
The power of our brands. The commitment of our teams. The future of beauty.
L'Oréal's mission is to fulfill the beauty aspirations of every consumer.

With the incredible diversity, scale and pioneering spirit of the United States, there's no better place to bring this vision to life. L'Oréal USA has everything that makes people dream – beautiful brands with a strong heritage, innovative products that bring people confidence and a talented and diverse workforce driven by passion and purpose.

Balancing our success with the needs of society is part of our legacy, and as the industry leader, we have an important role to play in addressing today's social and environmental challenges through our actions every day.

The world is constantly evolving, and with it new beauty needs emerge. Technology is opening up new horizons for personalization and new avenues for deeper connection. There has never been a more exciting time to work in beauty, and we are committed to innovating for our consumers and defining the future together.
Stéphane Rinderknech
President and CEO of L'Oréal USA
Discover
Our Business
Learn more about L'Oréal USA and our community of over 12,000 employees based across our US offices and facilities.
Group
L'Oréal USA Management Team
L'Oréal USA Management Team
L'Oréal USA For Women in Science
L'Oréal USA For Women in Science
L'Oréal's Technology Incubator
L'Oréal's Technology Incubator
Join Our Team
Commitment
L'Oréal USA Employees Dedicate Over 17,000 Hours to Local Communities During Annual Day of Service
L'Oréal USA Employees Dedicate Over 17,000 Hours to Local Communities During Annual Day of Service
3 Sustainability Innovations By L'Oréal That Are Making A Positive Environmental Impact
3 Sustainability Innovations By L'Oréal That Are Making A Positive Environmental Impact
Commitment
L'Oréal USA Marches at WorldPride for Everyone Who Can't
L'Oréal USA Marches at WorldPride for Everyone Who Can't
Contact us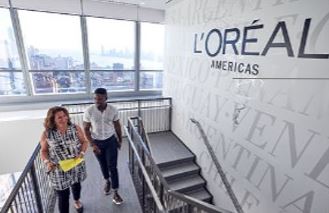 US Headquarters
10 Hudson Yards, New York, NY 10001
(212)-818-1500
Media
(212) 984-4414
[email protected]

Consumer Research Studies
Email the New York Technical Center to inquire about participating in consumer research studies [email protected]