L'Oréal Adria-Balkan
Create the beauty that moves the world
Discover more
Discover
L'Oréal Group
L'Oréal has set itself the mission of offering all women and men worldwide the best of cosmetics innovation in terms of quality, efficacy and safety. Here is a close-up on the Group's latest stories.
Our Purpose
For The Planet
Our Strategy & Model
Our Response To Covid-19
Inside our Products
L'Oréal Adria-Balkan (ADBA) provides beauty excellence for 9 markets across the Adriatic and the Balkan regions.
L'Oréal Adria-Balkan markets more than 20 makeup, skincare, hair and fragrance beauty brands – such as L'Oréal Paris, Garnier, Maybelline New York, NYX Professional Makeup, Vichy, La Roche-Posay, Lancôme, Yves Saint Laurent, Giorgio Armani, Kiehl's, Kérastase, Matrix, etc. – across all distribution networks: mass market, department stores, pharmacies, drugstores, hair salons, travel retail, branded retail and e-commerce.
At L'Oréal Adria-Balkan, we are committed to the well-being and fulfillment of our teams. We owe our success above all to the enthusiasm and commitment of more than 400 motivated professionals driven by the power of teamwork, close coordination and cooperation.
Also, we seek to care for the environment and to make a positive impact on the communities where we are present. Our new L'Oréal for the Future program embodies the two complementary dimensions of what corporate responsibility means to us: transforming our company towards an increasingly sustainable business model and contributing to solving the challenges facing the world.
As an organization that places a high value on scientific understanding, gender equality and diversity, L'Oréal Adria-Balkan is actively developing various initiatives within this field.
Famous international pioneering program for the promotion of women in science – L'Oréal-UNESCO For Women in Science has been organized in Adria-Balkan countries for more than a decade. Fellowships for the best young women scientists are being granted each year in Slovenia, Croatia, Serbia and Bulgaria, within this renowned initiative.
To date, L'Oréal Adria-Balkan continues being regularly involved in various local philanthropic activities.
At L'Oréal, we care for animal welfare and we do not test on animals. We are for beauty with no animal testing.
Since 1989, 14 years before the "EU" regulations required us to do so, we have not tested the safety of our products on animals.
Because we care about animal welfare, over 40 years ago, L'Oréal pioneered the development of human reconstructed skin that can be used to evaluate how cosmetic ingredients and products behave on human skin.
1997
L'Oréal Group first introduced on the market of the region
400+
employees in Adria-Balkan subsidiaries
#1
beauty company in the regional markets
Contact us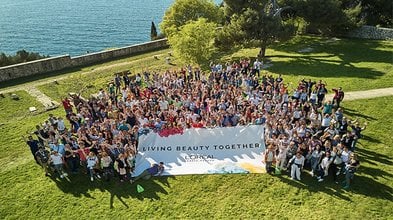 Business hours : 9:00-17:00

Bosnia & Herzegovina:

Tel: +387 33 710 265
Email: [email protected]
Office: L'Oréal ADRIA, Azize Sacirbegovic 1, Sarajevo 7100
Croatia:

Tel: +385 1 6064 920
Email: [email protected]
Office : L'Oréal ADRIA, Slavonska avenija 1C (MATRIX building), Zagreb 10000
Serbia:

Tel: +381 11 2205 900
Email: [email protected]
Office: L'Oréal BALKAN, Bulevar Zorana Djindjica 64, Belgrade 11070

Slovenia:

Tel: +386 1 580 09 10
Email: [email protected]
Office: L'Oréal ADRIA, Letaliska cesta 29c, Ljubljana 1000
Bulgaria:

Tel: +359 2 819 0610
Email: [email protected]
Office: L'Oréal BULGARIA, Blvd.Nikola Y. Vaptsarov 55, Sofia 1407