Garnier is at the forefront of formulating natural & naturally inspired products, a legacy which began when Garnier patented the first ever plant-based hair lotion back in 1904.

More recently, Garnier has made major steps towards becoming a more natural and sustainable brand. Garnier has transformed many of its products, with formulas of more than 90% natural origin ingredients, certified organic product ranges, and vegan formulas. Garnier has also reduced the weight of some packaging, as well as ensuring it is made from recycled plastic and is more recyclable.

Garnier commits to Green Beauty, an end-to-end approach to sustainability. Green Beauty is set to transform Garnier, helping to reduce the brand's environmental impact at every stage of its value chain.
All Garnier products, globally, are now officially approved Cruelty Free International under the Leaping Bunny programme.
Our goal is to make Green Beauty accessible to all of us.
"As a world leading mass-market natural beauty brand, we have the opportunity and responsibility to impact real change. Green Beauty will transform the way we do business. Developed with the help of our partners, researchers and customers, this initiative highlights a range of ambitious goals, underpinned by tangible targets. We pledge to lessen our impact on the planet and innovate for a sustainable future. It will take time, but Green Beauty will transform Garnier, and we hope the beauty industry as a whole.
To be officially approved by Cruelty Free International under the Leaping Bunny programme is a real milestone and was always an important part of our Green Beauty mission."
Adrien Koskas
Garnier Global Brand President
Today, Garnier is a recomposed family of brands in four categories: haircare, hair color, skincare and suncare.
Garnier is committed to more sustainable and solidarity sourcing, eco-designed formulas, with no compromise on efficacy.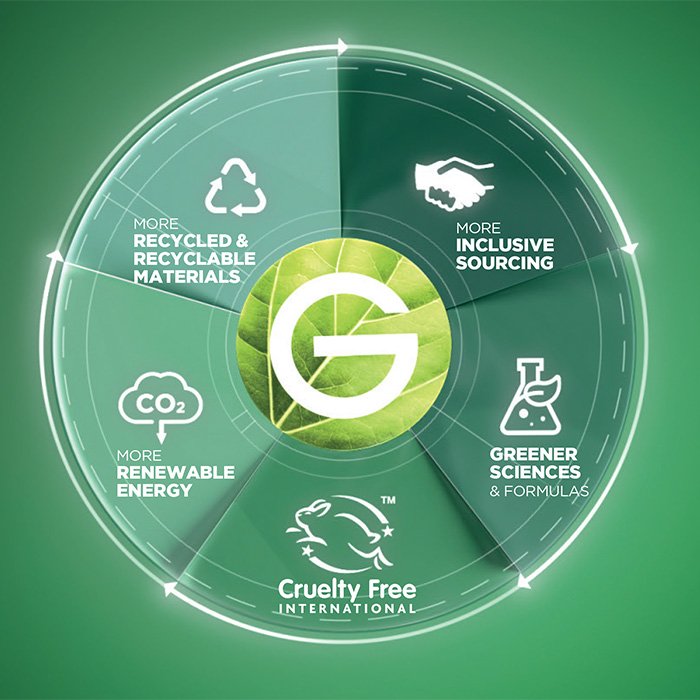 Garnier commits to Green Beauty for all of us
Garnier's Green Beauty initiative is a complete end to end approach to sustainability. The aim is to transform every stage of Garnier's value chain, reducing or eradicating the brand's environmental impact: from ingredients sourcing to formulas, as well as packaging and industries.
More solidarity sourcing
By 2025 Garnier will have empowered 1,500 communities worldwide as part of our Solidarity sourcing programme.
Green sciences & formulas
By 2023, all plant-based and renewable ingredients will be sustainably sourced.
By 2025, 99% of Garnier's new products will have an improved environmental profile.
More recycled & recyclable materials
By 2025, Garnier will use Zero Virgin Plastic in packaging, saving 12,200 tons of plastic every year*.
By 2025 all packaging will also be either reusable, recyclable or compostable.
*based on Garnier plastic consumption in 2019.
Factories & Manufacturing
100% Carbon Neutral industrial sites by 2025, through the use of renewable energy.
Approved by Cruelty Free International
Since March 2021, all Garnier products are officially approved by Cruelty Free International under the Leaping Bunny Programme, the leading organisation working to end animal testing.
Sustainability Progress Report
The Green Beauty initiative includes a Sustainability Progress Report, offering complete transparency on Garnier's commitments, which can be tracked publicly via the Garnier website. This report states where Garnier stands today, mapping out the process of how the brand will reach ambitious targets by 2025. It provides a clear and trackable summary of Garnier's commitments, work which has been completed with the help of experts and scientists. All data in the progress report has also been assessed by an external auditor, PricewaterhouseCoopers.
Download the Sustainability Progress Report
Can Beauty Go Green?
On 1st October 2021, Garnier revealed its next Green Beauty milestone as the brand launches an educational campaign dedicated to sustainable consumption.
With content produced by National Geographic CreativeWorks, Garnier will give consumers access to expert knowledge and real-world advice. This is a first step in a new commitment, from Garnier, which aims to encourage and empower 250 million people to live greener on the planet, by 2025.