For The People
People are our greatest strength–and we know it
Discover
The Heart of Our Action
We stand day-to-day with people. People we work with. People who are our partners. People who are our inspiration.
Respecting Human Rights
Caring for Our Employees
Empowering Communities
Promoting Diversity & Inclusion
Promoting Diversity & Inclusion
For Women in Science
Creating a world of Beauty through fairness and inclusivity
To us, the way we do business is just as important as financial performance, and that includes how we work with our teams, our partners and the communities we interact with. We are committed to fairness and ethics in all aspects of human relations, and the L'Oréal Spirit places special emphasis on diversity and inclusion.
The people we are working with are a wealth without which L'Oréal would not be what it is today. So we are doing all we can to make sure our partners and employees can develop to their fullest potential, through education, training, mentorships and numerous initiatives designed to help them thrive at every level.
We have a special focus on empowering women, who represent half of the world. Women have a major role in reshaping the future of Beauty.
96%
of the Group's permanent employees benefit from health cover that reflects best practice in their country of residence
63,584
people from underprivileged communities gained access to employment
64%
of managers are women
93%
of the Group's permanent
employees have access to financial protection
56,842
people gained access to work through the Solidarity Sourcing programme
54%
of key strategic positions are held by women
Human Rights, for a human company
At L'Oréal, we are a company made up of human beings whose actions and products have an impact on other human beings, as well as the planet. It's our responsibility to ensure that we respect Human Rights by avoiding negative impacts on people and the planet from our activities, and by making positive impacts wherever we can.
2020 marks the beginning of a new era for human and social rights, when these topics will become more essential than ever for companies and for the world at large. Our stakeholders–employees, consumers, NGOs, regulators and more–have ever-increasing expectations on these issues. To be leaders, to set an example and to use our leverage to create positive change, we need to work collaboratively inside and outside the organization in order to hold ourselves to ever-higher standards.
Focus On
We Are People Centric
Commitments
Our Commitment on Diversity and Inclusion
2:07
Commitments
How do you define an inclusive workplace ?
1:01
Commitments
L'Oréal Stands for Human Rights: Employability Training
1:40
Commitments
L'Oréal Stands for Human Rights: Climate Change and Gender
1:44
Commitments
L'Oréal Stands for Human Rights: Sustainable Sourcing
1:40
Commitments
L'Oréal Stands for Human Rights: Diversity and Inclusion
1:56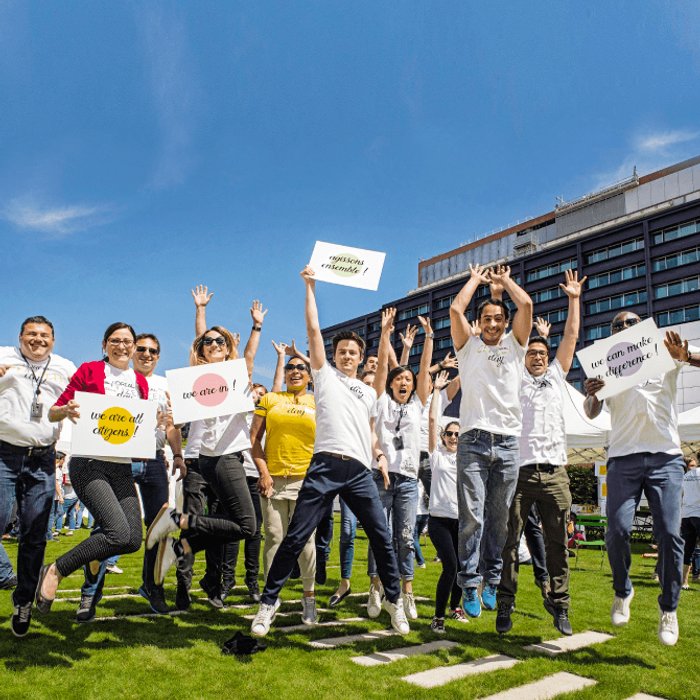 One single day in the year can make beautiful things happen
A total of 170,000 hours of voluntary work accomplished by 27,000 of our talented people, with 855 communities helped in 63 different countries. These are the very tangible results of L'Oréal's Citizen Day. From cleaning beaches to carrying out rebuilding work for vulnerable people, along with a dozen other activities in between, our employees devote a whole day of their working time every year to helping charities in various fields. This is another way for us to pursue our core mission: to share growth and ensure we make a positive impact on all the communities we interact with.
Back on Top