Fond L'Oréal pro ženy
V prvním roce fungování pomohl milionu ohrožených dívek a žen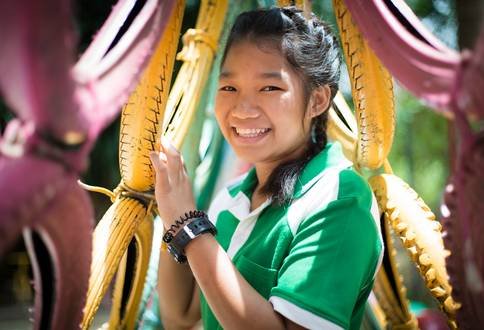 © Photo: HCR
Prostřednictvím Fondu L'Oréal pro ženy ve výši 50 milionů eur, který společnost L'Oréal založila v roce 2020 s cílem pomoci ohroženým ženám, jsme v uplynulém roce podpořili přibližně jeden milion žen a dívek po celém světě.

Abychom z naší iniciativy vytěžili maximum, spojili jsme své síly se stovkou charitativních organizací a lokálními partnery ve třiceti zemích světa. Společně s nimi jsme se zaměřili na pomoc ženám se získáním vzdělání, zaměstnání, se začleněním do společnosti, a zároveň jsme poskytovali podporu běženkyním či jinak znevýhodněným ženám.

Tento tříletý program je součástí našeho závazku přispět k řešení globálních sociálních a environmentálních výzev prostřednictvím našeho nového ambiciózního programu udržitelnosti L'Oréal pro budoucnost s vytyčenými cíli do roku 2030.
"Ženy se příliš často stávají tichými oběťmi diskriminace. V roce 2020 pandemie výrazně prohloubila již existující nerovnosti a zhoršila životní situaci žen po celém světě. Učinili jsme rázné kroky na podporu těch nejzranitelnějších a v příštích dvou letech ještě zintenzivníme naše úsilí, abychom pomohli většímu počtu žen."
Alexandra Palt, ředitelka pro společenskou odpovědnost společnosti L'Oréal
V důsledku pandemie ženám nejen klesly příjmy, ale vážně utrpěly i jejich životní podmínky. Jsou to právě ženy, které častěji pracují v neformálních odvětvích se zanedbatelným přístupem k finanční podpoře, přičemž velká část z nich je zaměstnána v oblastech, na které krize dopadla nejpalčivěji. Mnoho matek samoživitelek, které tvoří většinu neúplných rodin, je nuceno se obracet na potravinové banky, aby uživily své rodiny. Kromě toho se celosvětově zvýšil počet případů domácího a sexuálního násilí, protože lidé byli uzavřeni ve svých domovech, což vyvolávalo větší míru napětí mezi partnery. Ve Francii se počet těchto incidentů zvýšil o 30 %.
Podpora žen není jen správná věc: zajistit ženám bezpečí a zdraví pomůže celé společnosti v cestě za udržitelnou a spravedlivou budoucností. Ženy hrají důležitou roli v péči o hospitalizované pacienty a celosvětově tvoří 70 % zdravotnického personálu. Zajišťují chod obchodů s potravinami a starají se o zranitelné členy našich komunit. Jsou také mocným katalyzátorem změn. Jejich pozitivní vliv se řetězově šíří naší společností, přičemž dodávají naději a poskytují podporu zranitelným.
Proč podporujeme ženy

© Photos from the left to the right: Aide & Action - Christine Redmond, La Maison des Femmes and Women Without Borders
Jak jsme podporovali ženy v prvním roce: několik příkladů
V roce 2020 jsme spolupracovali s organizacemi, jako jsou Ženy bez hranic v Bangladéši, Indii, Indonésii, na Zanzibaru a v Kosovu, abychom naučili ženy rozpoznat případy násilí v jejich místních komunitách. V rámci řešení krize domácího násilí ve Francii spolupracujeme s organizací Maison des Femmes a poskytujeme dodatečnou podporu ženám v extrémně složitých situacích.
Ve spolupráci s UNHCR jsme také pomohli více než 100 000 vysídleným ženám po celém světě. Bojovali jsme proti sexuálnímu zneužívání v Thajsku, chránili oběti sexuálního násilí a diskriminace v Kolumbii a zasazovali se o pracovní začlenění žen v Argentině. A protože boj proti genderové nerovnosti začíná už ve školních lavicích, podporujeme program organizace Education For Women Now s názvem Aide & Action, který do roku 2025 umožní 3 milionům marginalizovaných žen a dívek v Africe, Asii a Evropě získat kvalitní vzdělání.