Kérastase Combines Luxury and Responsibility with its New Refillable Bains
Refill, reuse, repeat
Kérastase presents a new packaging innovation that heightens the haircare experience: its first ever refillable shampoo bottle. Discover a new duo that combines luxury and responsibility.
For Kérastase, the notion of care goes far beyond creating products for the hair. It's also about caring for each of you, your communities, and the future of the planet. It's also about helping you make more sustainable choices through innovative products that don't compromise luxury and pleasure.
The brand has thus imagined a new, more sustainable experience and packaging than ever available in five must-have ranges that cover a variety of hair concerns (Nutritive, Resistance, Blond Absolu, Genesis, Chroma Absolu).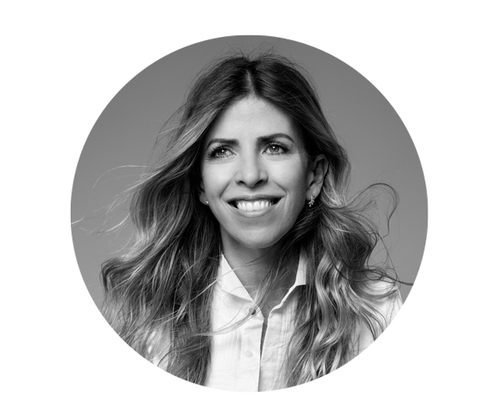 "Beauty is infinite, but the world's resources are not. Since 2013, Kérastase has been committed to improving its impact on the planet, using innovation to preserve resources and reduce its footprint, creating a more sustainable journey for both hairdressers and consumers."
Rosa Carriço, General Manager of Kérastase
A combination of luxury and responsibility
Kérastase offers a new luxurious and sustainable shampoo delivery system consisting of a reusable shampoo bottle made entirely of recycled and recyclable aluminium, and a shampoo refill pouch. This duo significantly reduces the plastic waste associated with single-use shampoo bottles, making luxury a responsible practice: one shampoo refill uses 82% less plastic than two 250 ml shampoo bottles. The set comes in a reusable organic cotton bag.
A QR code is marked on each Kérastase bottle to provide access to more information about the product and its ingredients and to learn more about Kérastase's commitments to reducing its environmental impact. Click here to discover how the brand is innovating for responsible luxury.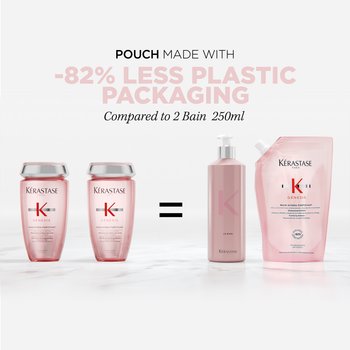 Four steps to a new approach to responsible luxury:
• Purchase a reusable bottle and a 500 ml shampoo refill in the range of your choice. Use our complimentary engraving service to personalize the bottle.
• Fill the bottle with shampoo and discard the pouch.
• When the bottle is empty, buy a new refill. Wash and dry the bottle, then refill it.
• Repeat the process an unlimited number of times, thus reducing plastic use by up to 82% with each refill.
Objective: 100% recycled plastic
This innovative bottle is part of Kérastase's overall commitment to more responsible beauty, notably by limiting the use of virgin plastic as much as possible.
100%

increase of the use of recycled plastic since 2020
100%

of retail shampoo bottles1 are made from 95% recycled plastic and are recyclable as of October 2021
+60%

of plastic packaging will be made from recycled plastic by 2025
100%

of plastic used will be from recycled or biobased sources by 2030
Back on Top