L'Oréal-UNESCO Fellowship For Women In Science National Awards Was Presented To Three inspiring Malaysian Women Scientist
The L'Oréal Foundation, is celebrating the achievements of three distinguished women scientists in Malaysia by awarding them its prestigious L'Oréal-UNESCO Fellowship for Women in Science (FWIS). In recognition of their groundbreaking research efforts, the For Women in Science also award these outstanding women with RM30,000 grant money to help fund their projects. The projects, which pushes the boundaries of science, includes research into more accurate cancer risk prediction, obesity prevention study, and material engineering.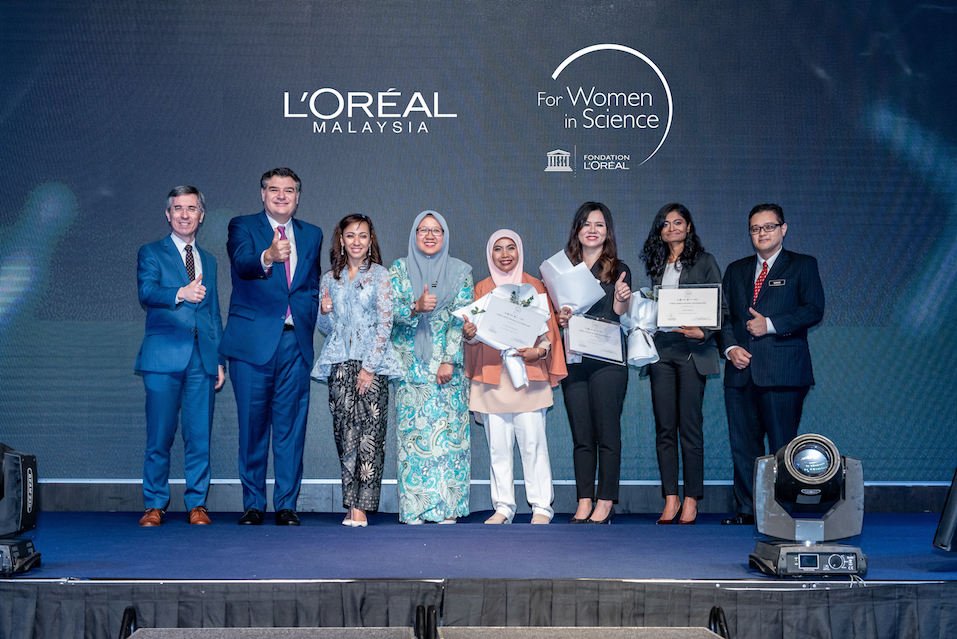 Picture caption (L to R): His Excellency Frédéric Laplanche, Mr. Malek Bekdache, YAM Tengku Datin Paduka Setia Zatashah, YB Isnaraissah Munirah, Dr. Wan Iryani Wan Ismail. Dr. Lim Way Foong, Ms. Shivaani Mariapun, Mr. Mohammad Sanusi
This year, L'Oréal-UNESCO has selected Shivaani Mariapun from the University of Nottingham Malaysia, for her research on mammographic density and breast cancer risk in Asian women. As the Malaysian breast cancer mortality rate is 50 percent higher than the global rate, Shivaani's work to develop a more accurate risk prediction model and formulate an effective screening strategy for early detection could potentially save millions of lives.
Meanwhile, another winner this year, Dr. Lim Way Foong of University Sains Malaysia, through her research is aiming to develop an alternative version of LED light. According to Dr Lim, artificial lighting from the typical LED emits harmful blue light, and overexposure to this light is a health hazard. While creating a lighting without the blue light radiation is possible, with the violet light, the method still requires plenty of testing and study, to determine the wavelength that are suitable for the human eyes.
In addition to Shivaani and Dr Lim, L'Oréal-UNESCO also honors Dr. Wan Iryani Wan Ismail from Universiti Malaysia Terengganu, for her exceptional research on obesity control using honey. Dr. Wan Iryani's work essentially centers on insulin signaling pathways - a critical function of human metabolic activity. A defective metabolic system is often the root cause of many non-communicable diseases; such as obesity, diabetes, and cardiovascular complications. Dr Wan Iryani's study has shown that consumption of pure, unadulterated honey, has shown to reduce excess weight gain as well as lower obesity biomarkers in the animal model.
The award ceremony, which was held at W Hotel, Kuala Lumpur was graced by Princess of Selangor, Yang Amat Mulia Tengku Datin Paduka Setia Zatashah Sultan Sharafuddin Idris Shah. The award was presented to the winners by Deputy Minister of Energy, Science, Technology, Environment, and Climate Change (MESTECC), Yang Berhormat Isnaraissah Munirah Majilis. Also in attendance were French Ambassador to Malaysia, His Excellency, Mr. Frédéric Laplanche, Managing Director of L'Oréal Malaysia and Singapore, Malek Bekdache, and Secretary-General of Malaysian Commission for UNESCO, Mohammad Sanusi Abdul Karim.
In congratulating the winners, Bekdache, said: "Hopefully, with this award, we can encourage women scientists to step up and show the world what they are capable of and how their ideas and innovativeness can help set the path for a brighter and more sustainable future. At the same time, we also hope that through this prestigious award, we help inspire the next generation of scientists and more importantly, young girls – and even young boys – to choose science as their career."
With the ultimate goal of breaking down barriers that impede women scientist from pursuing careers in science globally, the L'Oréal-UNESCO FWIS represent over 9,500 applicants spanning 53 nationals and regional programs in 177 countries, each year. The program also has the support of over 50 prestigious partners that are among the highest scientific authorities in their respective countries.
Back on Top