For Women in Science 2022: Katalin Karikó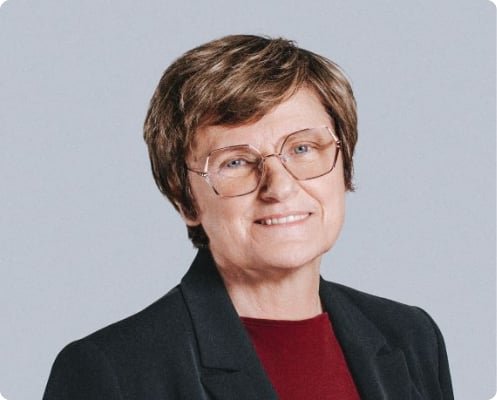 Biochemist - Laureate for North America
Adjunct Professor at the Perelman School of Medicine, University of Pennsylvania, and Senior Vice President at BioNTech RNA Pharmaceuticals
Pioneering an effective Covid-19 vaccine technology.
Professor Katalin Karikó is awarded for her ground-breaking development of a non-inflammatory mRNA, as a potent vaccine to prevent viral and parasitic infections. Her research has contributed to the development of the COVID-19 vaccines by Pfizer-BioNTech and Moderna.
She has been conducting years of research which led to a solution for one of the basic problems of RNA, namely the low and short-lived protein production. Professor Karikó discovered that nucleoside-modified mRNA – compared to unmodified and non-optimized mRNA – had a better tolerability and could be administered at higher doses.
Her research has paved the way for future therapies in complex diseases such as cancer, heart failure, stroke, anaemia, and autoimmune diseases.
Messenger RNA is effectively a copy of 'production' plans or information contained in our DNA, which enables the production of proteins within our cells, needed to fight diseases and viruses. It decomposes naturally once its role has been accomplished. Her key achievement lies in overcoming the strong inflammatory reaction by generating a nucleoside-modified form of mRNA.
Through incorporating naturally occurring modified nucleosides into the mRNA during synthesis, Professor Karikó together with Drew Weissman achieved this breakthrough in 2005. In 2013, Karikó joined BioNTech as Senior Vice President RNA Therapeutics where she together with Ugur Sahin and Özlem Türeci continued to research and develop mRNA-based vaccines. In 2020 BioNTech developed the first mRNA vaccine to fight the Covid-19 pandemic.
"Biochemistry can explain most of the phenomena in our bodies, yet there is still so much to discover," she says. "We need the next generation of scientists to join us so we can continue to discover therapies to treat serious illnesses with unmet medical needs. This starts with unravelling the molecular mechanism of these diseases, and it's critical to finding cures for all those who are suffering today."
As a child in Hungary, she lived in a rural community with a large garden where she nurtured flowers from seeds and looked after farm animals. She was captivated by the natural phenomena around her. "I was surprised to learn that the iridescence in duck feathers arises from light interacting with structures in the feather, and experienced wonder witnessing the neighbour's cow giving birth," she says. "That innate curiosity has stayed with me for life."
At 16, she was certain she wanted to be a scientist, although as she recalls, "I had never even seen one." Her biology and chemistry teachers guided her early journey with an enthusiastic, hands-on approach and extra-curricular activities. Her biology teacher was an important role model, helping her to learn the fundamental life lesson of converting negative stress into positive energy, inspiration, and encouragement.
After her PhD and post-doctoral studies, her laboratory lost its funding, and in 1985, her career path led her to the USA, initially to Temple University in Pennsylvania. In 1990, she moved to University of Pennsylvania, where she submitted a request for funding to study the use of RNA messengers for genetic therapy. Yet even in the US and beyond, Professor Karikó believes more funding is needed to create the enabling conditions for more revolutionary discoveries, and senior scientists must be able to truly apply their time and energy to exploring unconventional ideas and breaking new ground.
As a woman in science, she has fought battles over harassment several times. In 1995, she faced demotion from faculty position to the simple title of senior researcher which prevented her from gaining a professorship, even as an internationally recognised scientist. "I tried to stand up for myself, but not knowing my rights in a foreign country, my bosses were always victorious," she says. "We need women to speak up and play important roles. They mustn't settle for less, but learn to believe in themselves, lead research and know that they are just as capable of delivering ground-breaking science as any man."
"Women scientists have great vision, they are bold and practical, while also passionate and empathetic," she strongly believes. "They have a no-nonsense attitude and are good problem solvers, great team players."
Her advice to younger scientists is to choose a supportive partner, aim high, develop strong self-belief, stand up for themselves and focus on where they can make a real impact without being afraid of trying and failing.
"It is vital to the future of science and our ability to solve the world's health and environmental challenges that we continue to highlight female scientific excellence and inspire the next generation of women scientists," she concludes.
"We need the next generation of scientists to join us in finding treatments for diseases with unmet medical needs."
Back on Top