L'Oréal Recognized For Its Leadership In Sustainability By The UN Global Compact
For the 7th year, L'Oréal has been confirmed as a United Nations Global Compact LEAD company, for its ongoing commitment to the Ten Principles for responsible business and for placing the United Nation's Sustainable Development Goals (SDGs) at the core of its growth strategy. Through this recognition, L'Oréal was identified as being among the most highly engaged participants in the United Nations Global Compact (UNGC).
The UNGC is a call to companies to align their operations and strategies with ten universally accepted principles in the areas of human rights, labor, environment and anti-corruption, and to take action in support of UN goals and issues embodied in the Sustainable Development Goals. L'Oréal has been a member since 2003.
Through its sustainability program, its strong commitment to ethics, its policy of promoting diversity and inclusion, and its philanthropic activities (conducted with the support of the Fondation L'Oréal and by its brands), L'Oréal contributes to 16 of the 17 Sustainable Development Goals defined by the United Nations in 2015.
"LEAD companies represent the highest level of engagement with the UN Global Compact. More than ever before, the world needs businesses of all sizes - like the ones announced as LEAD today - that continuously work to improve their sustainability performance and take action to build a better world."
Sanda Ojiambo, CEO and Executive Director of the UN Global Compact
L'Oréal's vision for the upcoming decade is one of a company whose activities are respectful of the Planetary Boundaries, and which takes on greater responsibility to help address some of today's most pressing environmental and social challenges.

Amongst other commitments, the Group has pledged for 2030: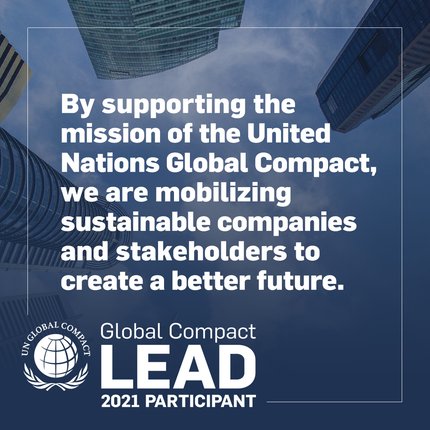 • To align with the 1.5°C scenario, reducing its greenhouse gas emissions of all scopes by 50% per finished product (25% in absolute terms).

• To help restore one million hectares of degraded ecosystems thanks to the L'Oréal Fund for Nature Regeneration, a 50 million euro impact investing fund.
• To help 100,000 people from disadvantaged communities gain access to employment.

• To pay at least a living wage to 100% of its strategic suppliers' employees, covering their basic needs and those of their dependents. The Group is a member of Business for Inclusive Growth as well as the UN Global Compact Decent Work in Global Supply chains Action Platform. It is working with a number of other companies to cascade the living wage approach throughout worldwide value chains and help raise living standards for as many people as possible.
"Businesses can and should be a force for good. Increasingly, companies are understanding that it will not be possible to thrive in a society that is not inclusive or sustainable"
Alexandra Palt,
Executive Vice President - L'Oréal Chief Corporate Responsibility Officer
and Executive Vice-President of the Fondation L'Oréal
It is L'Oréal's conviction that it will not be possible to have a strong, functioning business in a world facing climate change and environmental degradation, nor social unrest.

Find out more about our Commitments
Back on Top