L'Oréal Men Expert X Movember: Raising Awareness Around Men's Mental Health
Break the stigma and start talking about men's mental health
November is here and it's that time of the year when the moustache becomes a badge of honor, and hairy conversations are a means to amplify awareness around men's health.

L'Oréal Men Expert x Movember
L'Oréal Men Expert and Movember have joined forces for the 6th consecutive year to challenge conventional notions of masculinity in order to support mental health. This year's campaign, "BE STRONG OPEN UP," is all about embracing the duality of being a strong man – not in physical prowess, but in mental resilience. True strength is not only about showcasing your tough exterior but also about acknowledging your vulnerabilities and opening up about mental health.
More than a long-term partnership, a collective support
The collaboration between L'Oréal Men Expert and Movember goes beyond a single partnership; it represents a long-term commitment and a powerful movement to improve men's mental health. This relationship has stood the test of time, growing stronger every year. Ongoing support has enabled L'Oréal Men Expert to raise €2,740,00 since 2017 towards Movember cause, and this doesn't include 2023, helping to push forward the fight against the stigma associated with men's mental health issues!

So, let's keep moving forward together with L'Oréal Men Expert and Movember. Be strong, open up and support the cause!
People from L'Oréal Open Up
"We need to empower men and give them tools to open up about their feelings. Together we can help break the stigma and normalize the chat."

Nikolaj Coster-Waldau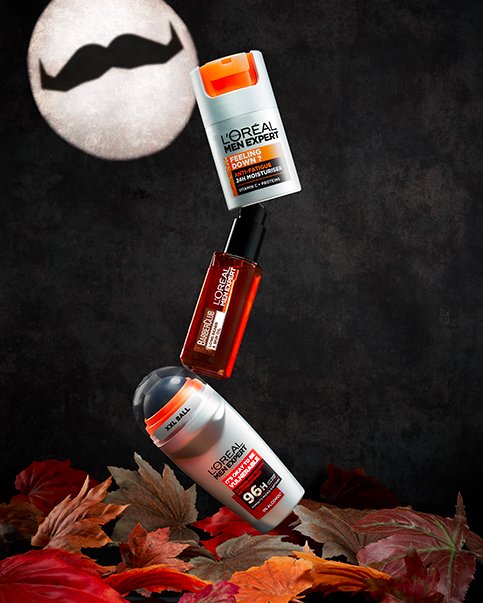 Rebranding L'Oréal Men Expert with a Soft twist
To take the message even further, L'Oréal Men Expert has rebranded three of its flagship ranges.

These products now carry messages that echo each other's duality.
"Hydra Energetic" becomes "Feeling Down", "Invincible" becomes "It's OK to be Vulnerable" and "Barber Club" becomes "Soft Men".
This committed rebranding reminds men to open up about their mental health issues.
Meet A.L.E.C
Inviting men who may be struggling to talk about their feelings might be a little easier thanks to the ALEC methodology, a simple 4-step plan:
ASK Start by asking how he's feeling.
LISTEN Give him your full attention.
ENCOURAGE ACTION Help him to focus on simple things that could improve how he feels.
CHECK IN Follow up after your chat.
Discover the Movember Universe!
Show off your moustache with the #Movember and join the movement to raise awareness on men's mental health.

L'Oréal Paris Men Expert is committed to keeping the conversation going!
Want to know more about the Movember movement ?
Visit the Movember Official Website

Movember has been at the forefront of the battle for men's mental health for many years. And they decided to introduce an innovative program called "SpeakEasy." This initiative offers experiential workshops that aim to normalize everyday challenges and encourage participants to be more open about their adversities. The workshops are designed for everyone, as we all face trials, good and bad. One of the most significant challenges is knowing how to ask the right questions to encourage those close to us, our peers, friends and colleagues to open up, ultimately leading to improved mental wellbeing.
Visit the Movember Speakesy Website
Back on Top