L'Oréal China, spotlight on a succes story
Stéphane Rinderknech joined L'Oréal in 2001 and worked across the globe within the Group. His international experience started in the Americas before moving to Asia, where he has worked in Japan, South Korea, and most recently China since 2011. He started as the Head of L'Oréal Luxe in China and then went on to lead the Consumer Products Division. In 2016, he was promoted to General Manager of L'Oréal China. Recently appointed as a member of L'Oréal's Executive Committee, he sheds a light for us on the key-factors of L'Oréal's success in China and explains the specificities of this unique market.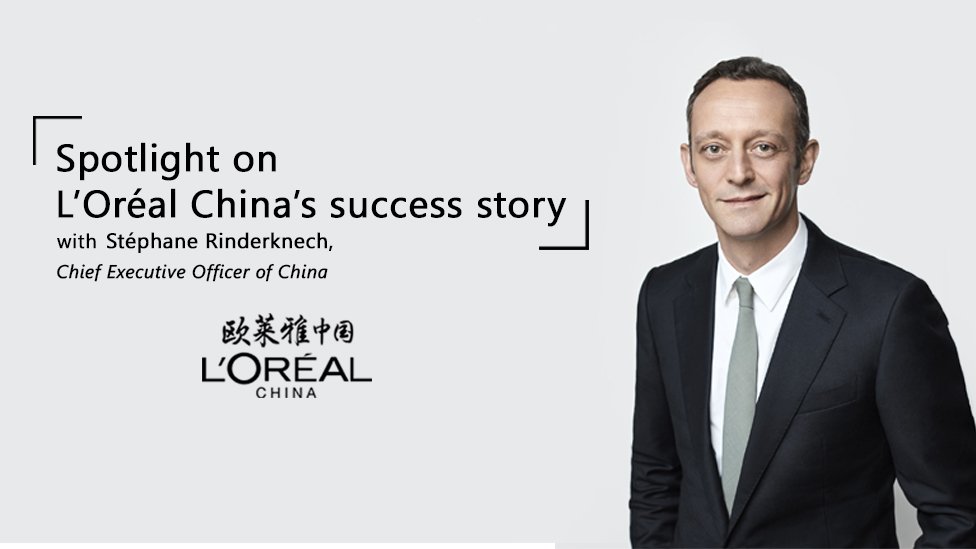 China is really leading today's growth at L'Oréal. What are the factors behind this amazing success?
Stéphane Rinderknech: The story of L'Oréal China is an amazing story that started 20 years ago. In two decades, we became the leader of the beauty market and the second largest market for L'Oréal worldwide. This amazing success story is based on what we call L'Oréal China's "consumer-centric 5-power model". The first power is about our 22-brand portfolio in China, the aspiration of these brands, their uniqueness and their unique equity. The second factor is the superior and unique innovations that we can offer to Chinese consumers. We have established an R&I center in China in 2005, with more than 400 people who invent in China and for China. It makes us proud that our work sometimes inspires the entire world. The third factor is new marketing, meaning disruptive marketing content, often digital, that goes together with the amazing digital revolution happening in China over the past years. The fourth factor is what we call the new retail. We built a very powerful e-commerce on one hand and we have an equally powerful offline world on the other. Between these two worlds lies the same consumers, able to buy at a store counter with their mobile phone. The fifth one is about social value. In a country like China, contributing to making society a better place to live is very important for the consumers.
What makes the Chinese consumers so unique?
S.R: Over the past 20 or 30 years, there has been a tsunami of change in terms of consumer behavior. The generation born in the 70s, during the Cultural Revolution, was mostly behaving in conformity. Today if you look at young Millennials, it's exactly the opposite. There is no norm for them. It's all about "me, me and me" and about the way to express my own personality. This expression is also an explanation for the boom of the beauty market in China because this difference has to be expressed in some way. And on the other side we have this "silver generation"-the seniors- who represent hundreds of millions of additional potential consumers.
What is the situation for e-commerce and how will we continue to develop new retail experiences?
S.R: We have been growing ten-fold on e-commerce since we started in 2011. We are the leader on e-commerce in China, which is the fastest growing channel. Having the leadership is great but we already need to reinvent ourselves, because everything is constantly changing in China. The next step will be this famous new retail: how will we combine the offline and online worlds to offer an all-in immersive experience to consumers at all touchpoints. It will be supported by the technologies that will come into it, for example augmented reality, virtual reality, and of course, artificial intelligence.
Today we already provide skincare diagnostic supported by artificial intelligence for Vichy on Tmall*.
What are the main upcoming challenges for L'Oréal China?
S.R: Whatever we do right today has to be different tomorrow because the rise of the Chinese middle class - already the world's biggest middle class - is just the beginning. Within five years, 100 million more households should become potential consumers. Today, China private consumption weight of the total GDP is 39% while for US, it is 69%**. The other challenge is the speed of change in this country and China is unique in that regard. We have to always stay aware, curious, and be extremely humble about our current successes. To think about this combination of scale and speed, this is what makes China unique and makes our job fascinating.
Read our featured article "Beauty in the Middle Kingdom" to discover more information about L'Oréal and the beauty market in China. (Source: 2017 Annual Report).
*Tmall is China's largest e-commerce B2C platform. ** Source: Economist Intelligence Unit (EIU) estimation 2017.
Back on Top