Lancôme Perkenalkan Idôle, Parfum Feminin bagi Perempuan Modern dan Berdaya #WeAreIdôles
Yuk Intip Parfum Feminin bagi Perempuan Modern, Lancôme Idôle!
Jakarta, 21 April 2022 – Lancôme hari ini memperkenalkan Idôle, parfum feminin terbaru yang kini hadir di Indonesia. Pemberdayaan perempuan adalah pesan utama yang diusung dalam kampanye Idôle, dimana perempuan modern dan berdaya menginspirasi dan mengajak perempuan lainnya untuk menggapai mimpi karena #WEAREIDOLES. Acara peluncuran yang bertepatan dengan Hari Kartini tersebut turut dihadiri oleh Official Brand Partner Lancôme Indonesia, Raisa Andriana.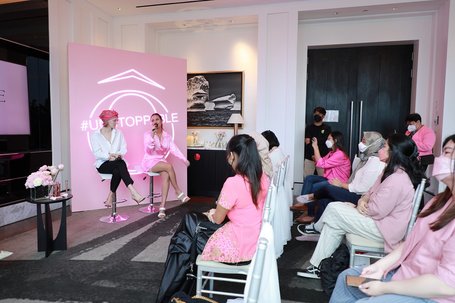 Servane Lutz, Brand General Manager, Lancôme Indonesia menjelaskan, "Lancôme memiliki misi untuk membawa kebahagiaan bagi perempuan dengan memberikan inovasi produk terbaik dalam hal sains, kualitas dan efikasi produk. Kami sangat senang hari ini memperkenalkan Lancôme Idôle kepada konsumen di Indonesia. Idôle mendorong pesan Sukses Bersama (Collective Success) dan Pemberdayaan Perempuan (Women Empowerment) dimana kesuksesan seorang perempuan dapat menginspirasi dan mengajak perempuan lainnya untuk membangun kepercayaan diri, menggali potensi diri dan berani menggapai mimpi. Kami percaya setiap wanita memiliki kekuatan untuk mengubah dunia dan melangkah maju menuju mimpinya karena we are all Idôles, I can, We Will!"
Bagi Lancôme, ada Idôle dalam diri setiap perempuan, dan sukses dapat diraih tanpa harus meninggalkan sisi femininnya. Collective Success memiliki makna bahwa kesuksesan tidak disimpan untuk pribadi saja, namun juga dibagikan kepada perempuan lain dengan mengajak mereka untuk mengembangkan diri. Dalam peluncuran ini, Lancôme mengajak untuk menggali potensi diri serta menjadi inspirasi bagi perempuan lainnya dan komunitas sekitar kita.
LANCÔME IDÔLE, UNTUK PEREMPUAN DI ERA BARU
Dirancang secara kolektif oleh tiga perfumers perempuan, dengan tiga karakter berbeda, yang berasal dari tiga benua yang berbeda pula, yaitu: Shyamala Maisondieu, Nadège Le Garlantezec dan Adriana Medina, Idôle menawarkan wangi musky chypre floral. Mawar dan air mawar sebagai inti wewangian, ditambah dengan melati, nilam dan white musks. Idôle memberikan aroma yang berkesan dan lembut pada kulit, memberikan kepercayaan diri dan feminitas untuk menggapai mimpi.
Top

Heart

Base

Bergamot Italy Essence

Pear Accord




Clean & Glow Accord

Isparta Rose Petal Essence crafted for Lancôme

Centifolia Rose Absolute from Grasse

Rose Water

India Jasmine Grandiflorum super Infusion crafted for Lancôme

Jasmine Grandiflorum Haute Egypt Absolute

Jasmine Sambac Absolute

Indonesia Patchouli Heart Essence

Texas Cedar Fraction Essence Muscs (Moxalone, Sylkolide, Ambrettolide)

Madagascar Vanilla Prenium Extract, extract crafted for Lancôme



Yang paling menarik dan membanggakan bagi kita adalah, ketiga perfumers perempuan tersebut meracik aroma Idôle dengan memasukkan pula kandungan Patchouli Heart Essence asli dari Indonesia pada bagian Base, sehingga memberikan kombinasi sempurna antara kandungan lokal dan internasional pada Idôle.
Melambangkan keberanian, tekad dan komitmen, kemasan Idôle yang ikonik dirancang oleh arsitek dan industrial designer ternama Bernama Chafik Gasmi. Botol parfum Idôle yang berwarna pink ini juga merupakan botol parfum tertipis di dunia dengan ketebalan hanya 15mm, sehingga sangat mudah dan ringan untuk digenggam dan praktis untuk dibawa dalam tas yang kecil.
Lancôme selalu berkomitmen untuk terus mendukung keberlanjutan dan memberikan dampak positif bagi lingkungan, termasuk bahan-bahan yang digunakan dalam formulasi produk. Salah satu bahan utama dalam Lancôme Idôle dibuat adalah Isparta Rose petal Essence dari Turki. Bahan utama ini merupakan bagian dari Solidarity Sourcing, program pembangunan yang bertujuan untuk meningkatkan dampak positif baik secara lingkungan, ekonomi dan sosial dalam seluruh rantai pasokan. Program ini mendukung industri berbasis keluarga dengan membantu meningkatkan praktik pertanian, kondisi kerja dan membantu memperoleh sertifikasi "Fair for Life".
Raisa Andriana, Lancôme Official Brand Partner menambahkan, "For me, perfume is a statement and bring back memories. Menurutku, pesan yang disampaikan sangat inspiring, mengenai bagaimana perempuan saling menguatkan, saling mengerti dan saling mendukung ambisi masing-masing. Kita sebagai perempuan perlu tahu bahwa masing-masing dari kita dapat bermimpi yang tinggi dan tidak ada batasan untuk mencapai apa yang kita impikan. Seperti pesan yang dibawa oleh Lancôme Idôle, to dream big and believe in yourself. Together, we are stronger."
Idôle memiliki dua ukuran 50ML (IDR 1,415,000) dan 100ML (IDR 1,970,000). Untuk informasi lebih lanjut, Anda dapat mengunjungi website official Lancôme, www.lancome.co.id atau Lancôme Flagship Store di Lazada. Kami harap para pembeli dapat terinspirasi dengan Lancôme Idôle dan mendapatkan pengalaman yang indah dari luar dan dalam.