Giorgio Armani's Acqua for Life
empowering communities by developing access to drinking water
Since 2010, Giorgio Armani has been committed to working with the most deprived communities to provide universal access to drinking water, particularly in arid zones. Since 2010, Acqua for Life has initiated water projects in 21 countries: Argentina, Bolivia, Brazil, Ghana, Greater China, Haiti, India, Ivory Coast, Kenya, Madagascar, Malawi, Mexico, Nepal, Nicaragua, Papua New Guinea, Senegal, South Africa, Sri Lanka, Tanzania, Uganda, and Zimbabwe. Acqua for Life starts 2022 with nine active projects, including two new ones in Kenya and South Africa.
Acqua for Life's philosophy is as simple as it is fundamental: that water creates life and empowers lives. Yet for 1 in 10 people do not have access to clean water close to home. Acqua for Life was born out of Giorgio Armani's deep connection to nature, in particular water, one of the most essential elements to life. An awareness of the beauty of nature, water, and its associated issues that Giorgio Armani, expresses as follows:
"Water is definitely the element I feel most connected to. For me, water represents life and regeneration, but also peace and serenity. Access to drinking water is undoubtedly one of the greatest challenges of the 21st century."
A global and comprehensive commitment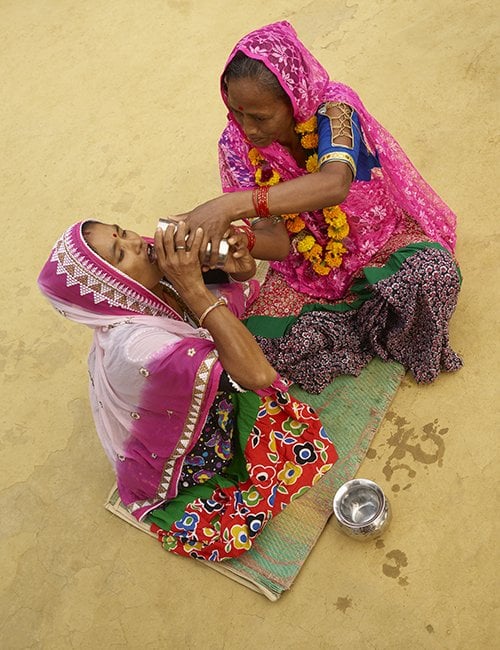 The Acqua for Life program was created in 2010, the year the United Nations recognized the right to safe drinking water and sanitation as fundamental human rights.
Since its creation, Acqua for Life has invested a total of more than 12 million euros in projects across the world. This has resulted in helping more than 437,000 people in 21 countries on three continents to gain access to safe drinking water.

Acqua for Life's actions have been conceived with a global approach in mind. The main objective is to improve access to drinking water in regions where the resource is more scarce, but also to take into account related problems, such as sanitation and hygiene. Projects activities include the installation of water points, latrines, rainwater collection systems, filtration, and water purification.

Beyond this commitment to developing universal access to drinking water, the Acqua for Life initiative strives to have a positive socio-economic impact on communities' health and livelihood. This involves educating local communities and raising awareness about the recommendations of the WASH (water, sanitation, and hygiene) program. It also involves training the communities to allow them to continue maintaining the facilities independently beyond the three years of support offered by the Acqua for Life program.
Partners for sustainable futures
To support its commitment, Acqua for Life collaborates with three main partners: Unicef USA, WaterAid and Water.org. In collaboration with them, Acqua for Life projects are selected after a thorough evaluation process. Acqua for Life evaluates the condition of water resources in the community or country concerned, looking at water shortages today, water projections for 2040 and the financial situation of the country or community. The same requirement applies to the partners that the program relies upon.

Since 2010, Acqua for Life has been supporting Unicef's water, sanitation and hygiene (WASH) programs in Burkina Faso, Nicaragua, Ivory Coast, Guatemala, Haiti, Tanzania, Togo and Vietnam. As part of the Acqua for Life 2020 campaign, the funds raised support Unicef's WASH programs in Nepal, improving water quality and providing sustainable access to safe drinking water for approximately 5,000 people.
In 2018, Acqua for Life selected WaterAid to join its existing partners, in light of WaterAid's technical expertise in the WASH sector. WaterAid is working to make clean water, decent toilets, and good hygiene normal for everyone, everywhere, within a generation, and is currently working across 28 countries to change the lives of the poorest and most marginalized people. In addition, WaterAid has a global presence, a collaborative approach, and a commitment to finding sustainable solutions to the water crisis around the world. Between 2021 and 2024, the Acqua for Life initiative is supporting five WaterAid projects focusing on schools and health care facilities in India, Madagascar, Malawi, Nicaragua, and Uganda.
In 2020, Acqua for Life joined forces with Water.org, a global non-profit organization that helps people get access to safe water and sanitation through affordable financing, such as small loans. One of the major barriers to safe water and sanitation is affordable financing. As an answer Water.org, via its WaterCredit Initiative®, helps bring small loans to those who need access to affordable financing and expert resources to make household water and toilet solutions a reality. Communities can access financing, take control of their future, and break down the barriers to safe water and sanitation. These solutions last because communities have a personal investment to see them through, as well as access to financing to make repairs over time as needed. In partnership with Acqua for Life, Water.org is working to transform the lives of 85,000 people in Tanzania with access to safe water and sanitation.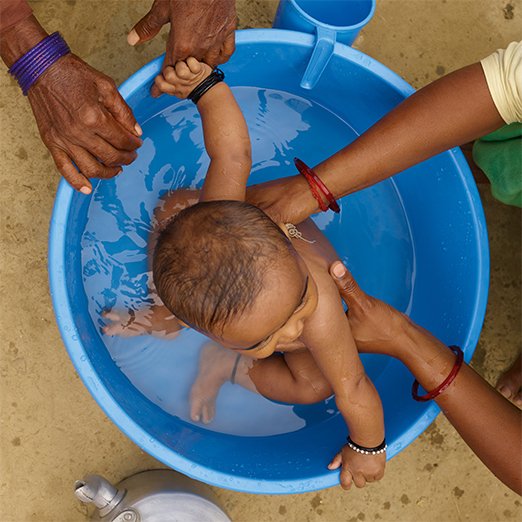 Acqua for Life by Viviane Sassen in Nepal


After capturing the joys of bringing drinking water to Madagascar, Dutch photographer Viviane Sassen traveled to Nepal to photograph a project run by Acqua for Life alongside WaterAid. There, Viviane Sassen produced film footage and photographs that capture how drinking water can transform daily life in health facilities and birth centers. Her video and photographs highlight the fundamental role of water as a source of life.
Back on Top