L'Oréal's Burgos Plant: a Global Pioneer for Sustainability
L'Oréal reinforces its commitment to Spain and continues to invest in its plant in Burgos
The L'Oréal Groupe continues to reinforce its commitment to Spain by pursuing its annual investment of more than 10 million euros in its international haircare products factory in Burgos, aimed at boosting its production - which has increased by 8.5% in the past three years - and at meeting the growing demand from international markets.

These announcements were made by the company during the celebration of the 50th anniversary of the plant, which was held on September 22, 2021 on its premises. The event was attended by Juan Alonso de Lomas, president of L'Oréal Spain; Benoît Mocquant, director of the Burgos factory; Reyes Maroto, Minister of Industry, Trade and Tourism; and Daniel de la Rosa, mayor of Burgos, among other personalities.
Through this investment in the Burgos plant, L'Oréal once again demonstrates its commitment with Spain and with Burgos at a key moment for economic and social reactivation. It continues the same investment strategy of the past eight years, in which the company has established itself among the leaders of sustainable industry 4.0 in the world and has consolidated its position as a reference among the 40 global factories of the L'Oréal Group.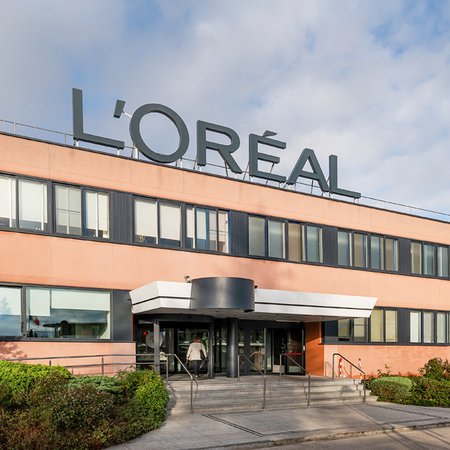 Exporter le « Made in Spain » vers plus de 50 pays
Avec une surface totale de 189 000 m², 42 lignes de conditionnement, 110 formats différents et plus de 4 500 références actives, l'usine expédie chaque jour 1 million de produits vers plus de 50 pays, dont 67 % en Europe. Parallèlement, l'usine reste engagée à soutenir l'économie nationale, puisque 35 % de ses fournisseurs sont espagnols.
D'abord locale lors de son inauguration en 1971, l'usine de Burgos a acquis en 2008 une envergure internationale, puisque 94 % de sa production est aujourd'hui dédiée à l'export. Au cours des trois dernières années, l'usine a augmenté sa production de 8,5 %, en réponse à la demande croissante des marchés internationaux et à l'augmentation de la production d'autres divisions dont les produits ne se limitent pas aux soins capillaires, telles que Kérastase, L'Oréal Professionnel Paris, Redken, Matrix ou encore Shu Uemura.
L'essentiel des exportations de l'usine concernent la Chine, un marché où il existe une forte demande pour des marques de luxe telles que Kérastase, dont toute la production mondiale est réalisée à Burgos. La Chine est ainsi le troisième marché de l'usine de Burgos, après la France et le Royaume-Uni.
"Today is a day of pride for all of us at L'Oréal Spain, as it marks a new milestone on the path of this factory, which perfectly exemplifies our commitment to the socio-economic growth of Spain, especially in the current context". "We want to contribute to the economic reconstruction of our country and to this end, we will continue to invest in this plant, a world reference in sustainable industry 4.0, as a spearhead to achieve this. Our goal is to spend 50 more years in Burgos."
Juan Alonso de Lomas, President of L'Oréal Spain
A pioneering factory in environmental impact
L'Oréal's International Hair Care Products Factory in Burgos is also a pioneer in the implementation of social and environmental initiatives. It was among the first of the Group to achieve carbon neutrality in 2015 thanks to the introduction of a biomass trigeneration plant which enables all the energy consumption to be 100% renewable.

Just two years later, the plant set a new milestone by becoming L'Oréal's first "Waterloop" factory in the world. This means that it only uses water as a raw material and for human consumption, with a closed-loop system that retrieves and recycles water from its production phase, saving 28,000 m3 liters of water per year, the equivalent of more than 10 Olympic-size swimming pools.
Regarding climate, the factory has carried out the 'Burgos Green Lines' project, a sustainable corridor of trains and ships that aims to reduce the CO2 emissions of its suppliers (scope 3) by avoiding transportation by airplanes and conventional trucks. As a result, it has achieved a 20% decrease in its carbon emissions associated with transportation until 2020.
In addition, the company has created a greenhouse at its facilities to dry sludge, one of the primary wastes generated by the plant. This dryer will allow, through an ecological process, the use of solar energy to reduce its volume by 50%, reducing the trips required to transport it and the associated CO2 emissions.
Driving the transition to the circular economy
As part of its commitment to its environment, the L'Oréal factory in Burgos, which has held the "Zero waste to landfill" certificate since 2016, wants to be an active agent in the transition towards the circular economy. It currently has important projects underway related to the reduction of CO2 emissions from its suppliers and the promotion of the circular economy, with which it has managed to reduce its carbon emissions associated with transport by 20%.

In addition, it has recycled 7.6 tons of plastic thanks to an innovative system to produce pallets from plastic packaging used in the plant itself, manufacturing 400 pallets in just one year. In this matter, the factory cooperates with leading Spanish companies such as Enplast, with whom it works on aspects such as the use of recycled plastic in its packaging, the reduction of packaging weight and the promotion of returnable formats, among others.
"The effort and commitment of more than 500 current employees of the plant and more than 3,000 people who have been with us throughout these 50 years. They are a worldwide example of specialized talent in industry 4.0 and, without them, our factory would not have accomplished these achievements".
Benoît Mocquant, Director of the L'Oréal factory in Burgos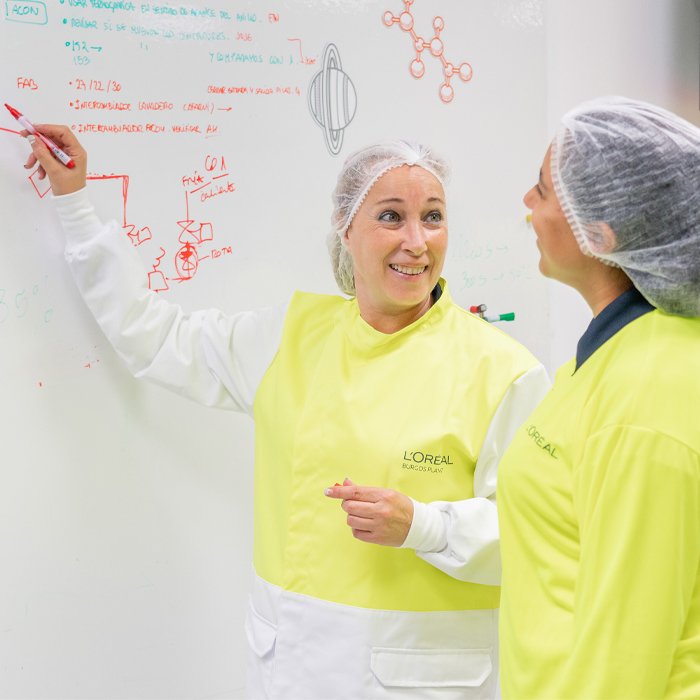 Creating a positive social impact
As part of its role as a forerunner in developing social responsibility initiatives oriented to create value in the communities, the plant has been working for more than 35 years with special employment centers which has provided employment to around 170 people every year.
In addition, since 2017 it has been fostering the labor inclusion of people at risk of marginalization in the region's industry through the School of Industrial Excellence, an initiative that has trained more than 70 people throughout its four editions and that currently has an employment rate of over 70%. Similarly, since 2006, the plant has been cooperating with Servigest, an entity focused on offering employment to people with disabilities. Throughout these 15 years, their partnership has grown from the local to the international level, expanding their social initiatives to countries all over the world such as South Africa, Brazil, France, Japan, and China, supported in this case by L'Oréal.
The promotion of equal opportunities and the enhancement of women's talent is also one of the factory's main pillars of action and is reflected in the share of women among its workforce, with 51% of management positions being held by women. Since 2017, it has also been cooperating with the Stem Talent Girl initiative, focused on promoting STEM (science, technology, engineering, and mathematics) talent among girls. As a reward for its work, it was recognized at the Stem Talent Awards 2020. Its commitment to creating a positive impact on society was also demonstrated during the toughest phase of the pandemic when, in less than two weeks, the plant converted two of its production lines to produce nearly two million units of hydroalcoholic gel, out of which over 700,000 were donated to several organizations such as nursing homes and hospitals.
Back on Top