L'Oréal Embraces Green Transportation To Meet Environmental Challenges
L'Oréal's Supply Chain teams are accelerating their efforts to curb CO2 emissions
How do we deliver to our customers – preferably quickly – no matter where they are in the world? How do we ensure that they can find our products everywhere? And how do we do all that while hitting our ambitious greenhouse gas emissions reduction targets? This is what our commitment to green transportation is all about, and what our Supply Chain is aiming to achieve.

The Group's program of sustainability commitments, L'Oréal for the Future, marks a new milestone in accelerating the transformation of our Supply Chain, enabling us to take action through global, cross-cutting measures.

In terms of fighting climate change, and in order to align our greenhouse gas (GHG) emissions with the 1.5°C scenario, we have set the ambitious goal for 2030 of cutting these emissions, including those related to transport, by 50% per finished product compared with 2016 levels. To achieve this, our Supply Chain teams, who are responsible for getting our products from their manufacturing site to consumers, are innovating and reinventing transportation.
Rethinking transportation

A key component in our drive to cut GHG emissions is to rethink product transportation: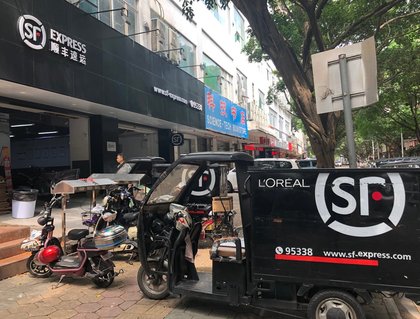 • Over long distances, by turning to alternative transportation methods, such as sea and rail freight, and less polluting vehicles, including trucks powered by liquefied natural gas (LNG) and, in the future, hydrogen.

• Over short distances and the "last mile," through the use of less polluting vehicles, including electric vehicles, LNG-powered vehicles, and zero-emission alternatives such as bicycles.

The Whistle project illustrates how the Group is switching to alternative transportation choices. Set up by L'Oréal USA, this initiative prioritizes rail freight over road transportation wherever possible, helping to bring down transportation costs as well as CO2 emissions.
In Shanghai, L'Oréal China has been engaged since 2019 in an initiative to gradually lower delivery-related GHG emissions. Today, 70% of downtown deliveries are done using electric, biofuel or LNG vehicles. The plan now is to roll out this L'Oréal China initiative in other cities.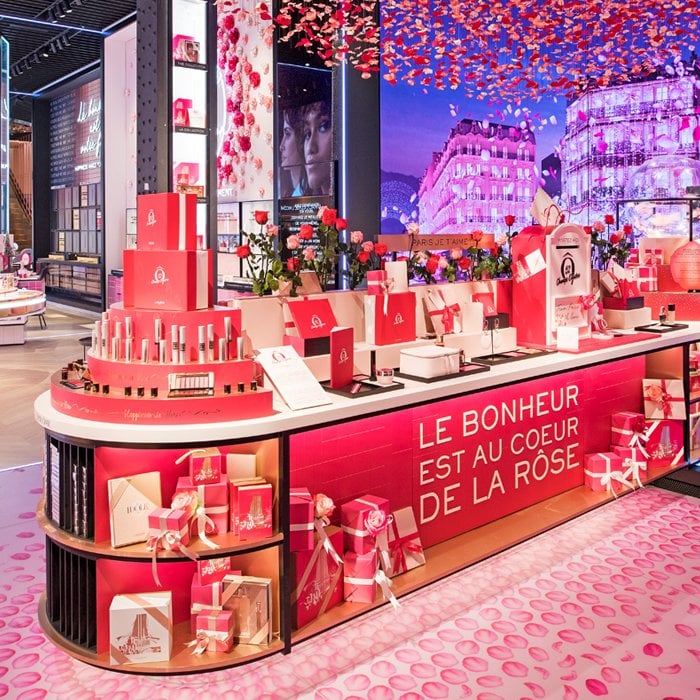 Improving management and anticipating better
By harnessing data, we can better anticipate consumers' needs and expectations, as well as changing approaches to consumption itself. These efforts are also being taken forward through upstream collaboration within the Group aimed at integrating transportation issues in discussions around new-product launches.
The goal is to be more agile and responsive, ensuring that our products and services are available when and where consumers want them, while at the same time reducing our carbon footprint.
In 2020, for example, L'Oréal Luxe sought to reduce CO2 emissions by anticipating production and distribution for its gift box range. After being produced in Europe, these boxes are distributed all over the world for the year-end holidays, which adds the challenge of ensuring on-time delivery.
These efforts to anticipate and collaborate, both inside the Group and with partners, paid off, allowing us to half our CO2 emissions linked to air transport, notably by using sea freight.
Offering new services, meeting your needs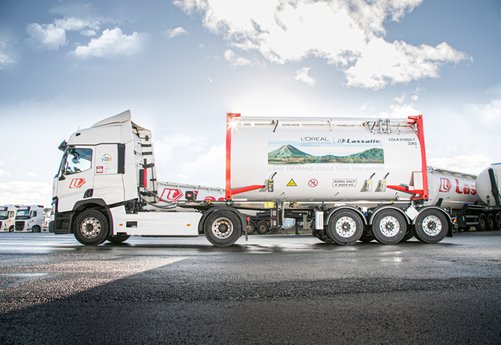 The in-depth transformation of our Supply Chain is also an opportunity to offer new services and take transparency even further. Thanks to technologies such as QR Code, consumers have access to all the product information needed to make informed choices, from ingredient sourcing data to the manufacturing location and production date. This approach even extends to package tracking through real-time technologies.
Our plant in Vichy, France, has undergone its own green revolution. From getting the famed Vichy spring water to the factory for use in certain products, to shipping the final products to their points of sale, all transportation is 100% green, a target that was achieved through the use of vehicles powered by canola oil-derived natural gas.

This fuel is totally biodegradable, making it possible to significantly reduce CO2 emissions as well as particulate matter which causes urban pollution.

Learn more about our Climate Change Commitments
Back on Top