L'Oréal Caribe Recognized as Preferred Employer for Women for Seventh Consecutive Year
02.03.2022 - Commitment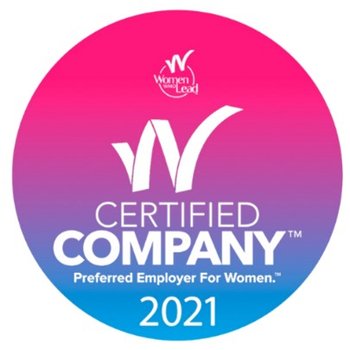 L'Oréal Caribe is proud to be recognized as a Preferred Employer for Women in Puerto Rico for the seventh year in a row. The W Certified Company assessment is a diagnostic tool that provides crucial insights for companies to attract, retain, develop, and promote the best female talent. L'Oréal Caribe was recognized by its very own leaders, with female employees in leadership and management positions participating in the assessment survey.
"At L'Oréal Caribe, we are proud to be distinguished as a Preferred Employer for Women© in Puerto Rico, for seven consecutive years. In our commitment to inclusion, we seek to attract, retain and, promote the best female talent. At L'Oréal Caribe, 65% of our employees are women and women represent 67% of our leadership roles. We are very proud of these results!", said Dave Hughes, General Manager for L'Oréal Caribe.
WORK ENVIRONMENT
Diversity, inclusion and respect for all employees are the main elements of the L'Oréal Caribe culture and are essential to its success. Our policy is clear: zero tolerance for sexual harassment and workplace harassment behaviors, we promote an open-door culture whereby employees feel free to voice their concerns, and no retaliation will be taken by the fact that an employee refers their concerns. 
We are committed to educating all employees on their rights, responsibilities, and prohibited conduct in the areas of harassment and sexual harassment in the workplace. As part of our initiatives, we continually educate all employees through acknowledgment of reading the Anti-Harassment and Equal Employment Opportunity Policy at PRISM and discussing this policy with new employees. In addition, in 2020 all employees with personnel in charge were trained in Labor Harassment by our lawyer, Atty. Dimitri González.
Any employee may report her harassment complaint to her supervisor, her supervisor's manager, and / or Human Resources. In addition, you can file your complaint through the Speak Up portal (https://www.lorealspeakup.com/) or by calling the L'Oréal line, available 24 hours in English and Spanish, at 1-800-241- 5689.
TRAINING AND DEVELOPMENT
The vision of L'Oréal Caribe is to foster and nurture a culture of learning that inspires us and enables each of us to create the L'Oréal of the Future. In 2019, the Caribbean training hours were at 996, however, through the different initiatives that we have launched, we reached 3,908 hours in 2020 and in 2021 our goal is to reach 4,200 hours of learning. Some of the initiatives that have led us to achieve these results have been:

"Listening Circles" or educational conversations organized by the D&I Caribe team on gender violence, racial discrimination and inspiring testimonies from L'Oréal USA women leaders such as Malena Higuera, General Manager of Urban Decay, and Elida Pazmino, Sr. Manager of Diversity.
Since 2019, we have been offering educational talks on emotional intelligence, assertive communication, change management, financial health, crisis management in the face of the pandemic, control of emotions, and motivation in difficult times in collaboration with Inspira. Also, during the 2021 Kick Off, Edgar Quiñones and Irma "Mimi" Ruiz were guest speakers for mindfulness and strategies to achieve better mental and emotional well-being.
We have a monthly newsletter, HR People Development and Learning, through which the Human Resources Caribe team promotes different learning platforms provided by the Company, and shares different training opportunities on topics for the personal and professional development of each L'Oréal Caribe employee. In addition, we have created a collaboration between Human Resources and the Excellence Committees to promote education through Unconscious Bias trainings and Green Steps program achieving 100% completion for Caribe employees.
COMMITMENT TO THE INCLUSION OF WOMEN
64% of the workforce of L'Oréal Caribe are women.
65% of leadership positions or managerial roles are held by women.
Women represent over 60% of Caribe management committee.
During the pandemic we have expanded our flexibility policies with reasonable accommodations for reasons of care and medical considerations. We extended the "Summer Hours" program and maintained the "Flexi Fridays" program throughout the year. In addition, we offer the alternative of working remotely two days a week.
We actively engage with female employees to assess how they can best be supported. 
Our goal is to create an environment where all people are welcomed, empowered and have the opportunity to excel.
EMPOWERING VULNERABLE WOMEN
L'Oréal Caribe has implemented multiple initiatives and programs to help our communities prosper. In addition to the Group's actions, we encourage each of our brands to take initiatives on the main social and environmental causes of today. Each brand identifies its own particular cause, and conducts local awareness campaigns and encourages its partners, customers and consumers to participate. At L'Oréal Caribe we developed a corporate social responsibility and sustainability program, "Valentia es la Nueva Belleza" (Courage is the new beauty), in partnership with the Red de Albergues de Violencia Domestica de Puerto Rico (Puerto Rico Domestic Violence Shelters Network) to support highly vulnerable women in 8 shelters across the island.
We enable non-profit organizations in our region to obtain access to funds from the L'Oréal Fund For Women, such as Agroempresarias de Puerto Rico (female agri entrepreneurs), Casa de la Bondad (women's shelter), Groots Trinidad & Tobago (women's shelter), and the Coalition Against Domestic Violence of Trinidad and Tobago.
L'Oréal Caribe is proud to be recognized for our efforts and commitment to diversity, inclusion, and the development of the female talent within the organization's culture, contributing to L'Oréal's mission to create the beauty that moves the world.