L'Oréal China Wins Alibaba's Top Award for Digital Transformation: Alibaba Grand ONE Business Award
Clichy, 23 December 2019 – L'Oréal China was awarded the Grand ONE Business Award at Alibaba Group's ONE Business Conference, the highest recognition for digital transformation across all industries of the Alibaba Group.
The award recognizes L'Oréal's digital pioneering, underpinned by consumer-centricity in new marketing, new retail, data and AI as well as digital talent, culture and organization. Daniel Zhang, Group Chairman and CEO of Alibaba, presented the award to Fabrice Megarbane, President of L'Oréal China, at the ceremony held in Hangzhou on December 18 and attended by over 4 000 guests.
Fabrice Megarbane, President of L'Oréal China, said: "We believe that beauty and digital are a perfect match that strengthens our relationship with consumers and helps us to provide them with new, personalized services online and offline. We work closely with valuable partners like Alibaba to champion the world of beauty tech and co-create the future of beauty in China and all over the world."
L'Oréal China was recognized for its data-driven product innovation, omni-channel marketing, and new personalized consumer experiences, marked by several initiatives with Alibaba:
- L'Oréal was the number one beauty group on Tmall during the major Chinese shopping event Double 11 or Singles Day in 2019, with L'Oréal Paris being the number one beauty brand and Lancôme number two;
- The partnership between L'Oréal and Alibaba led to the co-creation of the first AI based mobile application for acne diagnosis and the first 3D makeup try-on service for Tmall's mini app;
- L'Oréal and Alibaba also co-created the first consumer-to-business reverse innovation product in the beauty industry, L'Oréal Paris "Midnight Cream". Consumers were involved in the process of product development and commercialization.
- In line with L'Oréal's sustainability programme Sharing Beauty With All, L'Oréal and Alibaba have created the Green Parcel Project for ecommerce delivery, using sustainable materials for around 10 million parcels delivered to Chinese consumers.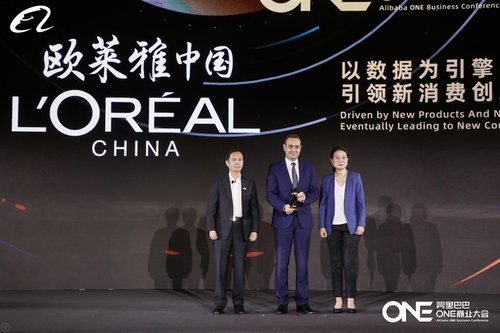 Back on Top