Maybelline Launches 'Raise Your Hand' on World Mental Health Day
This campaign furthers the Brave Together initiative to destigmatize the conversation around anxiety and depression
The Maybelline Brave Together program continues to drive the conversation surrounding anxiety and depression and make an impact on the global community. Maybelline remains committed to destigmatizing anxiety and depression worldwide and making 1:1 support for mental health accessible to all.

In connection with World Mental Health Day, Maybelline is furthering their brand commitment to the cause, with the launch of Raise Your Hand, a global campaign created to show people around the world that they are not alone in their experiences with anxiety and depression.
According to the World Health Organization, "mental anxiety brought on by COVID-19 has been identified in nearly 90% of young people; more than 1 billion students in almost every country have been impacted by school closures; and 1 in 6 young people worldwide have lost their jobs during the pandemic."
Maybelline invites you to join the conversation online. If you are affected or have been affected by anxiety + depression or know someone who has, raise your hand to show others they are not alone and tag @maybelline #bravetogether.
Maybelline is committed to using it's global platforms to open up the conversation surrounding mental health by providing expert resources and helping its growing community lay the foundations to support overall mental wellbeing.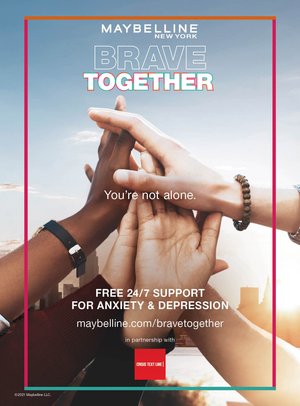 You are Not Alone,
Raise Your Hand

Maybelline recognizes that the impact of Covid has brought about new challenges that have impacted the mental health and wellbeing of the communities that the brand is a part of, and hopes that you will take a moment to learn more about the resources made available by the Brave Together program.

Back on Top