Maybelline New York Brave Together
A long-term program to de-stigmatize anxiety and depression and make support for mental health accessible to everyone, everywhere.
Visit bravetogether.com
One in four teens and young adults experience anxiety depression or anxiety, each year.
Maybelline believes that everyone deserves to feel self-confident -- And good mental health is critical to this.
In 2020, the brand launched Brave Together, a program committed to opening up the conversation about mental health and making support for anxiety and depression accessible to everyone, everywhere.
To date, Maybelline's Brave together program has:
Supported
35
non-profits worldwide to make mental health accessible
Helped
350k
worldwide with free access to mental health support
Live and active in
25
countries
"Maybelline has always believed in the power of making things happen in your life. And we know that mental health is critical in feeling ready to do that. "We want to use our global voice to de-stigmatize the conversation around mental health and make support easily accessible. Now, more than ever, we need to be there for them."
Trisha Ayyagari, Global Brand President, Maybelline New York Worldwide
To continue to make support for mental health accessible to all, Maybelline is launching Brave Talk, a free training program to give students the tools to support those around them experiencing anxiety or depression.
Maybelline NY Launches Brave Talk
More than half of first-year college students (54%) frequently felt anxious since starting college – and 60% don't turn to professionals for help*. They turn to their friends. To encourage conversation and ensure support is accessible to all, Maybelline New York has partnered with The Jed Foundation (JED), to create Brave Talk, a free expert-developed training designed to give students the skills to support their peers who may be struggling and help connect them to care.

Fall 2022, Brave Talk kicked off at a number of US college campuses in New York (NYU, City College, Queens College and Queensborough) and will roll out globally at the beginning of 2023.

The training framework relies on a branded mnemonic to provide key tips and steps for how to have "The Brave talk":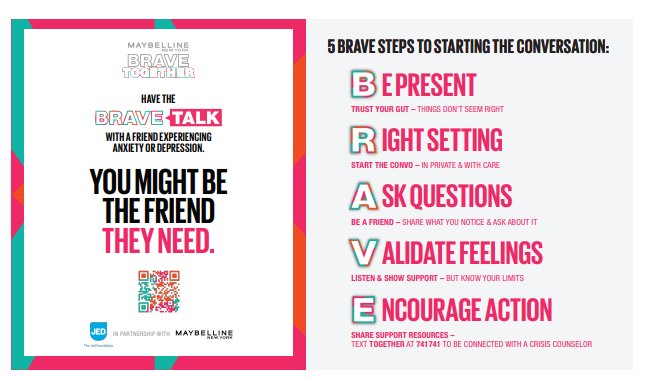 Back on Top