Style My Hair: Putting Artificial Intelligence To Work For Consumers
L'Oréal Professionnel's Style My Hair app lets consumers try out an augmented reality hair makeover. The innovative tool harnesses revolutionary technology and reflects L'Oréal Professionnel's determination to offer users an ever wider array of services.
A service-oriented beauty app
In January 2018, L'Oréal Professionnel launched a new version of its Style My Hair app. First released in 2015, the app was originally designed as a makeover tool, before evolving to become a service platform for hair stylists and consumers. The new version offers an augmented reality experience: users can get a 3D makeover, film themselves in real time, and try out different looks right on their phone. "Style My Hair is our first initiative to illustrate how L'Oréal is leading the way for a service oriented beauty marketplace," explains Lubomira Rochet, Group Chief Digital Officer. The goal is to offer a personalized, useful, and augmented brand experience to 2.3 million users in 79 countries.
Facilitating exchanges between stylists and users
The app is also a platform for connecting stylists and potential customers. A geolocation system allows users to find the nearest salon. They can also contact their favorite salon directly and send pictures of their new look. The realistic simulations provided by the app are designed to make stylists' diagnostic work easier and fuel the conversation between stylists and their clients. Style My Hair 3D will be available for in-salon use as well, further enriching the consumer experience with a personalized, made-to-measure service. "Style My Hair yields extremely realistic results in real time, wherever you are. It will definitely help us to offer an exceptional online and offline experience," says L'Oréal Professionnel International General Manager Marion Brunet.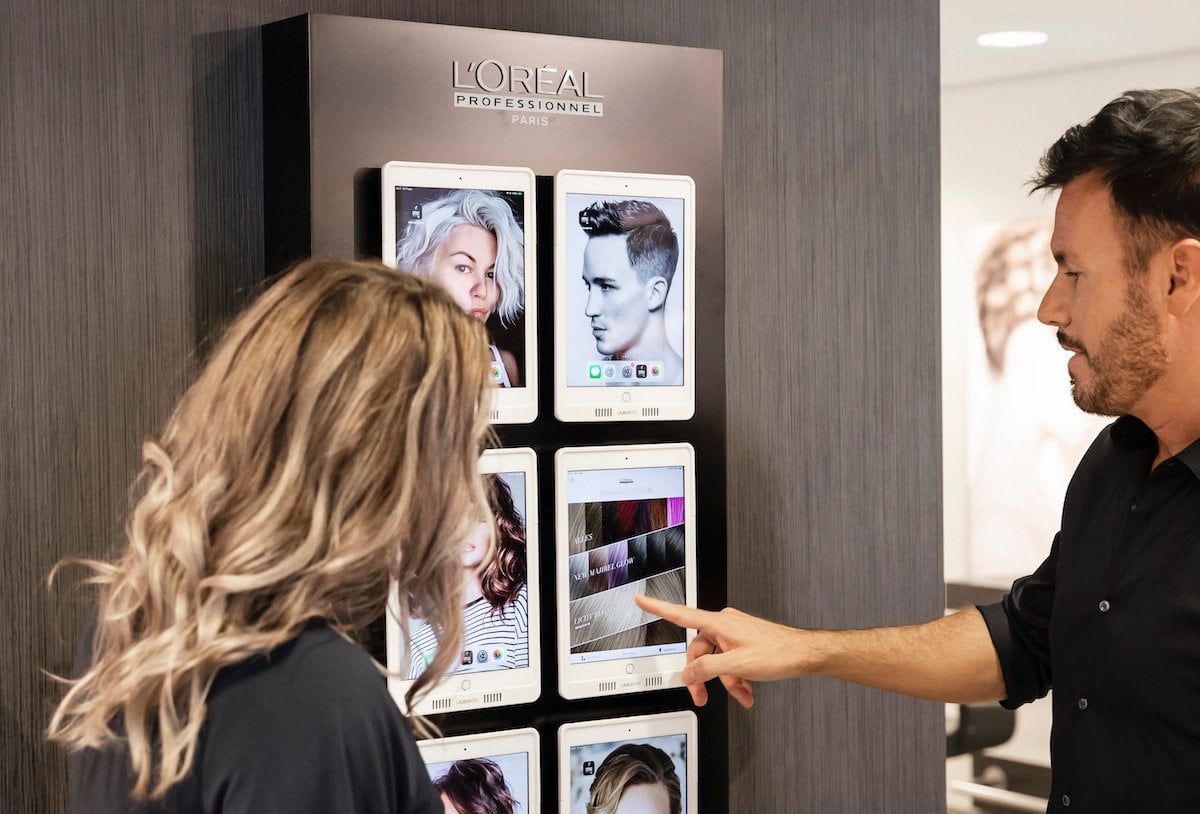 Harnessing deep learning technology to satisfy a new generation of consumers
To obtain these results, L'Oréal Professionnel overhauled the app in partnership with Modiface. The Canadian firm, which has been around for a decade, has perfected the only existing technology capable of modelling the structure and shape of hair. To do that, it developed a mixed deep learning* model based on two artificial neural networks. These networks are trained to use 220,000 images to recognize the shape and structure of each individual strand, as well as the overall shape of the user's hair. The result is hair texture and color that really match reality. "We wanted to create the most realistic 3D simulation technology in the beauty industry. Artificial intelligence enabled us to reach that high level of sophistication," explains Parham Aarabi, Modiface Chairman and CEO.
Building on this innovation, the app will roll out new functionalities in 2018, including a digital color chart to offer a new generation hair color diagnostic, plus a chatbot for company. Users will also be able to book appointments with stylists directly on the app. These many innovations will secure Style My Hair's place as the must-have beauty services platform.
Download Style My Hair App on the App Store.
Download Style My Hair App on Google Play.
*Deep learning is a learning technology based on artificial neural networks that enables a program to recognize the content of an image.
Back on Top