Abuse is Not Love: YSL Beauty Acts Against Intimate Partner Violence (IPV)
A global program to combat intimate partner violence with non-profit partnerships
Women's freedom has always been at the heart of the brand. Women, just as everyone, should be free to be whomever they want to be and free to do and think as they wish. Intimate partner violence threatens this safety and freedom. And yet, it's very common for abusive behavior to be wrongly justified as 'love'.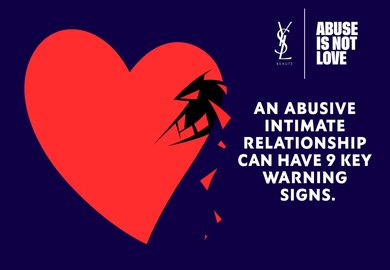 Intimate Partner Violence: what is it?
Research shows that intimate partner violence (IPV) can come with key warning signs. If these signs can be detected earlier, we may be able to recognize it better and seek or offer help.
YSL Beauty aims to do its part in raising awareness of these common signs by launching Abuse Is Not Love.
This new global program aims at helping to combat intimate partner violence by supporting the prevention programs of its non-profit partners.
How can you recognize the signs of an abusive relationship?
Intimate partner violence is a major societal issue
The IPV can touch people from all ages and genders. But today, women are by far the first victims.
Approximately 1 in 3 women will experience intimate partner violence in their lifetime and prevalence rates have increased by 30 to 60 percent as a result of the COVID-19 pandemic.
According to the United Nations, over 600 million women worldwide live in a country where violence inflicted by their partners is not considered a crime.

These alarming realities prompted YSL Beauty commit to helping fight against this abuse through raising awareness among general public and more especially among young adults. The program will include three international partnerships for 2020: En Avant Toute(s) in France, Women's Aid in the UK, and It's on Us in the U.S., with more to come in 2021.

Let's work together to help recognize the signs of abuse and prevent intimate partner violence, together we can drive change.

The program's 3 key pillars:
• Educating 2 million people on the common signs IPV by 2030 through international non-profit partnerships.
• Training YSL Beauty employees and beauty advisors to better understand abusive behaviors and available resources.
• Funding important academic research on the topic to develop thought-leadership around youth and prevention. Among examples, it includes the YSL Beauty first academic research paper published by Harvard Business Review: read here about why organizations should care about IPV and how to help if you are a manager yourself.
"I knew I wanted to be involved in this initiative when I saw that YSL Beauty was not only taking a strong point of view, but also was making a commitment to drive measurable change via theirs partnerships with leading NGOs around the world. The data on this topic is clear: IPV is a dangerous issue that affects women (and men) in all facets of their lives, including the workplace, and I believe that YSL Beauty's efforts will help bring important resources and awareness to those in need."
Dr. Beth Livingston
US based Gender and Diversity Academic and Researcher, collaborating together with YSL Beauty on Abuse Is Not Love
Back on Top