L'Oréal recognized by CDP for the fourth consecutive year as a Supplier Engagement Leader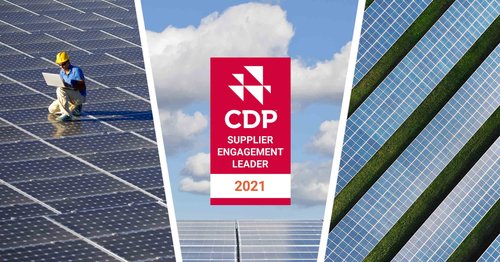 On February, 10th 2022, L'Oréal received - for the fourth consecutive year - the recognition from the international organization CDP as a Supplier Engagement Leader for taking action to tackle climate change within our supply chain. The international organization recognizes more than 500 companies efforts to tackle climate change within their supply chain.
This result is a reward for our commitment and the great work done by all L'Oréal teams around the world, with our suppliers and partners.
"This recognition is a great pride for L'Oréal and our sourcing team worldwide. But, no doubt, an opportunity to say thank you to our partners and suppliers that embark with us in the sustainable journey. It is a real team effort that we further reinforced in the context of our L'Oréal for the Future program.",
Audrey Izard, Indirect Purchasing Director of L'Oréal, and Séverine Théry-Cave, Direct Purchasing Director of L'Oréal
"Our data shows that companies currently have blinkers on when it comes to assessing their indirect impacts and engaging with suppliers to reduce them. Companies must act urgently to cascade action and manage environmental impacts throughout their supply chains to scale the level of action to secure a 1.5°C future. Many congratulations to the 500+ companies earning a place on CDP's 2021 Supplier Engagement Leaderboard. As a Supplier Engagement Leader, L'Oreal is a trailblazer driving the transition towards a sustainable net-zero future",
Sonya Bhonsle, Global Head of Value Chains & Regional Director Corporations, CDP.
This supply chain commitment, and also all our partnerships, is essential to build truly sustainable models. In the context of growing environmental and social challenges, we are proud to again join the CDP's 2022 Supplier Engagement Ranking. By working with our suppliers to reduce their emissions, we are sparking a cascade of climate action across the supply chain.
L'Oréal for the Future, our sustainability commitments for 2030
With L'Oréal for the Future program, we are redoubling our efforts. As an industry leader, we consider that it is our role to contribute to building an inclusive and sustainable society. We want to go further and faster with our suppliers and all the players in our value chain. Our ambition is to transform L'Oréal business to respect the planet's limits. By 2025, all of the Group's manufacturing, administrative and research sites will reach carbon neutrality by improving energy efficiency and using 100% renewable energy.
For the 6th year in a row, L'Oréal Groupe has been highlighted as a world leader in corporate sustainability by CDP.
> To find out more, read our article "A Triple 'A' CDP Rating For our Actions to Tackle Climate Change, Protect Forests and Ensure Water Security"
Discover
Our commitments for a more sustainable world
Commitments
A Triple 'A' CDP Rating For our Corporate Sustainability Actions
A Triple 'A' CDP Rating For our Corporate Sustainability Actions
Commitments
L'Oréal's latest innovation for more sustainable packaging: The paper bottle
L'Oréal's latest innovation for more sustainable packaging: The paper bottle
Publications
.PDF?REV=265BDBC0DED24A95B3AAE0ABA278B8BD
L'Oréal for the Future
L'Oréal for the Future
Download
Audiences
A Sustainable Purchasing Policy
A Sustainable Purchasing Policy
Back on Top