L'Oréal Paris Celebrates 50 Years of Women's Worth
A landmark anniversary for the iconic signature of L'Oréal Paris

The legendary L'Oréal Paris tagline uniting women everywhere
Coined in 1971 by Ilon Specht, a young 23-year-old female copywriter at Manhattan ad agency McCann, L'Oréal Paris signature still resonates as much today. The first advertising message to ever highlight self-confidence: this world-renowned tagline is an empowering message that unites consumers around the brand.
"Because You're Worth It" has since become symbolic with empowering women of all ages and backgrounds to believe in their beauty and sense of worth. The inspirational and culturally diverse women who front the brand worldwide make the phrase relevant not just for their generation and their mother's generation, but for generations to come.

Since its inception, "Because You're Worth It" has been translated into 40 languages and has become the militant tagline uniting women around the world, encouraging them to embrace their ambitions and believe in their self-worth every day.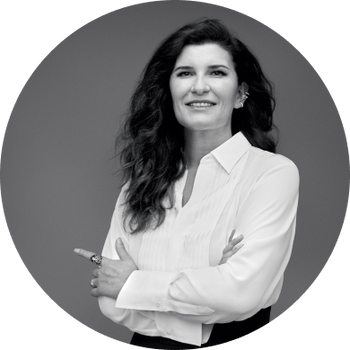 "When we say "Because You're Worth It", it's not a tagline, it's a brand mission. Taking your beauty into your own hands is empowering. Believing in your own beauty is something no one else can control: that is the real power. Our mission will only be accomplished when we no longer need to remind women of their worth."
Delphine Viguier-Hovasse,
Global Brand President of L'Oréal Paris
Follow Delphine Viguier-Hovasse on LinkedIn
Empowering women through beauty backed by science
Backed by pioneering science, L'Oréal Paris empowers each woman through superior beauty products, fueled by the latest cosmetic formula advances, and services. The brand's state-of-the-art products give women confidence whilst helping them take the place they deserve in society, thrive, and change the world for the better.
For more than a century, L'Oréal Paris has been making groundbreaking cosmetic innovation accessible to all, without compromising on efficacy and safety. Fostering self-confidence in such a way is a key factor contributing to women's empowerment.

The brand has always believed that every woman, wherever she is in the world, should have access to affordable, quality beauty products that allow her to believe in her worth.
Discover The Other Side of L'Oréal Paris
A sisterhood of ambassadors amplifying the voice of empowerment and inclusive beauty
An icon of French beauty all over the world, L'Oréal Paris represents beauty in all its forms. There is no 'one size fits all' vision of beauty. The L'Oréal Paris family is a diverse group of Ambassadors, including icons from the film, fashion, and music industries, who are dedicated to empowering every woman, whatever her age, whatever her origin. Personifying dedication and female strength, these role models inspire every woman to believe in her own sense of worth.
Today, "Because You're Worth It" is brought to life by the Spokespeople who reflect the brand's unique vision of inclusive beauty: Aishwarya Rai Bachchan, Aja Naomi King, Andie MacDowell, Amber Heard, Camila Cabello, Céline Dion, Cindy Bruna, Duckie Thot, Elle Fanning, Eva Longoria, Gemma Chan, Gong Li, Helen Mirren, Jane Fonda, Jaha Dukureh, Katherine Langford, Leïla Bekhti, Liya Kebede, Louise Bourgoin, Luma Grothe, Marie Bochet, Nidhi Sunil, Soo Joo Park and Viola Davis. Each one of them, in her unique way, uses her voice and influence to act as a role model for women around the world, amplifying L'Oréal Paris' message of self-esteem and empowerment.

L'Oréal Paris cause: Stand Up Against Street Harassment
L'Oréal Paris has always been committed to removing the barriers between women and their ambitions, helping them to freely walk towards their destiny. This starts with being able to walk – freely and safely – on every street, in every corner of the world. Street harassment happens everywhere, taking away women's right to feel safe in public spaces and intruding in their daily lives. Because this goes against everything L'Oréal Paris stands for, on March 8th, 2020 the brand launched the Stand Up Against Street Harassment program.
78%
Women who have experienced sexual harassment in public spaces*
25%
Women who have reported that someone offered help*
86%
Individuals who have reported that they do not know how to respond when they witness sexual harassment in public spaces*
*International study conducted by L'Oréal Paris with IPSOS, with data gathered in 8 countries with over 15,000 participants, April 2019.
L'Oréal Paris has decided to partner with Hollaback!, an international NGO that aims to end harassment of all forms. Stand Up objectives are to raise awareness about the street harassment issue and to empower 1 million people with Hollaback's "5D's" methodology - a training program to learn safely how to respond when you are being victim or witness of street harassment. Everyone can join the Stand Up movement, spreading it on social media through a photo taken with a 'D' on the hand, and following the hashtag #WeStandUp.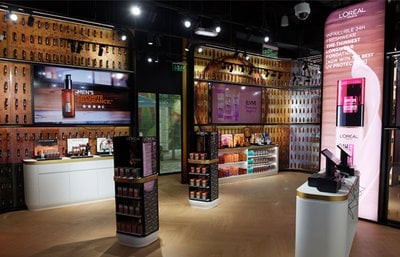 La Maison L'Oréal Paris
On October 1st, 2021, as part of the 50th anniversary of its iconic tagline, "Because We're Worth It", L'Oréal Paris will unveil La Maison L'Oréal Paris beauty concept store. A 400 square meter flagship showcasing the brand's product and service innovations while bringing new store experiences to consumers.

Discover more about the Expo 2020 Dubai
Back on Top