Write Her Future: Lancôme's Stands Against Inequality Through Education
Rallying women to become the author of their own destiny
Lancôme has always stood for and with women by helping them grow into the happy, confident, and empowered person they want to become. That's why Write Her Future was born 5 years ago with the desire to change women's lives for the better and empower them through education.
Rallying women to become author of their own destiny
According to UNESCO, Education is one of the most important tool for empowering women in society. Everywhere in the world, at any time, inequalities against women persist. It's not only about getting girls into school, but it's about breaking down the barriers that hold women back from accessing coveted opportunities.
With the Write Her Future program, Lancôme has been committed since 2017 to take decisive actions on the ground, by identifying precisely the specific needs of each country and community and providing concrete support to women so they can achieve self-fulfillment.
Education drives gender equality which is key to creating a fairer society and a more sustainable world. But for education to fulfill its potential, both girls and boys must equally benefit from it, which it is still not the case.
For example, in France, 1 million(1) women are illiterate,
In the US, only 20%(2) of women of color get a degree before turning 29 years old,
In Japan, the percentage of female IT engineers was only 21.1% in 2020(3).
These facts illustrate the 3 fields of action of our program:
Provide access to functional literacy for women so they develop a strong foundation of skills
Give women access to higher education scholarships
Support women through mentorship & training to gain competitiveness within the job market and break down entrepreneurship barriers to start their own business
The Write Her Future program reflects the brand's social commitment and its desire to raise awareness, promote positive societal change, and to create a community of inspiring women who take care of each other.
A global movement that sparkles around the world
Initially launched in Thailand, Guatemala, and Morocco with its longstanding partner the NGO CARE, the Write Her Future program has continued to expand internationally over the years. Now present in 16 other countries and regions, in partnership with 15 local NGOs, the program has reached more than 75,000 beneficiaries to date, across the globe. Lancôme is thus pursuing the ambition of reaching 150,000 beneficiaries by the end of 2022, helping more and more women to take leadership, both in their personal and professional lives.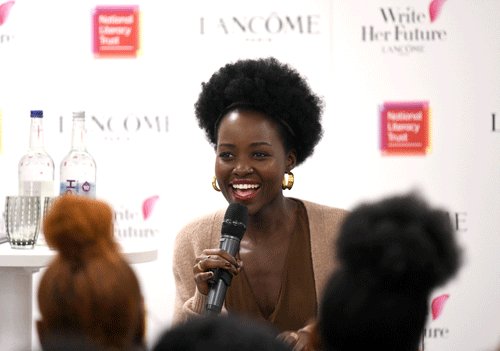 Learning has no limit
With the tremendous support of Lancôme's international and local spokespeople, the program will continue to grow in 2022. This year, Lancôme is renewing its partnership with the NGO CARE International with an additional donation of 2M euros for a period of 4 years, which will allow them to extend their reach to other countries such as Togo, Peru, and India, where functional literacy and leadership development projects will be carried out to strengthen women empowerment.
Dive into the world of Lancôme
When a global issue turns into local actions: Write Her Future US program
Since September 2021, Lancôme US has partnered with NAACP ACT-SO (Afro-Academic, Cultural, Technological and Scientific Olympics) on a mentoring and scholarship program to help bring equity to education and encourage career development of young women of color in the United States.

According to the NAEP (National Assessment of Educational Progress), only 20% of women of color in the USA get a degree by 29 years old – a major issue that goes against the brand's values.

As part of the Lancôme Write Her Future Scholarship Fund, Lancôme global ambassador Lupita Nyong'o joined the brand at the 113th NAACP Convention held on July 17 in Atlantic City, to award 40 young female students with $10,000 scholarships to pursue their educational journey.
Since the inception of the initiative, Lancôme US has pledged to donate $2 million by 2025.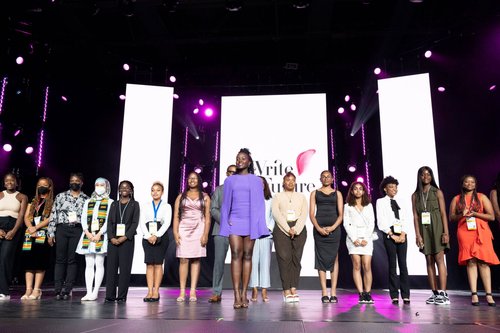 (1) ANLCI, 2018
(2) U.S. Bureau of Labor Statistics, 2018
(3)The Japan Information Technology Services Industry, 2020
Back on Top