L'Oréal, a world leader in beauty, announces its new General Manager in Greece.
1st April 2020 - L'Oréal Hellas, the leader in cosmetics industry in Greece, announces that Mr. Alex Davison is appointed as of April 1st 2020, General Manager Greece, with main objective to continue the dynamic growth of the company in the Greek market within the context of the new and emerging challenges.
Mr. DAVISON will succeed Mr. Mehdi Khoubbane, who was Country General Manager of L'Oréal Hellas since November 1st, 2017.
Mr. Khoubbane, who is originally from France and Morocco, has been working in the L'Oréal Group since 2002. During this period, he has held strategic positions of the Group in Brazil, France, Belgium, Poland and China, before his appointment as General Manager of Greece. Mr Khoubbane will take on a new and important role within the Group that will be announced shortly.
Under his leadership, L'Oréal Hellas has gained significant growth in all Divisions, securing robust profit and ensuring sustainability. With his drive, positive energy, enthusiasm and strong collaboration, Mr. Khoubbane continued building L'Oreal Hellas as a great place to work focusing on three major priorities: employee engagement and enablement, cooperation and social contribution reinforced through CSR partnerships and the acceleration of the Group's sustainability commitment, Sharing Beauty With All.
The new General Manager of L'Oréal Hellas, Mr. Davison, who is originally from the UK, joined the Group in 2016 as Managing Director of the Active Cosmetics Division in the UK and Ireland. Under his Leadership, the Division delivered a significant acceleration of the business with back-to-back years of double-digit growth, while achieving a leading position in the areas of Medical, Digital and Customer relationships. Mr. Davison also fostered a dynamic culture, embodying the simplicity principles of empowerment and cooperation.
Prior to joining L'Oréal in 2016, he lived and worked in a series of different countries and regions, like Nigeria, Germany, Greece, Belgium and the US, which provided him with a rich international and intercultural background. During this period, he acquired a strong experience via diverse global, regional and local marketing and General Manager roles in two leading consumer multinationals (P&G and GSK).
The initial mission of Mr. Davison will be to help L'Oreal employees and many business partners through the Covid-19 crisis and therafter to continue the dynamic growth of L'Oreal Hellas in the Greek market. Mr Khoubbane and Mr Davison reconfirm the ongoing commitment of L'Oréal to Greece and its people in these challenging times. As they both highlight: "L'Oréal Hellas will continue to contribute and support the Greek economy with business activities that promote Ethics, Sustainability and Social responsibility".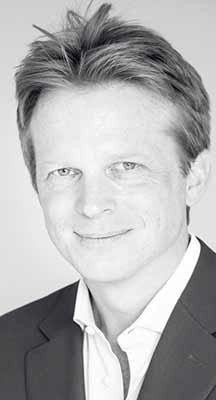 Back on Top