Viktor&Rolf Partners With GLAAD To Amplify The Voices of the LGBTQIA+ Community
A long-term partnership that aims to accelerate inclusion and acceptance
On June 15th, 2021, Viktor&Rolf was pleased to announce a long-term partnership with global not-for-profit GLAAD, as part of its ongoing effort to advocate for the LGBTQIA+ community.

To kick-off this collaboration, Viktor&Rolf has launched a new digital campaign in celebration of LGBTQIA+ Pride Month called "Free to Love, Free to Be Me", showcasing a series of films created by international LGBTQIA+ influencers and activists, centered around their personal interpretation of freedom.
As part of this initiative, the brand has also shown its support to the LGBTQIA+ community with a special edition "Pride Up" bracelet, along with a financial contribution to support GLAAD's mission.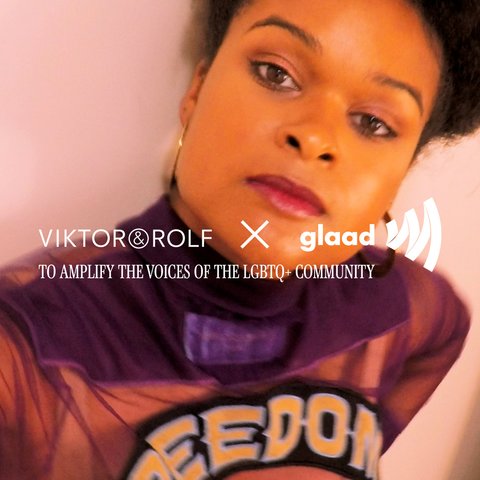 Viktor&Rolf x GLAAD: like-minded advocates for the LGBTQIA+ community

For Dutch fashion artists Viktor Horsting and Rolf Snoeren, the importance of advocacy work has been informed by their own experience as proud and vocal members of the LGBTQIA+ community. At the intersection of fashion and fragrance, the Viktor&Rolf brand has always aimed to "spread magic" and "spread love", while rallying around the core values of freedom and self-acceptance.

Today, the brand is now going even further in its effort to spread a message of acceptance and equality by partnering with GLAAD to raise awareness and lead positive change. In addition to using its brand platform for visibility and amplification of GLAAD's mandate, Viktor&Rolf has also made a financial contribution to support GLAAD's mission of shaping the media narrative, changing culture and accelerating acceptance for LGBTQIA+ people.
Free to Love, Free to be Me: a campaign born from a core value at Viktor&Rolf
As a first step in this partnership, Viktor&Rolf has launched a new digital campaign featuring high-profile influencers and activists from different backgrounds, in tribute to one of the brand's core values: the freedom to love. In the "Free to Love, Free to Be Me" campaign, talents include drag artists Miss Fame and Tia Kofi, choreographer Ryan Heffington, dancer and content creator Donte Colley, life coach and activist Barrett Pall, model and influencer Baptiste Giabiconi, writer and activist Raquel Willis, and transgender advocate Geena Rocero.

Each content creator offers their perspective on what freedom means to them. The videos have been directed remotely and shot by the talent themselves in an intimate space, using GoPro cameras and their phones to create personal and authentic videos, that touch on what it means to be free from the perspective of the LGBTQIA+ experience - touching on topics like love, intimacy, pleasure, art, expression, and acceptance.
Pride Up: a celebratory symbol of LGBTQIA+ advocacy and support
As a symbol of Viktor&Rolf's advocacy and support of the LGBTQIA+ community, the brand released a special edition "Pride Up" bracelet. In addition to the digital campaign, the "Pride Up" bracelet, (displaying the same colorway of the LGBTQIA+ rainbow flag) has been gifted to 500 of GLAAD's supporters - key members and allies of the LGBTQIA+ community. The bracelet will also be included as a gift with purchase for any products from the Spicebomb range on viktor-rolf.com and sent to influential LGBTQIA+ community members around the world.
"Representation is a fundamental step when it comes to acceptance and equality. At Viktor&Rolf, we believe that when LGBTQIA+ people's stories are shared openly and honestly, it creates a positive dialogue in society around acceptance, freedom, and the LGBTQIA+ experience. We are honored to work with GLAAD, as well as with a remarkable group of influencers, on this project and to pay tribute to Pride Month in a meaningful way."
Guillaume de Lesquen, Global President, International Designer Brands Fragrances at L'Oréal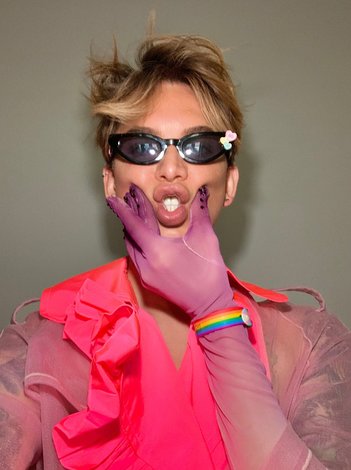 An urgent call to advance LGBTQIA+ acceptance worldwide

Despite progress made in recent years, there remains a strong bias against the LGBTQIA+ community across the globe: in at least 76 countries, discriminatory laws criminalize same-sex relationships with penalties including arrest, imprisonment, and in some cases, the death penalty. Even in countries with greater LGBTQIA+ acceptance, there remains a representation gap in mainstream media and culture.

Viktor&Rolf passionately supports GLAAD in the fight for LGBTQIA+ acceptance and representation; the brand believes that our collective work will be done when we don't have to fight for equal rights and equal freedoms anymore. Through this partnership, Viktor & Rolf hopes to amplify voices of the LGBTQIA+ community, raise awareness and contribute to positive change.

Discover more about Viktor&Rolf
Back on Top