L'Oréal Singapore Champions Youth-led initiative to transform plastic and glass waste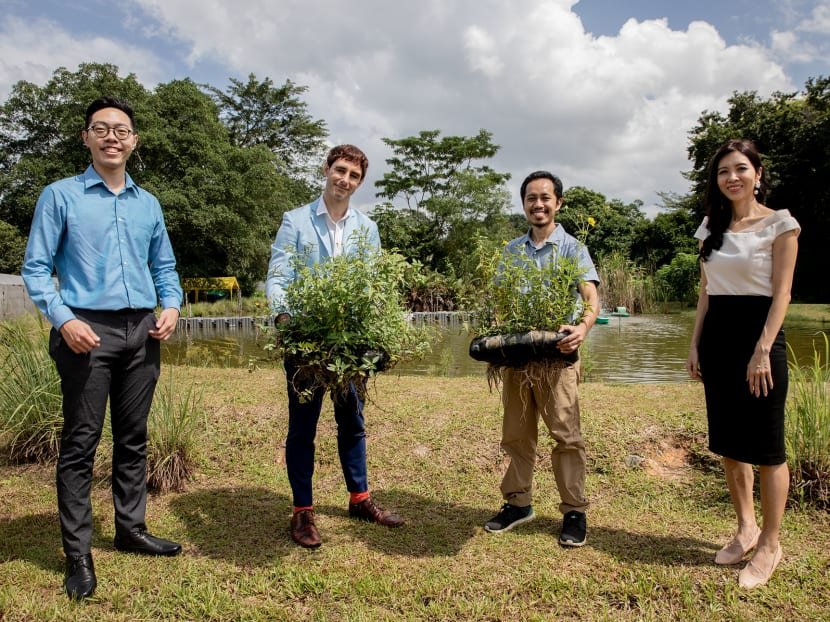 From left: NUS environmental engineering student Ong Kok Chung, Dr Richard Betts, Mr Ibnur Rashad and Ms Isabelle Lim at Kampung Kampus on Jan 13, 2022.
(Photo: Ili Nadhirah Mansor/TODAY)
SINGAPORE — Mr Ibnur Rashad had been figuring out how to build a chinampa — also known as a "floating island", a Mexican farming technique that allows plants to grow in shallow waters — when an encounter with a woman carrying recycled water bottles gave him his eureka moment.

The lady had asked him if there was a recycling bin around as she wanted to recycle the bottles.

"That's when I thought: Aha! Why not just make these islands float with recycled water bottles?" said Mr Ibnur, the founder of Ground-Up Innovation Labs for Development — a consultancy that helps companies find sustainable solutions.

From recycled water bottles, the initiative has been expanded to include the use of discarded beauty product containers.

Mr Ibnur, 36, and his five-member National University of Singapore (NUS) alumni-student team on this initiative recently received a S$40,000 grant from L'Oréal Singapore, South West Community Development Council, NUS, National Environment Agency (NEA) and SembWaste.

The grant is from the Zero Waste Testbed Initiative, which is aimed at supporting youths in the co-creation of innovative solutions towards zero waste and the circular economy.

Mr Ibnur and his team will work with two mentors from L'Oréal to recreate floating gardens for edible plants such as kangkong and laksa leaves using plastic and glass from discarded beauty product containers.

Recycled glass empties are crushed with a glass shredder and added to the substrate, which forms the second layer of the chinampas, where the plant is grown.

According to Mr Ibnur, these bits of glass help plants grow faster.

A kangkong plant which usually takes five weeks to grow in normal soil took slightly less than four weeks when planted on the chinampas, which measure roughly 0.5m by 0.5m each.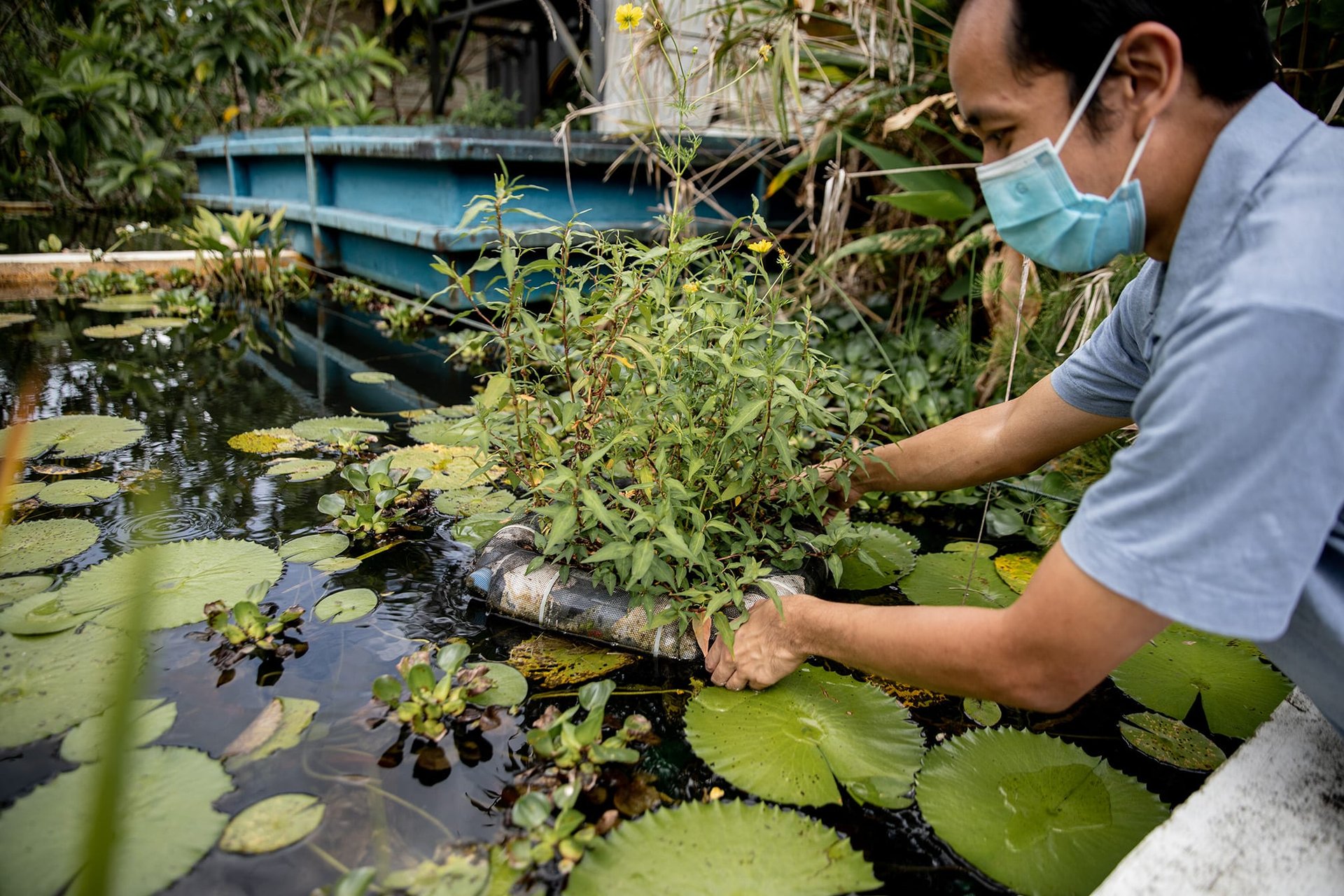 Mr Ibnur Rashad demonstrating how the floating chinampas works. (Photo:Ili Nadhirah Mansor/TODAY)


L'Oréal Singapore hopes to contribute to food security in Singapore while working within the land constraints as these miniature gardens can be built in water bodies instead of soil.

"We want this to be an excellent project that enables us to do upcycling and at the same time meet Singapore's strategic goal of food security," said Dr Richard Betts, global project lead for regenerative beauty at L'Oréal Research and Innovation.

The prototypes are currently at Kampung Kampus, a nature-led, experiential learning campus and home of non-profit organisation Ground-Up Initiative, and other citizen farms, where the team is running trials and growing different species of plants.

They will be building more floating gardens at the Singapore Science Centre in the coming months, said Ms Isabelle Lim, the director in charge of sustainability at L'Oréal Singapore.

The public can sign up for free workshops to learn about these floating chinampas. More information will be posted on NEA and South-West CDC's Facebook pages.

----
Article By Charlene Goh, Syndicated from: TODAY
Back on Top