Garnier Solid Shampoo: A Step Further Towards Sustainability
Discover a new generation of sustainable beauty products
Garnier, the world's leading natural beauty brand, is committed to the growing quest for natural solutions and ways to respect the environment. The brand has reinvented its iconic Ultra Doux line thanks to a new format: the solid shampoo.
94% plant-based ingredients pressed into a solid shampoo that is as caring as a liquid shampoo, but with zero plastic waste?
This has been made possible by Garnier, the brand that has succeeded in bringing these three elements together with its Ultra Doux solid shampoo.
Packaging reinvented for more sustainable beauty products
With these Ultra Doux shampoos, Garnier presents a new line of sustainable beauty products free of plastic packaging. It's yet another step forward in its commitment to greener, and more sustainable beauty.
The shampoos in this line, available in five versions to suit all hair types, do not need any plastic wrapping. Sold in recycled cardboard packaging, both recyclable and FSC-certified*, it is the brand's first no-waste shampoo.
*By using a FSC certified cardboard, Garnier supports forest management that respect people and nature.
Discover Garnier Ultra Doux Solid Shampoo
Garnier, a pioneer of Green Beauty

The Garnier Ultra Doux solid shampoo line is made up of 94% plant-based ingredients, and between 97% and 99% biodegradable formulas. The result of Garnier's desire to provide consumers with greener sciences and formulas, these shampoos contain no soap, sulfates*, preservatives or silicones, and they are vegan**.
This solid formula is long-lasting: it lasts as long as two 250ml shampoo bottles***, and reduces water consumption thanks to its fast-rinse technology.
* Coco & Aloe Vera and Chamomile references only.
** Without animal origin or derived components / Except for Honey Treasures.
*** The quantity may vary depending on hair length.
Discover more about Garnier Commitments to Green Beauty
Garnier conducted a comparative Life Cycle Analysis to measure the product's impact throughout its entire lifecycle, and the results show considerable environmental benefits compared to a standard shampoo bottle*:
*If consumer use consciously water in the shower.
- 30%
Greenhouse gases emission on the entire life cycle
- 90%
Packaging fossil energy consumption
- 70%
Transport fossil consumption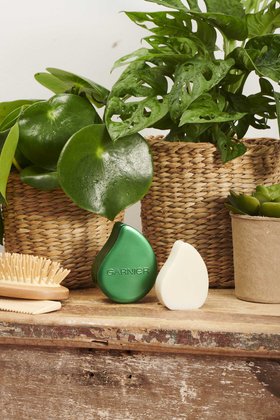 A holistic commitment focusing on sustainable beauty

Proud of calling nature its muse, Garnier employs a completely comprehensive approach towards sustainability and responsibility. As part of L'Oréal For The Future, the group's ambitious program of social and environmental goals for 2030, the brand is accelerating its actions towards sustainable beauty.
The strategy's pillars include the use of recycled and recyclable packaging, biodegradable formulas and the increase of the adoption of renewable energy. By developing innovative formulas like the Ultra Doux solid shampoo, Garnier is taking yet another step towards sustainability.
Discover how we Preserve Natural Resources
Reducing plastic pollution

This new solid format also echoes Garnier's commitment to put an end to the plastic pollution plaguing our oceans.

As part of this conviction, the brand began a partnership in 2019 with Ocean Conservancy. Founded in 1972, this NGO fights to save marine ecosystems, with a particular focus on reducing human impact on our oceans. To spread awareness about marine pollution, they've been organizing an International Coastal Cleanup Day since 1986.

Every year, thousands of volunteers clean-up human-generated waste found on beaches, coastlines and along waterways. In 2019, 355 Garnier employees participated in the coastal cleanup and collected 6 tonnes of litter. This concrete action illustrates the brand's mission: free the planet from plastic waste!
Back on Top