Makeup Virtual Try-on Maybelline
Instantly try hundreds of Maybelline makeup products on yourself, from your mobile or computer, thanks to the Virtual Try-on !
Try how a new red lipstick or blue eyeshadow will look on you before buying, without leaving your home. The Virtual Makeup try-on technology available on the Maybelline website allows you to try live all Maybelline Makeup products in your own phone with just a few clicks.
How does it work?
Available at maybelline.com:
Choose the product you want to try on
Find good natural light
Launch your live camera or upload a picture
Select the shade you would like to try
And see instantly the result on yourself
You can see the result of the before/after makeup application, compare between 4 different shades, and share your selfie on social media to ask your friends what they think about your new style.
Discover Maybelline New York Shade Try On
Try on any Make-Up Shade Virtually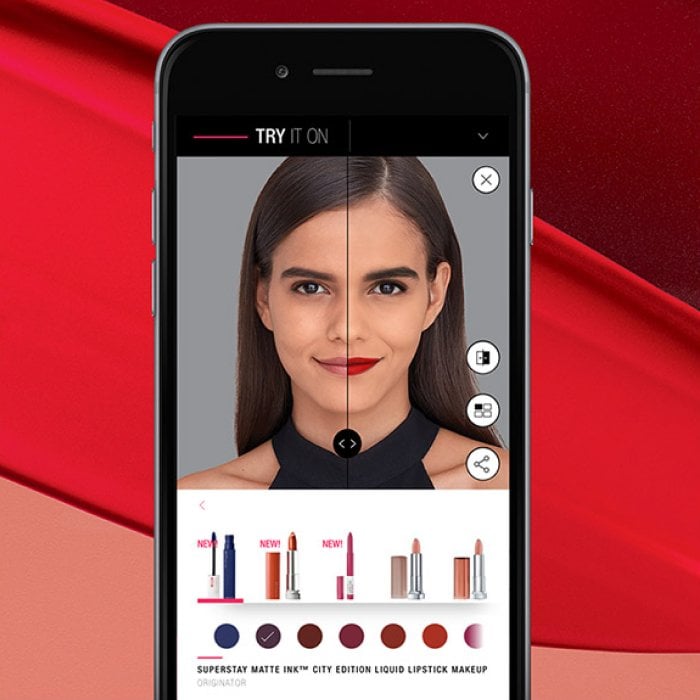 The technology behind
Thanks to Modiface's Augmented Reality technology, you can shop all the Maybelline products online without being afraid of how it will look on you. It allows you to try on dozen of shades without having to remove your makeup. The Virtual Try-on technology uses an advanced face tracker algorithm that detects where your lips, eyes, cheeck, etc. are and applies virtual cosmetics on this zone. You can move your head and mouth and the lipstick will follow your lips realistically.
Privacy and data
We do not store any personal data during this experience. When you share your picture on social media, Maybelline keeps such picture for the time necessary to achieve this purpose then deletes it. Your picture is not used for other purpose than social media sharing. For more information, please see Maybelline privacy policy on their website.
Discover
Discover the digital services
Intrigued by how beauty and technology work together? Experience the power of our services and devices. See how ModiFace uses Artificial Intelligence and Augmented Reality. Get up to speed on our latest innovations.
Science and Technology
Skin Genius L'Oréal Paris
Skin Genius L'Oréal Paris
Science and Technology
SkinConsult AI Vichy
SkinConsult AI Vichy
Brands
Garnier Hair Color Services: At-home Access To The Best Color Advice
Garnier Hair Color Services: At-home Access To The Best Color Advice
Science and Technology
Makeup Virtual Try-on NYX Looks Try It On
Makeup Virtual Try-on NYX Looks Try It On
Science and Technology
La Roche-Posay Spotscan+
La Roche-Posay Spotscan+
Science and Technology
Discover Style My Hair Pro by L'Oréal Professionnel
Discover Style My Hair Pro by L'Oréal Professionnel
Back on Top