SkinConsult AI Vichy
SkinConsult AI, the 1st skin aging algorithm developed with dermatologists.
With one selfie, you can measure skin aging, followed a dermatologist reference scale to deliver a personalized skincare prescription.
How does it work?
Available at vichy.co.uk:
Start with a clean face (no make up, glasses, no hair on your face)
Find good natural light
Take a selfie
Give your age and Skin Type
Get an estimate of your skin age and a personalized skin analysis
Receive a tailor made product prescription.
Discover Vichy Laboratoires SkinConsult AI
Measure skin aging, and get a personalized skincare prescription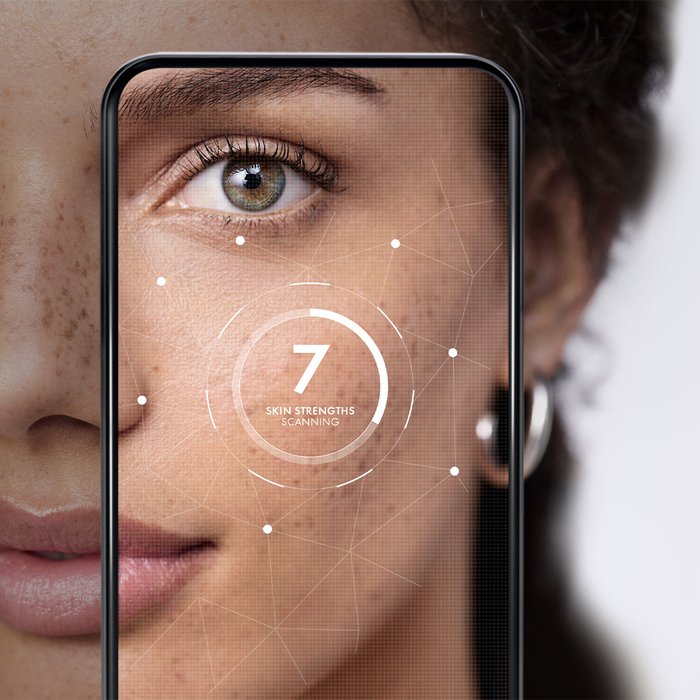 The technology behind
Merging 15 years of dermatological expertise with augmented reality and artificial intelligence technologies, Vichy Laboratories has developed SKINCONSULTAI to help understand skin aging. Powered by a comparative algorithm that grades facial features against a databank of 10,000 graded images, from one selfie SKINCONSULTAI tracks seven major aging signs to deliver a personalized skin assessment. That assessment decodes skin strength and priorities to provide a personalized skincare prescription to enable users to better act on their skin aging process.
Award
Winner of E.G.B price 2019
Privacy and data
The pictures collected through this service is used only to perform skin analysis and it is deleted automatically post analysis.
Discover
Discover the digital services
Intrigued by how beauty and technology work together? Experience the power of our services and devices. See how ModiFace uses Artificial Intelligence and Augmented Reality. Get up to speed on our latest innovations.
Science and Technology
Skin Genius L'Oréal Paris
Skin Genius L'Oréal Paris
Science and Technology
Makeup Virtual Try-on Maybelline
Makeup Virtual Try-on Maybelline
Brands
Garnier Hair Color Services: At-home Access To The Best Color Advice
Garnier Hair Color Services: At-home Access To The Best Color Advice
Science and Technology
Makeup Virtual Try-on NYX Looks Try It On
Makeup Virtual Try-on NYX Looks Try It On
Science and Technology
La Roche-Posay Spotscan+
La Roche-Posay Spotscan+
Science and Technology
Discover Style My Hair Pro by L'Oréal Professionnel
Discover Style My Hair Pro by L'Oréal Professionnel
Back on Top