Makeup Virtual Try-on Nyx Looks Try It On
Browse all the NYX Professional Makeup looks in one place and try on your favorite pro artistry look thanks to the Virtual try-on tool.
You can instantly see on yourself the most expert and advanced looks developed by makeup artists, without spending hours in their studio. You can even create your own full makeup look by playing with all the NYX Professional products without any restriction. This is all now possible thanks to the NYX Professional Virtual Try-on.
How does it work?
Available at https://www.nyxcosmetics.com:
Find good natural light
Launch your live camera or upload a picture
Browse and select NYX Professional Makeup's pro artistry looks from the library
Get inspired by trying the looks on you
Discover NYX Professional Makeup's products and be your own pro by layering hundreds of cosmetics and shades
Edit and shop your look
Check your transformation thanks to the Before and After feature. And show your look to your friends by downloading your picture or sharing it on social media in just one click.
Discover NYX Professional Make-Up Get the Look
Try-On your favorite Pro Artistry Looks Virtually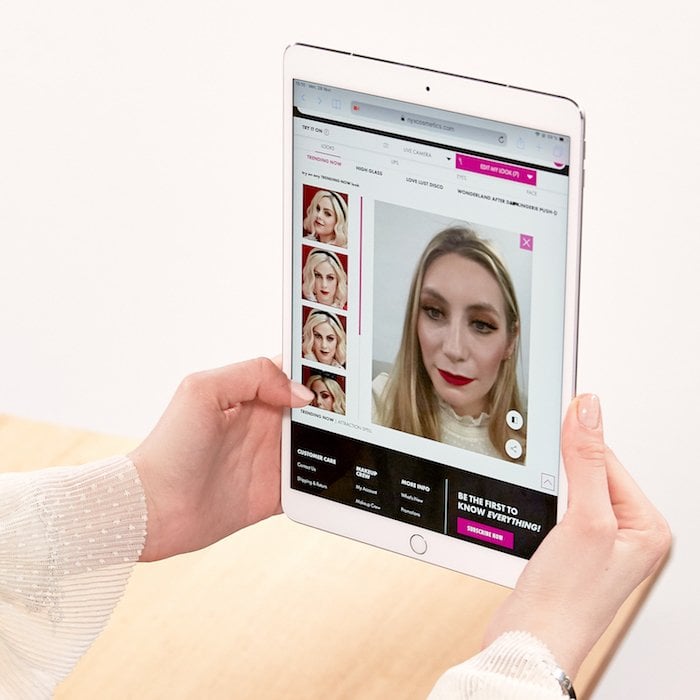 The technology behind
The Virtual MakeUp try-on is powered by an augmented reality technology. Developed by Modiface, an advanced face tracker algorithm can detect where your facial features are and apply a virtual makeup on the right placements. The service is able to produce virtually more than 16 million of colors, 68 eyeliner styles, 44 eyeshadow placements and a nearly infinite customizable brow styles. This allows NYX Professional Makeup to create augmented reality looks as precise and professional as a makeup artist right in your phone.
Privacy and data
We do not store any personal data during this experience. When you share your picture on social media, NYX Professional Makeup keeps such picture for the time necessary to achieve this purpose then deletes it. Your picture is not used for other purpose than social media sharing. For more information, please consult Maybelline privacy policy on their website.
Discover
Discover the digital services
Intrigued by how beauty and technology work together? Experience the power of our services and devices. See how ModiFace uses Artificial Intelligence and Augmented Reality. Get up to speed on our latest innovations.
Science and Technology
Skin Genius L'Oréal Paris
Skin Genius L'Oréal Paris
Science and Technology
SkinConsult AI Vichy
SkinConsult AI Vichy
Brands
Garnier Hair Color Services: At-home Access To The Best Color Advice
Garnier Hair Color Services: At-home Access To The Best Color Advice
Science and Technology
Makeup Virtual Try-on Maybelline
Makeup Virtual Try-on Maybelline
Science and Technology
La Roche-Posay Spotscan+
La Roche-Posay Spotscan+
Science and Technology
Discover Style My Hair Pro by L'Oréal Professionnel
Discover Style My Hair Pro by L'Oréal Professionnel
Back on Top