New Codes of Beauty
Building today, tomorrow's New Codes of Beauty
The Future is GORJS
Leveraging the power of GORJS, the world's first beauty DAO (Decentralized Autonomous Organization), NYX Professional Makeup selected a team of 9 digital artists based on their talents and global impact on the 3D avatar community to create the Dream Vortex NFT collection. Each unique piece of art is derived from their interpretation of a new era of beauty, building on the values of diversity, inclusion and creativity. These creations will be sold on Opensea and will help cultivate interoperability as they will allow their owners to express their identity within the web3 ecosystem. Link here: GORJS.

Phygital Beauty
The demand for beauty has evolved alongside the burgeoning Web3 ecosystem, which fosters diversity and personalization through a seamless blend of the real and virtual worlds. To meet these emerging expectations for innovative self-expression, 3D shu stickers offer a unique phygital experience.
3D shu stickers was designed as a modern interpretation of Japanese calligraphy, inspired by Mr. Shu Uemura's passion for the art. It allows its wearer to express their beauty creativity. Every single piece is a handcrafted masterpiece, produced in strictly limited quantities by Maison MARBELLA, a dedicated Atelier in Paris.
It unlocks a realm of exclusive augmented reality content. When users bring their smartphones near the sticker on their face, an exciting new world of possibilities unveils: they gain access to an exclusive augmented reality (AR) filter on Snapchat, for the sticker owner to create and share digital content. AR filters made in collaboration with Wilkins Avenue AR.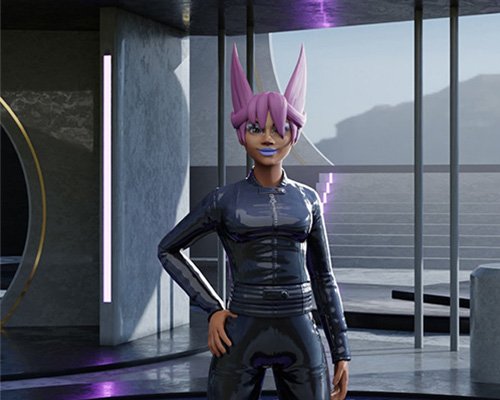 Avatar Looks
Consumers can now elevate their digital twins into an immersive beauty experience with L'Oréal Professionnel Paris, Maybelline New York, Shu Uemura and Valentino Beauty.
Bringing beauty into the metaverse, the « Avatar Looks » experience enhances self-expression through creativity and diversity beyond the physical world.
Simply scan a QR code to create your ReadyPlayerMe avatar from your phone, personalize with L'Oréal brands skins and items, bring it to life through the Avatar Looks and share your experience with your friends!
Focus on
Our latest innovations
L'Oréal is focused on inventing the future of beauty and becoming a Beauty Tech powerhouse. To do so, we are always innovating. Here are our latest breakthroughs.
Science and Technology
HAPTA the world's first handheld computerized makeup applicator
HAPTA the world's first handheld computerized makeup applicator
Research Innovation
L'Oréal Paris Colorsonic
L'Oréal Paris Colorsonic
Science and Technology
3D shu:brow: the ultimate brow revolution at home
3D shu:brow: the ultimate brow revolution at home
Science and Technology
K-SCAN: AI-powered, hair and scalp smart camera for hairdressers
K-SCAN: AI-powered, hair and scalp smart camera for hairdressers
Science and Technology
Maybelline Virtual Makeup on Teams
Maybelline Virtual Makeup on Teams
Science and Technology
L'Oréal Water Saver: Using Water More Sustainably in Salon
L'Oréal Water Saver: Using Water More Sustainably in Salon
Science and Technology
La Roche-Posay Spotscan+
La Roche-Posay Spotscan+
Science and Technology
Impact+
Impact+
Science and Technology
Giorgio Armani Meta Profiler
Giorgio Armani Meta Profiler
Back on Top