La Roche Posay Tingkatkan Kesadaran akan Pilihan Solusi untuk Melawan Masalah Jerawat
Yuk Cari Tahu Analisa dan Diagnosa untuk Mendapatkan Penanganan Masalah Jerawat dan Rekomendasi yang Sesuai untuk Kulitmu!
Kamis, 1 September 2022 – Jerawat bukan hanya permasalahan kulit yang sering dialami oleh remaja. 40% wanita dewasa mengalami permasalahan jerawat atau yang sering disebut dengan adult acne1 . La Roche Posay memahami banyak orang berjuang dengan jerawat setiap harinya, dan menjadi komitmen La Roche Posay untuk meningkatkan kesadaran akan dampak masalah kulit terhadap kualitas hidup penderitanya secara berkelanjutan. Bekerjasama dengan Shareefa Daanish, La Roche Posay mempersembahkan campaign video #SkinLifeChanger Acne Solutions Powered by Medical yang dapat dilihat disini.
"Jerawat wanita dewasa (adult female acne) didefinisikan sebagai jerawat yang menyerang wanita di atas usia 25 tahun. Adult acne lebih sering dialami oleh wanita dewasa, tetapi bisa juga dialami oleh pria. Berbagai penyebab umum munculnya adult acne diantaranya adalah perubahan hormon, stress, gaya hidup, sinar ultraviolet, polusi, riwayat keluarga hingga efek samping pengobatan medis," jelas dr. Madana N., SpKK, Dermatologist & Penanggung Jawab Klinik Lithea. "Saat ini banyak kasus jerawat setelah masa remaja, yang banyak dialami oleh wanita dewasa. Jerawat dewasa memiliki dampak negatif pada kualitas hidup pasien wanita dewasa, bahkan bagi kasus jerawat di tingkat ringan dan sedang. Beberapa mengatakan bahwa mereka merasa malu, mempengaruhi kepercayaan diri dan mengganggu interaksi sosial mereka sehari-hari."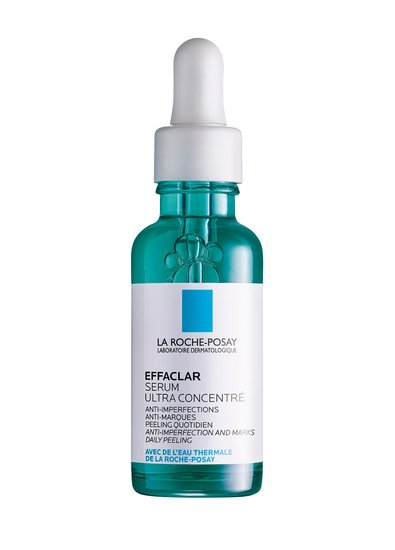 Seringkali permasalahan kulit berjerawat ditangani dengan kurang serius dan kerap dipandang sebelah mata padahal dapat mempengaruhi kualitas kehidupan penderitanya: 96% orang di dunia yang memiliki permasalahan jerawat mengakui bahwa hal ini mempengaruhi kualitas hidup sehari-hari2 ; 53% masyarakat dengan masalah kulit berjerawat pernah mengalami rasa depresi3 . Untuk meningkatkan kesadaran di masyarakat akan pilihan solusi untuk melawan masalah jerawat, La Roche Posay bekerjasama dengan Shareefa Daanish.
Sebagai adult acne fighter, Shareefa Daanish, movie actress membagikan pengalamannya berjuang menghadapi kegelisahan karena adult acne yang dialaminya. "Sejak dulu, aku punya insecurity dimana aku merasa bentuk wajahku yang tidak umum, dan ditambah lagi dua tahun terakhir, jerawat mulai bermunculan diwajahku khususnya banyak bermunculan di area dagu. Sebagai seorang public figure, saya seringkali berinteraksi dengan banyak orang, menghadiri berbagai aktivitas, photoshoot, shooting, dan acne problem ini benar-benar horror buat saya. Ketika keluar rumah, kadang ada yang bertanya kenapa sekarang jerawatan. Mulai ada rasa gelisah, dan gak pede, Dulu saya tidak suka memakai make-up kalau untuk kegiatan sehari-hari, tapi sejak berjerawat, saya mencari cara untuk nutupin jerawat dengan memakai concealer dan foundation saat keluar rumah. Saya menjadi lebih sensitif, dan perasaan ini mempengaruhi saya dalam beraktivitas sehari-hari.
Daanish menceritakannya pengalamannya dalam mencari cara untuk melawan adult acne yang ia alami, "Saat pandemi kemarin, cukup jadi tantangan untuk ke dokter, jadi saya pun mencoba mencari tahu informasi seputar jerawat melalui online. Berbagai informasi dari rekomendasi produk, kiat-kiat, hingga DIY, saya coba. Pada saat itu, belum menemukan solusi yang tepat. Aku dapat pemahaman bahwa solusi terbaik dimulai dari analisa dan diagnosa dari ahli. Pertama, aku mendapatkan analisa acne severity level aku menggunakan Effaclar Spotscan, yang mengukur tingkat keparahan jerawatku dan aku direkomendasikan untuk mengunjungi dermatologis untuk mendapatkan diagnosa. Aku percaya bahwa masalah jerawatku pasti ada solusinya karena my dermatologist knows best."
"Melalui video kampanye bersama dengan Daanish, kami ingin menyampaikan pesan bagaimana medical dan dermatology dapat membantu mengatasi permasalahan jerawat. Bagi rekan-rekan acne fighters di Indonesia, salah satu langkah awal untuk mendapatkan kulit yang sehat adalah dengan mendapatkan analisa dan diagnosa dermatologi sehingga dapat menemukan penanganan yang tepat akan masalah jerawat, ketika masalah kulit berangsur membaik, kepercayaan diri dan quality of life juga akan meningkat," jelas Nestya Sedayu, Head of Marketing Active Cosmetics Division, Indonesia. "Acne fighters bisa mendapatkan analisa jerawat dengan tingkat akurasi professional dengan menggunakan Effaclar Spotscan, teknologi berbasis advanced artificial intelligence yang dikembangkan bersama dermatolog dunia. Teknologi ini dapat diakses dengan mudah melalui handphone, dan mengukur tingkat keparahan jerawat menggunakan medical grade, GEA (Global Evaluation of Acne) score," tutup Nestya.
1Lukavicuite L. Navickas A. Tan Jk, Bhate K. A Global Perspective on The Epidemiology of Acne. Br J Dermatol 2015: 172 (1): 3-12.
2Lukaviciute L, Navickas P, Navickas A. Quality of life, anxiety prevalence, depression symptomatology and suicidal ideation among acne patients in Lithuania. J Eur Acad Dermatol Venereol. 2017
3Misery at al. Psychological Consequences of the Most Common Dermatoses: Data from the Objectifs Peau Study. Acta Derm Venereol 2020; 100: adv00175
Back on Top