Relive the 2018 L'Oréal - UNESCO For Women in Science International Ceremony
During its 20th anniversary ceremony, leading figures in the L'Oréal-UNESCO program 'For Women in Science' launched a new initiative – Male Champions for Women in Science, supported by some two dozen eminent male scientists. Here is a look back at the comments and ideas that highlighted the ceremony.
A shared determination to move forward
In 2017, the L'Oréal Group was recognized as the highest performing company worldwide in terms of equality between men and women1. Jean-Paul Agon, Chairman and Chief Executive Officer of L'Oréal, was optimistic about future changes in society. "Let's have faith in the future, and a time when true equality will be achieved in science and also in society in general. But above all, let's have faith in our shared willpower and determination to get there." In the same vein, Alexandra Palt, Director General of the L'Oréal Foundation and Director General of Corporate Responsibility, who has been working on gender equality issues for 25 years, said: "If you want to transform an entire society, you need several things. You need outriders – people who will campaign relentlessly against discrimination… but to reach the tipping point, you need everyone to be involved. To build this society, we need men and women."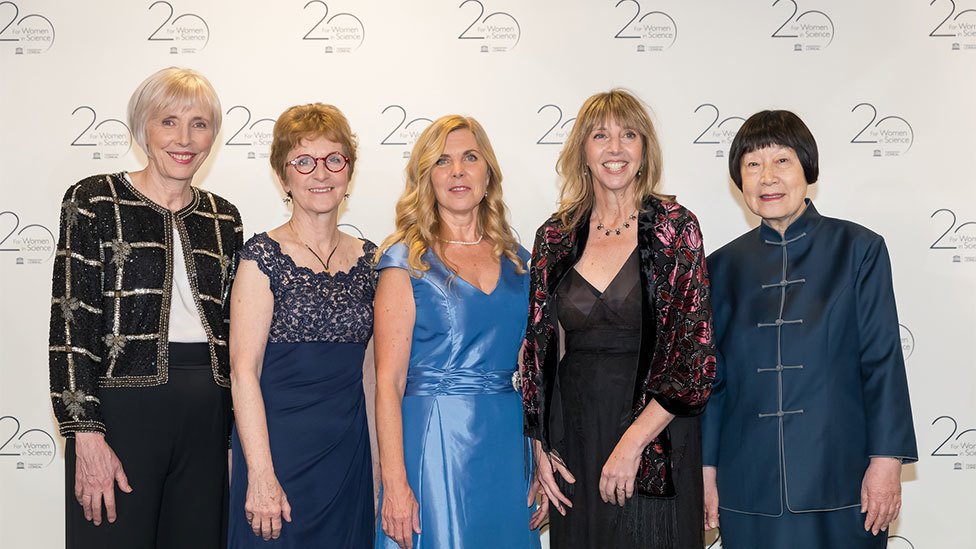 Encouraging women around the world
UNESCO is working on a worldwide basis to help women take their rightful place in society, notably in the field of science through its partnership with L'Oréal Foundation. Audrey Azoulay, Director General of UNESCO and France's former Minister of Culture, shared her feelings on the matter, saying that "From Argentina, Canada, China, South Africa and the United Kingdom, those women demonstrate the role that women can play in science around the globe. This is the sense, this is the meaning, this is the core of this program. I would like to say to all those women scientists that we admire them for what they achieved and what they will continue to achieve. We need them."
Sharing their convictions
The winners of the 2018 L'Oréal-UNESCO For Women in Science Awards, each of whom is involved with high-level research in physical and life sciences, gave their views on the current state of women in science. Dame Caroline Dean, Professor, John Innes Centre, Norwich Research Park, United Kingdom, declared: "When you look around, we see successful women as aggressive or young enthusiastic girls as bossy. Really this has to change. In science when we are running international competitive laboratories, it's very difficult to combine that with raising a family. We must encourage our young women scientist to conquer those self-doubts to continue and to aim high. They will for sure combine a career with a happy family life."
Janet Rossant, Senior Scientist at The Hospital for Sick Children, Toronto, a professor at the University of Toronto, and President of the Gairdner Foundation, Canada, describe her position in this way: "This past weekend we all learned that running a research laboratory is apparently like running a football team. I am the coach, but we need supporters, sponsors and most of all we need the team with a variety of talents who can really make the team successful. Behind it all, you also need a strong family support."
Heather Zar is a Professor and Chair, Department of Pediatrics & Child Health, Red Cross War Memorial Children's Hospital, Director of SAMRC Unit, University of Cape Town, South Africa. As the scientist who developed tests for the diagnosis of tuberculosis and pneumonia in children, she drew attention to the fact that "Child health is a crucial concern and an issue for all of us. Every day millions of children suffer, millions of children die before they reach their third year and many more suffer with ill health. Child health is the road to an adult who is either well or ill. Children are really our future, there has been no better time to apply science to better the health of children and the health of our populations."
Amy T. Austin, Professor, IFEVA-CONICET, Faculty of Agronomy, University of Buenos Aires, Argentina, meanwhile sounded a warning. "The world is changing and it's changing much more rapidly than it ever seems to have changed before. We have technological progress, we have digitalization, we have access to information and globalization and we have created a world of opportunities (…). But bigger is not better and faster is not more efficient. Our footprint is too large and the power of natural ecosystem to save us from ourselves is substantial, but it is not infinite."
Finally, Meemann Chang, Professor at the Institute of Vertebrate Paleontology and Paleoanthropology, and a Member of Chinese Academy of Sciences, Beijing, gave an insight into her own life. "I started to study paleontology about 60 years ago, when I was a student in the Lomonosov Moscow State University. At the time, my choice of career was even not my own choice, it was arranged, much as an arranged marriage. We even have a saying in Chinese: To get married first, then have the courtship."
Fighting against bias and prejudice
Leading scientists Tebello Nyokong, Anne Pépin and Molly S. Shoichet are also determined to see women take their rightful place in the world of science. All three discussed their own experiences of gender equality.
Tebello Nyokong is a chemistry professor at Rhodes University, South Africa and winner of 2009 L'Oréal-UNESCO For Women in Science Award. "There is a saying that higher you go the lonelier it is, but it is even more lonelier when you are the only woman in a boy's club," she said. "The boy's club won't quite include you and you have no women to talk to. Women must support one to another."
Anne Pépin, in charge of gender equality issues at the European Commission within the Directorate-General for Research and Innovation, commented that "Any research that outcomes and have an approach for human being either directly or indirectly should take into account possible sex differences and possible gender issues. That is something that could also help in changing the research knowledge."
Molly S. Shoichet, a chemist, Scientific Advisor to the Government of Ontario and winner of 2015 L'Oréal-UNESCO For Women in Science Award, described the situation on the other side of the Atlantic. "In North America we have an unconscious bias. It is something shared by women and men in terms of our expectations of what women should do and perhaps of our expectations about what men should do. That's a really big challenge."
A commitment from leading men in the scientific community
Cédric Villani and Etienne Klein are among some two dozen leading male scientists who have signed the 'Male Champions for Women in Science' charter.
For Cédric Villani, Professor at the Université Claude-Bernard Lyon I, winner of the Fields medal in 2010 and a deputy of the LREM party in France's National Assembly: "We cannot accept a situation where men alone are in charge of the birth of tomorrow's world. We have a collective responsibility to take action. Men have to make more room for women, and to be proactive in doing that."
Etienne Klein, Philosopher of science and Research Director of France's CEA, hammered home the message, saying: "I support and welcome the 'Male Champions for Women in Science' initiative, because it's something that is obvious, empirical and unquestionable. In Ancient Greece, Plato imagined a republic where nothing prevented women from reaching the very highest positions."
By involving both men and women on the five continents, the L'Oréal Foundation and UNESCO have increased the awareness and scale of the 'For Women in Science' program. The aim of this powerful, ambitious initiative is to change the system from within - and to build tomorrow's world together.
1
Source: Equileap, 2017
Back on Top