Improving cancer patients' quality of life through beauty and wellness therapy
A new study conducted by the L'Oréal Foundation among 1,166 people touched by cancer has demonstrated the benefits of beauty and wellness therapy for patients' quality of life. It also highlights the fact that too few patients know about the existence of these therapies and too few benefit from them. Through partnerships formed with hospitals, associations and scientific institutions, the L'Oréal Foundation is taking action to enable as many patients as possible to access these beauty and wellness therapies and to professionalize this discipline.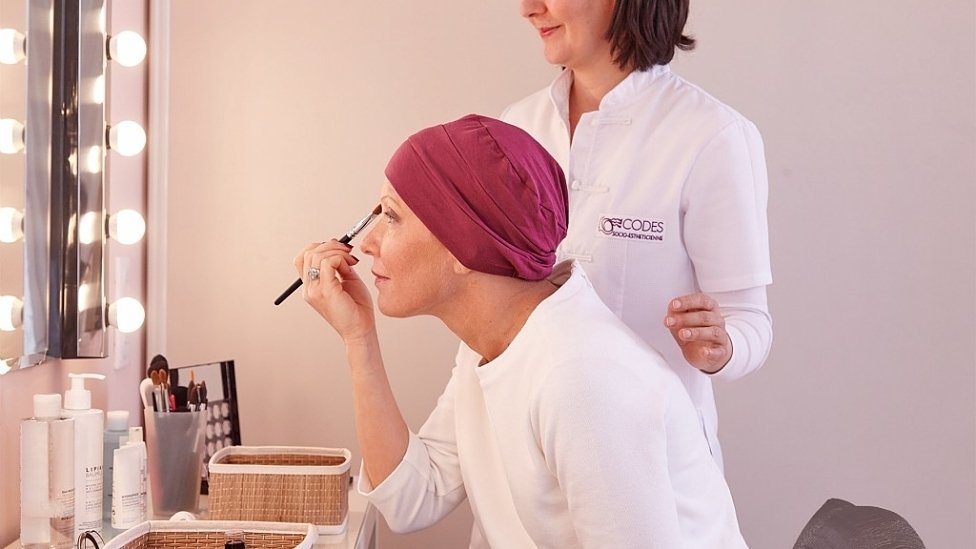 Improving cancer patients' quality of life
The number of cancer cases is growing, and while the effectiveness of treatments is increasing, it is important not to overlook the side effects of these therapies, some of which last for many years.
"Considered as a real life-giving force by these patients, whose bodies are attacked by the illness, the treatments or surgery, beauty and wellness therapies help patients to face the side effects of treatments and the upset caused to their self-image," explains Alexandra Palt, Executive Vice President of the L'Oréal Foundation.
These aforementioned therapies are offered in hospitals or dedicated city centre facilities by specially trained beauticians. Organised individually or through group workshops, these precious moments bring together beauty treatments (such as facials, manicures and pedicures, massages, make-up), technical advice, an opportunity to be listened to and a moment of relaxation.
A ground-breaking study conducted by the L'Oréal Foundation in 2017 among 1,166 cancer patients has made it possible to analyse the impact of beauty and wellness treatments on patients' quality of life. The most important benefit mentioned by participating patients is receiving useful beauty techniques and advice to manage the undesirable effects of treatments (noted by 86% of respondents). Experiencing a moment of relaxation and physical and psychological wellbeing appears as the second most important contribution (according to 84% of beneficiaries).
Part of the supportive care ecosystem
Beauty and wellness therapies are recognised by the French National Cancer Institute (INCa) and its Cancer Plan program as 'cancer supportive care', meaning that they form part of the whole package of treatment and support necessary for people suffering with the disease, alongside their medical treatment. With this respect, they fall within the framework of the French Speaking Society for Supportive Care (AFSOS).
"Beauty and wellness therapy plays a fundamental role in the course of therapy, as it contributes to restoring patients' physical and psychological integrity, and to humanizing their medical care and helping them feel themselves again," says Dr Mahasti Saghatchian, oncologist at Gustave Roussy and American Hospital of Paris.
"Some medical treatments can have dermatological or cosmetic consequences, which can lead to a deterioration in patients' body image, and often therefore in their spirits. Integrating beauty and wellness therapy into the course of care and into the multi-disciplinary team offers precious support," explains Professor Ivan Krakowski, oncologist at the Bergonié Institute and President of AFSOS.
Expanding access to more people
While beauty and wellness therapies can significantly improve cancer patients' quality of life, the number of patients having access to these cares is still too low, as it is estimated that only 10 to 12% of cancer patients can benefit from these cares.
In response to this finding, the L'Oréal Foundation is taking action to bring its beauty and wellness therapies to hospitals and to different city center facilities, in order to enable as many people as possible (in France, for the moment) to access them.
In 2017, thanks to the partnerships developed by the L'Oréal Foundation with hospital facilities, such as Unicancer, and associations, like the Rose Association, 48 cancer facilities offered beauty and wellness therapy free of charge, helping 13 500 people suffering from cancer in France.
"We want to support patients throughout their illness, in order to improve their wellbeing, care for their physical appearance and help them restore their self-esteem. Our ambition, together with the L'Oréal Foundation, is to improve access to beauty and wellness therapy within our Comprehensive Cancer Centers. Today, only 8 to 10% of patients have been able to access them. Through this partnership, we hope that 30% will benefit from them in the future, three times more than today. Of course, in the long term, we hope that all our patients will be able to benefit from beauty and wellness therapy," says Pascale Flamant, General Delegate of Unicancer.
Back on Top