Beauty Inc: L'Oréal USA CEO Stéphane Rinderknech On Leading Covid-19 Response
For L'Oréal USA's Stéphane Rinderknech, the future of beauty lies in the power of the people.
This statement is the lead coverline of the April 2020 issue of Beauty Inc — a special edition of WWD. It features Rindernech, whose career at L'Oréal began in 2001, and who, after several successful years as CEO of L'Oréal China, was appointed to his position as President and CEO of L'Oréal USA in January 2020. Rinderknech recently sat down with Jenny Fine, the executive beauty editor of WWD, for a wide-ranging conversation, spanning his leadership approach to the Covid-19 response — and planning for the future of the business beyond it.
"Going through a crisis makes us stronger together," Rinderknech says. "Sharing this experience makes us so much closer. I see everyone's homes, their dogs, their kids. This would never happen in a normal context." Speaking of this current moment, he continues: "to protect the business and give our people a sense of direction, that is a very important mission."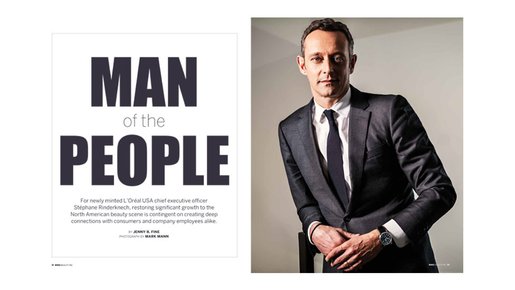 In the piece, Rinderknech identifies his three key priorities for responding to Covid-19 and leading the company through the crisis. First, assuring the health and well-being of L'Oréal's workforce. Second, galvanizing the company to contribute to the greater good, via the production of hand sanitizers, small business and vendor relief and donations ranging from financial grants to needed goods such as gloves. And third, not only mitigating the impact on the business, but learning from it, building on it and transforming the way L'Oréal operates.
"Stéphane is one of the most energetic men I have ever met, and he always keeps pushing in order to achieve his goals," says Jean-Paul Agon,Chairman and CEO of L'Oréal. "At the same time, he is able to lead a team and effectively communicate his energy and ambition. Choosing him to lead the U.S. was not based only on what he has already done in a highly competitive market, but more on his skills and strength, which are extremely appropriate to the U.S. market."
The April 2020 issue of Beauty Inc, featuring the profile "Man of the People" is on newsstands now.
For more, tune into the WWD Master Class Webinar featuring Stephane Rinderknech, "Leadership in Times of Crisis" on Monday, April 27th at 2PM (EST), where he will be discussing positioning L'Oréal USA for a changed world. To sign up, click here.
Back on Top