L'Oréal wint Belgian Business Awards for the Environment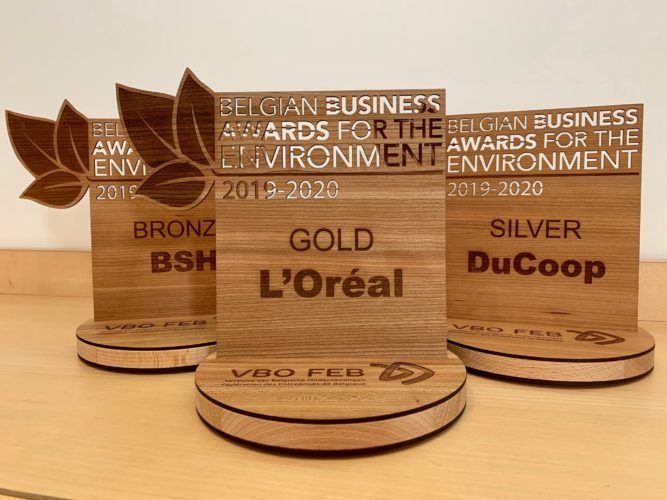 Voor de 17e keer reikt het Verbond van Belgische Ondernemingen (VBO) de Belgian Business Awards for the Environment (BBAE) uit. Die awards belonen kleine en grote ondernemingen voor hun engagement in duurzame ontwikkeling.
Voor deze editie werden 10 ondernemingen genomineerd die elk, via eco-innovatieve praktijken, procedés en producten, hun steentje hebben bijgedragen in de transitie naar een circulaire economie. De L'Oréal-fabriek in Libramont werd door de onafhankelijk jury uitgeroepen tot winnaar.
Al 20 jaar onderneemt de L'Oréal-fabriek in Libramont actie om haar ecologische voetafdruk te verkleinen. Vastberaden om die uitdaging aan te gaan, is de Belgische fabriek van de groep sinds 2019 een 'Waterloop factory'. Al het nutswater komt uit een gesloten circuit met gerecycleerd water, het leidingwater wordt enkel gebruikt om in producten te verwerken en door de werknemers. Door twee technologieën te combineren (osmose en evapoconcentratie) kan het afvalwater gerecycleerd worden. Die combinatie levert een gemiddelde waterbesparing op van 200 m³ per dag. Dat is 60 miljoen liter water per jaar, of het equivalent van het jaarverbruik van 600 gezinnen.
DuCoop, dat gebruik maakt van een unieke combinatie van groene technologieën (70% minder CO2-uitstoot) voor de nieuwe woonwijk 'De Nieuwe Dokken' in Gent, en BSH Home Appliances, dat energie-efficiënte huishoudapparaten aan gezinnen in armoede verhuurt met als primair doel bij te dragen tot een verlaging van de energie- en waterkosten, vullen de top 3 aan.
Een overzicht van de overige genomineerden vindt u via deze link.
De Belgische laureaten van de BBAE zijn automatisch genomineerd voor de European Business Awards for the Environment, die worden uitgereikt in november. Dit jaar is een grand cru voor ons land, met 5 ondernemingen die een nominatie voor de grote Europese finale in de wacht sleepten: L'Oreal, DEME, Ducoop, OVO en Co2logic (rising star)!
"Terwijl de Europese Commissie aan de slag gaat om haar Green Deal – de routekaart voor de transitie naar een klimaatneutrale maatschappij tegen 2050 – te realiseren, ontplooien nu reeds kleine, middelgrote en grote ondernemingen tal van initiatieven met hetzelfde doel. Bovendien heeft de coronacrisis aangetoond dat bedrijven die hun strategie op een of andere wijze afstemmen op meer 'circulariteit' en duurzame doelstellingen, beter standhielden. De transitie van een lineaire naar een circulaire economie is met andere woorden onomkeerbaar ingezet en zal de komende jaren alleen maar verder verdiept worden", aldus Pieter Timmermans, CEO van het VBO.