Kérastase Curl Manifesto: Ultimate Professional Care For All Curls And Coils
Kérastase support, customized advice for ultra-targeted care
More and more of you are showing your curls with pride and wanting to take care of them. Wavy or coily, all curls deserve expert haircare, whether in the salon or at home. From training and educating hairdressers to creating routines that suit your needs, Kérastase is reinventing the ways to care for every type of curl. Find out more about Curl Manifesto, an exclusive and inclusive range designed to bring out the best of curly hair.

While all types of hair are biologically identical, science also tells us that coily curls have specific needs – two thirds of all women do not have straight hair – particularly in terms of hydration, strength, and definition..

It is therefore natural that the pioneer of luxury professional haircare for every type of hair, whatever the texture or need, has now developed the Curl Manifesto range. Beyond products, Kérastase also takes care of its communities, by sharing its expertise as widely as possible with professional hairdressers and consumers.
Sharing our knowledge of curly hair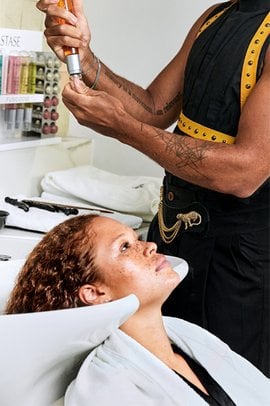 Avant-garde in its haircare from the very beginning, Kérastase is equally ground-breaking in its approach to consumer advice. To demonstrate that, the brand has developed resources that can deal with the questions asked by anyone who wants to care for their curls.

This support has been created after listening carefully to your daily needs and desires. It is also based on Kérastase's unique hair expertise, which has been developed by working closely with scientists and specialists of curly hair.
Through its website and social media platforms, Kérastase highlights the advice, recommendations and tutorials offered by hairdressing professionals and hair experts.

Care, styling, definition… whatever maybe your desire, age, or style, find out how to celebrate your curls.

Take a Look at the Different Textures of Curly Hair and Find Yours
An augmented care experience
Thanks to the QR code on the packaging of all Curl Manifesto products, you can access information about the composition and packaging of every product. You can also receive a personalized diagnostic of your hair, along with tailored advice for creating your own daily routine and taking care of your hair.

"We want every woman to have the choice to walk into any salon she pleases, knowing that her hair will be in good hands."
Rose Carrico, Kérastase International Director
Training new experts in curly hair
For Kérastase, caring for all types of hair means offering everyone the best possible experience. This commitment involves training the community of hairdressing professionals, as only 5% of salons (in France) have been trained to care for curly hair.

However, curly hair requires special expertise and care. From haircare to styling, via cutting, Kérastase shares the hair expertise it has gained from leading experts.
Discover the interview with Vernon François, celebrity hairstylist & educator
Visionary hairstylist and Kérastase Global Inclusivity Advisor & Educator, Vernon François represents the brand as it strives to make hair salons ever more inclusive, and where professionals from around the world can be trained to take care of all types of hair, whatever their texture.
• Analysing, cutting, styling, treatment… How can you offer the best salon experience? To share its hair expertise as widely as possible, Kérastase provides tutorials, videos and a masterclass on L'Oréal Access, an e-learning platform open to all hairdressing professionals.

• Do you have any specific questions? Kérastase's experts can answer them, and provide advice, tutorials and live events on social media. This unique haircare know-how can be found on Kérastase's Instagram account.

With its Curl Manifesto range, Kérastase is going further in its commitment to offer the very best in care and professional expertise for all types of hair.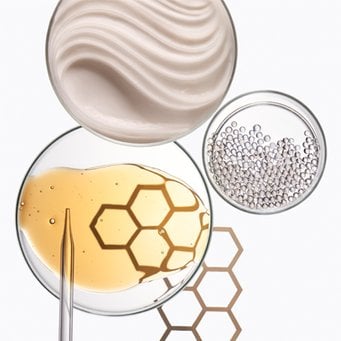 A customized ritual for taking care of your hair
From washing to styling, the Curl Manifesto range has products for every type of curl. Now, everyone can create their own personalized routine, according to their hair texture and needs. Formulated with ceramide, Manuka honey and glycerine, Curl Manifesto products combine effectiveness with care. The sense of haircare being a special moment is heightened by a unique scent composed of frangipane, tuberose, and musk.
The Curl Manifesto range has been developed over 14 years of research by our scientific teams and the best hair specialists, both inside and outside the Group. It is the result of the expertise, vision and listening of professionals and consumers around the world. Kérastase aims to encourage feedback and the sharing of experiences, so that modern solutions can be offered for all types of curly, wavy and coily hair.
Back on Top