Urban Decay And The Cybersmile Foundation Launch An Initiative To Stop Online Bullying
Urban Decay Cosmetics announces the launch of "Online Bullying Hurts IRL," a global initiative pledging to bring increased awareness of the personal toll of online bullying and promote digital wellbeing, in partnership with The Cybersmile Foundation.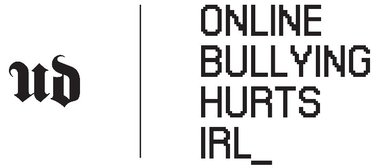 Making the Internet and social media a space safe for all
The aim of this global initiative is to recognize the tangible negative impacts of social media posts that range from seemingly innocent teasing to severe, obvious bullying.

Urban Decay Cosmetics is engaged in making the Internet and social media a space that is safe for all, educating its consumers, fans, and employees to recognize the signs of bullying, intervene responsibly, and change the conversation positively.
Raising awareness to unite in the fight against online-bullying

Urban Decay is and has always been about beauty, diversity, and inclusion. The brand aims to give everyone a path to create their own beauty. So far, social media has given the brand the opportunity to grow and expand its communications: it has been able to spread its positive messaging to many people. However, as social media has expanded, Urban Decay noticed the addition of a tinge element of bullying, trolling, and discrimination. This is not what online communication should be about.

Urban Decay pledges to bring a deeper awareness of the personal toll of online bullying: to educate on how to protect yourself and others online, to share vital mental health resources, and to ensure that its online community is always a welcoming, safe space to celebrate what makes each of us unique.
"We can tackle online bullying and celebrate the uniqueness and individuality within each of us. We are a brand that has always championed what makes us different, and we want to encourage that no one should diminish what makes them beautifully different in the face of a bully."
Wende Zomnir, Co-Founder of Urban Decay Cosmetics
A partnership to reinforce people's values and celebrate acceptance
Urban Decay and The Cybersmile Foundation, in partnership, are committed to educating our the brand's audience, employees, and UD Family about the impacts of online bullying and how to identify, prevent, and alleviate any instances they witness.

The Cybersmile Foundation, one of the world's leading anti-cyberbullying nonprofit organizations and a multi-award-winning nonprofit organization committed to promoting kindness, diversity, and inclusiveness online, will be working closely with Urban Decay to guide and educate the brand's consumers, fans, and corporate community across the brand's website and social channels over the next three years.

Cyberbullying has festered online and across social media platforms since their very inception, with more than 50% of young adults indicating they have been personally subjected to harassing behavior online* What can feel like a casual "mean text," a meme about someone who's just "different," or sharing an embarrassing photo without someone's permission, can have real consequences and potentially lead to mental health issues.
Back on Top