Kérastase Chroma Absolu: How Science Is Caring for Color-treated Hair
Dare to color !
For many of us, playing with our hair color is more than just about looking great: it is about affirming who we are and what we want. To give you the freedom to try out any color you like Kérastase has combined its deep understanding of hair with L'Oréal's scientific expertise to create Chroma Absolu, a care range that looks after your hair from the inside out, shielding it from the damage caused by color treatments. Find out how hair science is working for color.
Blue, pink, purple, red, warm brown, or jet black: a color treatment can instantly transform your look and attitude. It is a way of expressing yourself, but color can also have consequences for your hair, from unwanted frizz to dullness and breakage.
To fix these issues, Kérastase has harnessed its hair care knowledge to create Chroma Absolu, a range of products that let you live freely in color. The goal is to combine healthy hair with beautiful, lasting color.
Understanding the damage caused by color
Step one was to understand the reasons why color services can sometimes damage the hair fiber.
Drawing on their proven experience with hair, including its structure and behavior, researchers at L'Oréal identified the three enemies of color:
Water, which penetrates more easily into color-treated hair, causing protein disruption and color fading.
Light: UV rays deteriorate dyes and natural pigment and lead to lipid loss, causing dullness and weakness.
Combing: styling gestures deplete hair's protein matter over time, causing breakage, dullness, and frizzy appearance.
Three levels of damage caused by color services

At the hair's core, fiber porosity causes breakage and split ends and accelerates fading.

Within the fiber, color-induced frizz causes dryness, rough touch, and a dull "fried" look.

Hair oxidation on the surface causes unwanted red and copper tones.
Three acids that care for color-treated hair
Kérastase and L'Oréal researchers found that a trio of acids, all of them bio-based and of natural origin1, offered an answer to color-induced damage.
Two questions for Edine Ahbich, Kérastase Head Engineer for Product Performance

How does color treatment damage hair?
Chroma Absolu is informed by a deep understanding of the challenges of color-treated hair. Color treatments disrupt the hair at all three levels, which in turn leaves the fiber even more vulnerable to environmental aggressors. The result is extremely sensitized hair.

Which principles guided the research into formulation for the Chroma Absolu range?

Kérastase's response was to create formulas that restore the fiber from the inside out and protect color-treated hair from enemies of shine and overall healthiness.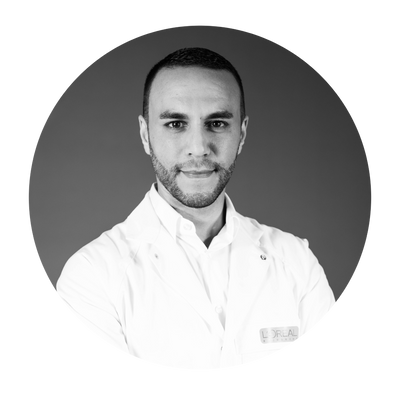 Tartaric acid, which is obtained from grapes, boosts the ability of actives to deposit at the surface of the fiber and helps hair resist oxidative stress for increased softness with shine.
Amino acids can penetrate and reinforce weak hair from within, helping to strengthen the structure of the fiber.
Lactic acid, which is a member of the alpha-hydroxy acid (AHA) family, is known for its gentle exfoliating properties and fiber-transforming abilities. It can also "trap" dulling minerals that can compromise hair shine.
To further extend the pioneering "skinification" approach applied to Kérastase hair care products, the Group's research teams combined these three acids with another active ingredient: Centella Asiatica. This medicinal plant, which is native to Central Asia, is known for its soothing and antioxidant properties – beneficial for hair weakened by color treatments.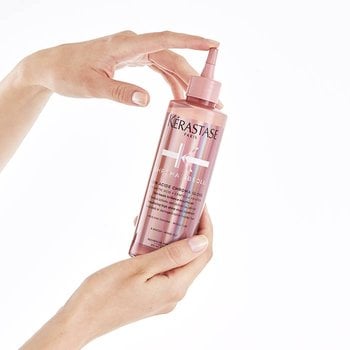 Soin Acide Chroma Gloss: an innovative fluid-to-cream formula
With its innovative gel formula, which turns into cream on contact with water, Soin Acide Chroma Gloss offers deep penetration to hydrate, strengthen, and reduce fiber porosity. The resurfacing treatment creates more intense color, brighter shine, and gets rid of unwanted frizz.
The result of this research is a complete hair care range, including a shampoo, a heat-protectant serum, and an innovative resurfacing treatment, designed for all color-treated hair types and with observable effects on hair health and color intensity.
The result of this research is a complete hair care range
,
including a
shampoo
,
a
heat-protectant
serum
,
and an innovative resurfacing treatment, designed for all
color
-treated
hair
types
and
w
ith observable effects on
hair
health and color intensity
.
92%

color intensity preserved after six weeks3
-77%

color-induced frizz4
This range is an answer to the question that anyone who has just had a color treatment asks themselves: "How do I preserve the color that I had when I left the salon?" It is also an invitation to be bold with color, to be adventurous and to express your personality and creativity without fear of damaging your hair. By marrying technology and science to invent the future of beauty, the Chroma Absolu range perfectly embodies Kérastase's motto: "You dare, we care."


1. Instrumental test : Soin Acide Chroma Gloss
2.

Instrumental test

: Soin Acide Chroma Gloss + Sérum Chroma Thermique
3.

Instrumental test

: Bain Chroma Respect + Fondant Cica Chroma ou Bain Riche Chroma Respect + Masque Chroma Filler ou Bain Riche Chroma Respect + Soin Acide Chroma Gloss
4.

Instrumental test

: Sérum Chroma Thermique
Back on Top