Fifteen years of Pioneering Scientific Research, A New Enlightened Era for Cosmetics Innovation
June 13, 2019, Shanghai – L'Oréal, the world's largest beauty group, held China Skin Microbiome Discovery Day at its China Research and Innovation Center, which unveiled the mystery of the skin microbiome in China for the first time and demonstrated the important links between the skin's microbiome and skin health. The Group's research progress over a span of fifteen years has inspired the industry to enter a new era of innovation.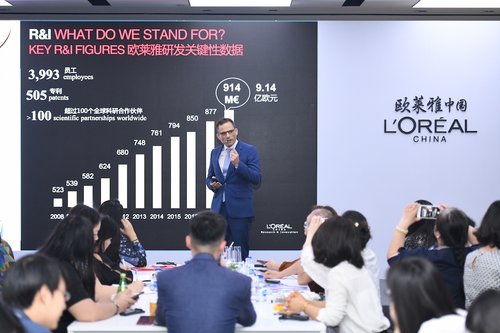 Human body: the walking eco-system inhabited by "microbial residents"
The microbiome, refers to the totality of microorganisms (microbiota) and their collective genetic material (genomes) present in or on the human body or in another environment.
Ninety-nine percent of human genes are microbial genes, and more than 50% of cells are microbial cells. The human body, which is a very complex ecosystem, is also the habitat of around 10 trillion microorganisms. The global systematic study of the human microbiome began around 2007. Over the past 10 years, with the advancement of gene sequencing technology, the world's awareness of the human microbiome has been accelerating. The intestinal microbiome is one of the oldest and most fruitful areas of research, and its important relationship with health has been supported by numerous studies.
Balanced skin microbiome: another cornerstone of healthy skin
Microbes are not only found inside the human body. These "microbial residents", mainly bacteria, fungi, and viruses, are also found all over on the body's largest organ, the skin. More than 1,000 different species totaling more than 100 billion microbes constitute the complex skin microbiome. Not only is the microbiome structure on different parts of the body different, but the skin microbiome is also affected by the host's genotype, immune system, skin condition during growth and other endogenous factors, as well as exogenous factors such as climate, contact, season, geographical location, and lifestyle, so it varies from person to person and is unique to each individual. In addition, the skin's microbiome will change significantly at different stages of life.
The combined effects of diverse environmental factors, combined with low microbial density on the skin, make the study of the skin's microbiome more challenging than that of the intestines. However, many studies have proved that the balance between different microorganisms in the skin's microbiome can play a role in skin regulation, protection, and repairs, and is closely related to skin health. Imbalances in the microbiome are associated with various types of skin problems such as atopic dermatitis, psoriasis, acne, skin aging, sensitive skin, dandruff, and odor.
Big microbiome opportunity: L'Oréal leads a new era of innovation
"Skin microbiome research will set off another revolution in global cosmetic innovation that will help us break through efficacy limits through a completely fresh perspective," said Tarun CHOPRA, head of L'Oréal Asia Microbiome Center of Excellence: "the skin's microbiome stands at the crossroads of cosmetics, biology, medicine and other fields of research. A new cross-discipline area such as this will be a treasure trove from which we innovate beauty experiences for consumers. As one of the earliest and largest investors in this field among cosmetics companies worldwide, with world-leading R&D expertise in biology and microbiology, we are confident in leading in making the "microbiome" a huge opportunity for consumers and for the cosmetics industry. We are also looking forward to launching new products developed with the latest research results as soon as possible in China, creating a healthy and beautiful future for Chinese consumers."
Over a period spanning more than 15 years, L'Oréal's Research and Innovation Center has carried out over 57 clinical studies in 12 domains and published 45 scientific publications on the skin's microbiome for dandruff, aging, atopic dermatitis, pollution, seborrheic dermatitis, dry skin, sensitive skin, oily skin, acne, psoriasis, axillary bad smell and black spots. More than 10,000 skin microbiome samples have been analyzed and 132 new microorganisms have been identified. The Center has also joined with leading academic institutions such as the City University of Hong Kong, the University of Tokyo and New York University in completing 23 collaborative research projects. In addition, the Group has mastered ways to regulate the "prebiotics" that regulate the growth of beneficial bacteria and the "postbiotics" of microbiome metabolic by-products, in order to improve conditions such as eczema and dandruff, which it has gradually applied to products.
China: the new heartland for L'Oréal's skin microbiome research
As one of L'Oréal's six regional research & innovation hubs around the world, China is also an important heartland for the Group's skin microbiome research, and the Group has carried out a series of targeted studies among Chinese consumers on the problems of common dandruff and pollution exposure. Identifying the relationship between the microbiome and environmental factors is a major challenge in today's skin microbiome research, and pollution exposure studies led by the Chinese team are expected to provide insight that could lead to breakthroughs. The L'Oréal China Research and Innovation Center has also collaborated with the Shanghai Pasteur Institute of the Chinese Academy of Sciences and other dermatologists.
Professor LIU Wei, Deputy President of Chinese Dermatologist Association said: "This is an era of idealism for skin microbiome research. But only by bridging the professional and institutional gap between can we explore the infinite potential of the skin microbiome most effectively. We believe that this open collaboration will help us break through technical barriers faster and find ways to get stable, live probiotics, keep them in a form that allows them to recover their efficiency when applied to the skin. I hope that one day, through our 'orders' to skin microbiome, we can automatically maintain the skin ecosystem's dynamic stability, and play a more exemplary role in promoting the long-term health of the skin".
Science has always been an important part of L'Oréal's DNA. Over the past 110 years, the Group has made continuous innovative breakthroughs in the global cosmetics industry. "Today, consumer demand and desire are rapidly escalating, accompanied by a flood of new products, especially in China. Consumer-centric, strategic focus on research is more important than ever before," said Maxime DE BONI, Vice President of Research & Innovation, L'Oréal China. "We are investing in research and development in response to consumer demand today and ramping up innovation to meet their desires tomorrow. With strategic breakthroughs in mind, the Group has identified the five cutting-edge scientific and technological fields of microbiome, exposome, intelligent material, regenerative medicine and digital technology. We will start with a scientific engine with basic science research as the cornerstone, cross-discipline exploration as the direction and open cooperation as the driving force, meeting future consumers' desires for more personalized, higher-efficacy products through more disruptive innovations."
Back on Top