Beauty Tech
A new way to imagine, develop, transform
Discover
Technology Opens A New Era For Inventing The Future Of Beauty
Technology partners with Science and Research as we innovate for the future of Beauty. Technology augments our employees with digital tools and workplaces to accelerate and propel them into the future.
Reinventing the Beauty Experience
Reinventing the Beauty Experience
Innovating Through Products
Innovating Through Products
Innovating Through Industry
Innovating Through Industry
Decoding the Digital Transformation
Decoding the Digital Transformation
Discovering ModiFace
The Future Of Beauty Invented Today
Powered by Artificial Intelligence, boosted by Augmented Reality, technology turns ideas into breakthrough products and unsurpassed consumer experience on multiple channels. Technology partners with beauty as we innovate for the future.
In the volatile world of beauty, we leverage advanced analytics to anticipate trends and to find the next great beauty ideas.
Discover what's Beauty Tech.
Beauty Tech is beauty augmented by technology
Digital & Technology are at the heart of our approach to beauty, from research to production, from distribution to communicating with our consumers. For example, consumer demand is predicted through cutting-edge algorithms relying on multiple data insights, ModiFace technology powered by artificial intelligence provides the most realistic virtual try-on in our industry.
Technology has the power to create personalized experience and answers consumer needs: "what is the right color for me? what is the right skincare routine for me?"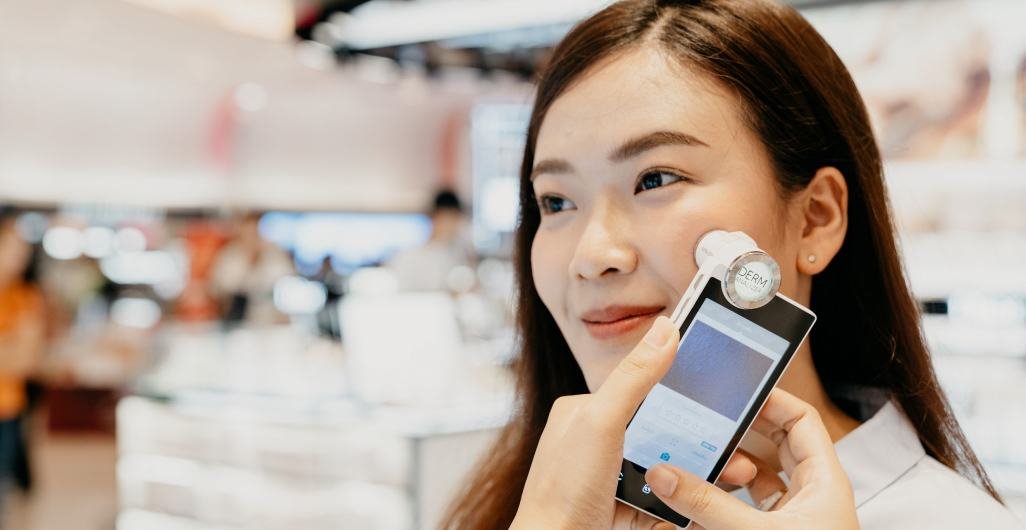 Beauty Tech is at your service
Leveraging Artificial Intelligence, distributed cloud services and an integrated network of connected devices (IOTs), we source data, we extract information and we generate insights to have a personal relationship with you as customers; it opens the doors to products, formulas and services fully personalized. We provide the perfect formulation for each, to fulfill all beauty needs and desires.

The best example of this today is Lancôme ShadeFinder, Makeup foundation recommendation tool answering the key question "What is the right foundation tone for me?" After a quick analysis at the point of sale, through the power of AI algorithms, Lancôme Shadefinder proposes the exact foundation that fits your skin tone. These insights also help us to go even further and to identify the needs and gaps in our foundations offer. This data helps us to develop new products fulfilling each beauty needs. Data privacy is, of course, by design in every service we offer to the consumer.
Turning L'Oréal into a company of the future
Beauty Tech augments L'Oréal employees with sophisticated, connected and intelligent devices and tools, powered by data, to accelerate decision-making and generate insights. And because we care as much for our employees than for our consumers, we also invest significantly in the employee journey and experience and in our digital workplace. To accelerate this transformation, we are switching to Agile and Product-based approaches, investing in upskilling and re-skilling.

L'Oréal is inventing the beauty of the future by becoming the company of the future.

For L'Oréal employees, Beauty Tech translates into technology to increase their work abilities. The promise of Beauty Tech is to unleash capabilities for all, in a world where anyone, in any function or department, experiences the power of Tech in their daily work.

Thanks to data to help decision-making and insights generation, we leverage the best of Tech to enhance the way we work and serve our customers, constantly adapting to the new world. Delivering Tech solutions in fast sprints through an Agile approach is becoming our way of working. It contributes to accelerate our Tech solutions releases and fosters cooperation inside the company.

This important transformation, which is shaking up working practices, marks a further step towards L'Oréal's goal of becoming a true digital workplace, data-driven and a smart company.
Focus On
Our Agile Ways of Working
Technology isn't just a tool. It's also a powerful lever for transforming the way we work. It brings together, it makes innovations converge. It increases the possibilities to offer a new vision of beauty.
Agile Transformation Management
Agile Transformation Management
New Information Technologies to Support Researchers
New Information Technologies to Support Researchers
We need to prepare employees for tech challenges of tomorrow
We need to prepare employees for tech challenges of tomorrow Barbara Lavernos
Science and Technologies
Empowering the Augmented Researcher with Data
4:07
Science and Technologies
100 Seconds to Discover a Passion for IT at L'Oréal
1:47
From hair to skincare to cosmetics products, from experiences to devices, we use the power of technology to create revolutionary solutions in the world of beauty. Our Technology Incubator creates groundbreaking new beauty technologies. Our Tech Accelerators combine Tech and Data Science to develop solutions to augment our employees (insights generation, data-driven decision,…). We collaborate with suppliers, invest in start-ups with one common goal: leveraging technology and data to provide anytime, anywhere augmented products and services and to empower our employees with cutting-edge Tech solutions.
Focus On
Our Beauty Services
Intrigued by how beauty and technology work together? Experience the power of our services and devices. See how ModiFace uses artificial intelligence and augmented reality. Get up to speed on our latest innovations.
Article
Skin Genius L'Oréal Paris
Skin Genius L'Oréal Paris
Article
Trendspotter: An Ai-powered Tool To Fuel Product Innovation
Trendspotter: An Ai-powered Tool To Fuel Product Innovation
Article
SkinConsult AI Vichy
SkinConsult AI Vichy
Article
Demand Sensing How To Forecast Sales At The Age Of Data Ai
Demand Sensing How To Forecast Sales At The Age Of Data Ai
Article
Makeup Virtual Try-on Maybelline
Makeup Virtual Try-on Maybelline
Article
Makeup Virtual Try-on Armani Beauty Vending Machine
Makeup Virtual Try-on Armani Beauty Vending Machine
Article
Makeup Virtual Try-on NYX Looks Try It On
Makeup Virtual Try-on NYX Looks Try It On
Article
La Roche-Posay Spotscan
La Roche-Posay Spotscan
Article
Haircolor Virtual Try-On L'Oréal Professionnel Style My Hair
Haircolor Virtual Try-On L'Oréal Professionnel Style My Hair