Vivatech – 16th &17th of may: Discover L'Oréal agenda and key speakers
If you're interested in cutting-edge technology then Paris is the place to be from the 16th to 18th May. During these few days, over 100 000 people will be attending VivaTech, the premier technology event of the year. Needless to say, as a company that's been working hard to innovate for over a century, L'Oréal will be there too.
As part of our vision to shape tomorrow's limitless beauty, we'll be showcasing a range of new concepts and sharing our expertise in tech and digital. This means visitors will get the chance to hear L'Oréal thought leaders share their insights on everything from creativity to agility and personalization. Consequently, there's a whole host of talks, round table discussions and keynotes that you can enjoy. So, to make it easy for you, here's a complete list of who's speaking, when and on what subject during the first two days of VivaTech. You can also find our Day 3 speakers.
Who's speaking and where?
Thursday 16th May
12 p.m. Round Table – Behind the science of algorithms
Isabel Gomez Head of Digital IT (Moderator)
Uy Khou – Connected Beauty IT Manager
Benjamin Askenazi Applied & Digital Optics Team Manager, L'Oréal
Machine learning algorithms have become a mainstay of modernity, and the beauty industry is no exception. But not all algorithms are created equal. Join a panel of experts to find out what lies behind the scene of machine learning when it comes to personalized beauty.
1 p.m. Round Table – The future of personalization
Guive Balooch – Vice President of L'Oréal 's Research + Innovation Technology Incubator (Moderator)
Guive Balooch is the scientist who heads up L'Oréal's Global Technology Incubator, which has labs in Clark (NJ), San Francisco, Japan and France. Designed as a startup within a large organisation, the incubator partners with entrepreneurs, academic institutions and experts across a diverse array of fields to create first to-market technologies.
Sophie Deygas – Personalized Beauty Industrialisation Director
Maxime Garcia-Janin – Founder & CEO Sillages Paris
3 p.m. Roundtable - How French startups are accelerating the beauty industry
Camille Kroely – L'Oreal Global Head of Digital Services & Open Innovation (Talk Moderator)
Camille Kroely started her career at L'Oréal 12 years ago in marketing, working in operational and then international development marketing. In 2015, Camille launched the Digital Upskilling programme for the group and piloted it at scale. Since November 2018, she's been Global Head of Digital Services & Open Innovation. In this role, she oversees L'Oréal's programmes and partnerships with beauty tech startups and leads the Group's Digital Services Factory.
Maxime Garcia-Janin – Founder & CEO Sillages Paris
With support from BOLD Business Opportunities for L'Oréal Development, Garcia-Janin founded Sillages in 2016. The company has built an online service, using AI and machine learning, to create customised fragrances.
Clara Lizier – Founder & CEO Beautigloo
Clara Lizier co-founded Beautigloo in 2017. The French startup offers a "Refrigerated Beauty Box" specifically designed for cosmetics, which keeps products at a constant temperature, while remaining environmentally-friendly.
Ioana Ciopraga – Founder & CEO Quanogen
Ioana Ciopraga is one of three co-founders of Quanogen.Developed with the support of dermatologists, the American mobile app Quanogen is a virtual assistant that helps consumers find the most suitable skincare products while shopping in store or online.
Strong corporate partnerships are often startups' most powerful growth hack. Join Camille and three startup founders from L'Oréal Station F Accelerator in an interactive round table to catch a glimpse of beauty tech innovations, and what it means to be part of the world's biggest beauty accelerator.
4 p.m. How connected beauty will improve cosmetic products
Johan Aubert – Director of Devices & Algorithms Domain R&I @ L'Oréal
Discover how, by pioneering connected beauty projects, L'Oréal has already generated opportunities to create exciting new products. You'll also learn how the L'Oréal Research and Innovation department develops tools in lab robotics, digital optics, Artificial Intelligence, predictive models and new methods, with the aim of developing and enhancing the cosmetics of tomorrow.
Dr. Parham Aarabi – CEO ModiFace
Dr. Parham Aarabi is the Founder and CEO of ModiFace, the world's leading beauty-focused augmented reality company and part of L'Oréal Group. He is also a Professor of electrical and computer engineering at the University of Toronto. He received his Ph.D. from Stanford University in Electrical Engineering in 2001 at the age of 24, and subsequently became one of the youngest professors in the University of Toronto's history. In 2005, he was selected by MIT as one of "the world's Top Young Innovators". Parham has authored over 200 peer-reviewed scientific papers, 30 patents, and two books.
The future of AI
Thanks to Artificial Intelligence (AI), beauty marketers have a massive opportunity to engage with the next generation of tech-inclined consumers. Join Parham, CEO of ModiFace, the leading provider of Augmented Reality technology for the beauty industry, to learn how AI is changing the way consumers interact with beauty and what we can expect in the future.
6 p.m. Round Table - Women in tech
Dr Christyl Johnson, Deputy Director for Technology + Research Investments, NASA (USA)
Caroline Codsi, ICD.D. President & Founder Women in Governance (Canada)
Isabelle Michel Magyar, HeForShe at UN Women Executive Director's (France/USA)
Carolyn Stebbings, Managing Director of Code Worldwide (UK)
Ayumi Moore Aoki, Founder & President Women in Tech®
Moderator: David Savage, Founder, editor and technological podcast Tech Talks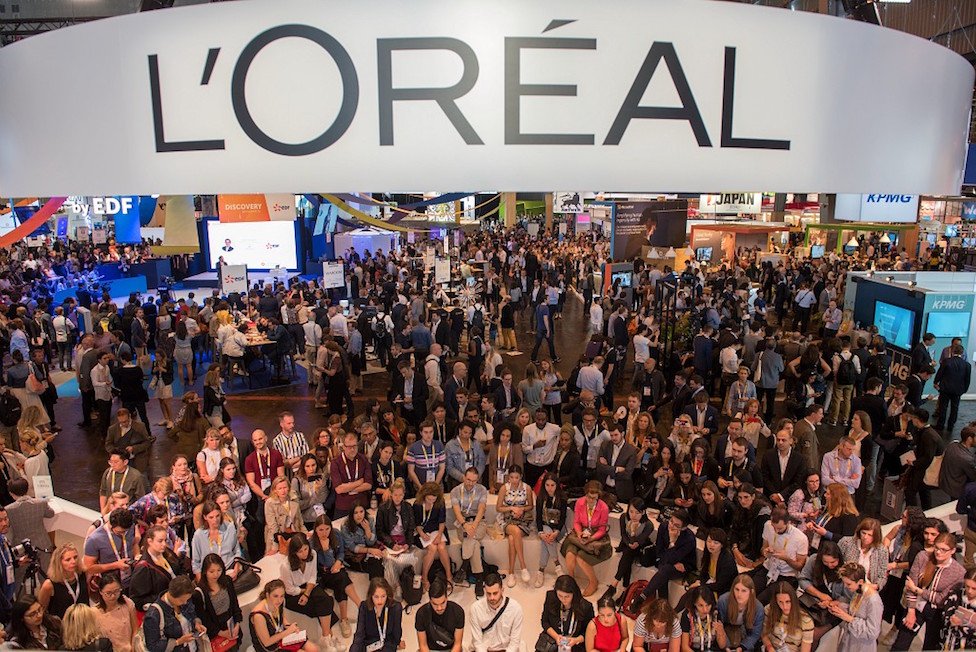 Friday 17th May
9 a.m. China fast forward (O+O)
Hagen Wuelferth – China Chief Digital Officer, L'Oréal
CEO Forum
The CEO Forum is the place to be if you want to hear some of the world's foremost corporate players sharing their insights on technologies, digital transformation and innovation strategy. Consequently, Jean-Paul Agon, our CEO, and Lubomira Rochet, our Chief Digital Officer whose career includes time at Capgemini, Microsoft and Valtech, have been invited to speak and will be on-stage May 17th from 2 to 2:45 p.m.
CMO Forum
This forum aims to tackles the challenges and the ever-increasing complexity of marketing with creative experts, discussing future media, brand and advertising trends.
12 p.m. The factory of the future
Stephane Lannuzel – Chief Digital Operations, L'Oréal
1 p.m. Round Table - What is the future of influence?
Marc Duquesnoy – Social Media Performance Director (Talk Moderator)
Rema GOUYEZ BENALLAL – Head of Digital Content and Engagement, L'Oréal UKI
Influenceurs : Jim Chapman / Laila Loves / Lucy Mountain
Influencers have become major partners in the way brands build relationships with consumers. Today earned marketing is probably the most impactful. Join our OpenTalk on the future of influence with top beauty influencers from the UK and discover how brands are dealing with the changes and challenges of social media.
Ann Massal – SVP NEW BUSINESS, L'Oréal
Ann Massal, will animate a talk with the founders of Kadalys, Kaffe Bueno & Les Petites Prodiges, all start ups incubated by L'Oréal at Station F. In this lively talk, each of these founders will explain why they made sustainability the heart and soul of their company rather than an afterthought.
Carole Nguyen – Kadalys
Juan Medina – Kaffe Bueno
Camille Bregeaut – Les Petits Prödiges
4 p.m. Enabled technology for beauty
Jennifer Tidy – Senior Vice President of Partnerships Modiface
Combining beauty and voice
In this talk, you'll learn how beauty brands can leverage voice to enhance virtual makeover experiences, and what the future of voice is, regarding Augmented Reality (AR).
As you can see our speakers are covering a huge array of fascinating subjects. But it doesn't end there. On Day 3, we'll also be hosting 10 talks on our own stand about working life at L'Oreal. So, if you're interested in a career or just curious to know how we work come and join us. Until then why not learn more about the innovations we'll be showcasing. We hope you're as excited as we are!
Back on Top